Hyundai IONIQ 5 proves its towing power
Looking for an EV to tow your trailer tent or caravan, then the IONIQ 5 could be the EV for you!
It is one of the most common questions for people new to electric cars - which EVs are suitable for towing a caravan?
And while the answer to this question, in the past, was that towing options were a little thin on the ground, thankfully that is no longer the case.
Take for example the Hyundai IONIQ 5, World Car of the Year 2022, which has the stability and power to pull a trailer with a gross vehicle weight of up 1, 600 KGs, that's the equivalent of a six-berth, 7.5 metre long caravan. Equally, the model comes with a large and useful boot space of 527 litres, expanding to a gaping 1,587 litres with the rear seats folded down. And as with lots of EVs, there's even an extra 57 litres tucked away under the bonnet thanks to the frunk.
All in all making the Hyundai IONIQ 5 a great choice for people that are looking to escape into the countryside but still take their home-away-from-home comforts.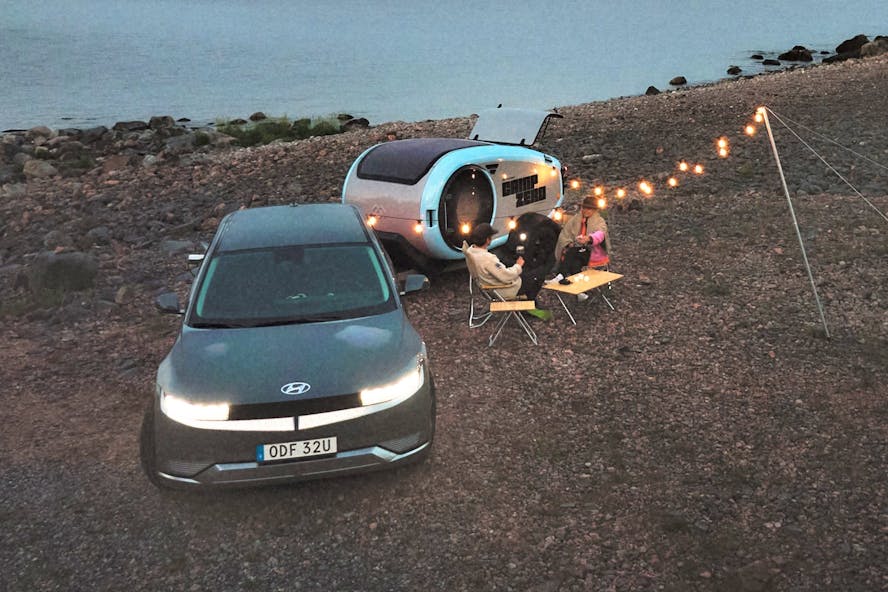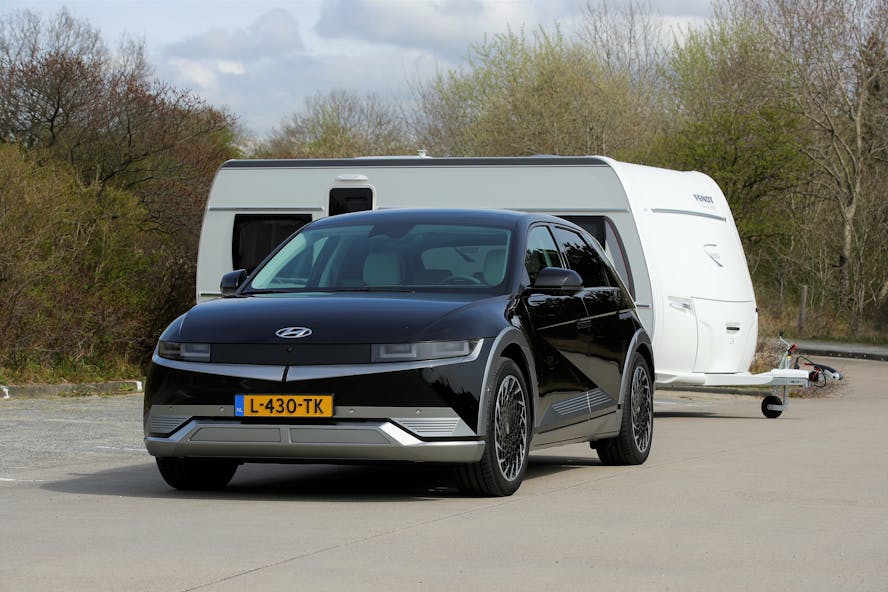 Towing car of the year award
Across the North Sea in The Netherlands, the Hyundai IONIQ 5 has even been named the Tow Car of the Year for 2022 by the Royal Dutch Touring Club travel association, known simply as ANWB, the first time an EV has been bestowed the honour.
Citing the IONIQ 5's V2L credentials as a game-changer for caravan owners, the ANWB also commended the IONIQ 5's adaptive range feature, which allows the driver to enter details about the trailer such as gross weight and the vehicle's driving range is updated to provide a more accurate range prediction.
This means that IONIQ 5 drivers are better able to plan their summer holiday charging stops, ahead of time.
Hatchback
Up to 275 miles range
£3,705.75 Initial rental (ex. VAT)
£4,446.90 Initial rental (inc. VAT)
48 Month term
5000 Annual mileage
Subject to status and conditions + arrangement fee
From
£411.

75
per month (ex. VAT)
From
£494.

10
per month (inc. VAT)