Hyundai IONIQ 6 First Edition announced
Hyundai has unveiled the IONIQ 6 First Edition, a vehicle with an expansive interior and a variety of cutting-edge technologies to make you go WOW.
The electric Hyundai IONIQ 5 has very angular styling, so it's interesting that the new Hyundai IONIQ 6 has styling that is completely the opposite, ie. very curvy.
Hyundai says aerodynamics are the reason behind the design of the IONIQ 6. There's a small front surface area, a long rear 'tail', active air front flaps, and wheel gap reducers, all contributing to an ultra-low drag coefficient of just 0.21.
Thanks in part to the slippery shape, an electric driving range of 320 miles (WLTP combined) is possible from the newly-announced Hyundai IONIQ 6 First Edition, which has dual electric motors delivering all-wheel drive, along with 325 PS of power and 605 Nm of torque.
The driving range is largely due to the IONIQ 6's 77.4 kWh battery (and the standard heat pump will help by warming the interior efficiently); the car's 800v platform should enable the car to ultra-rapid charge at 233 kW. A battery heating system aims to ensure optimum charging times in all conditions.
The IONIQ 6 also features vehicle to load (V2L) capability. This means that the external charging socket can take an adaptor with a three-pin socket so you can plug in domestic appliances or camping equipment. There's also a three-pin socket inside the car, so you can plug in items such as laptops.
The IONIQ 6 comes with a free one-year subscription to the IONITY Premium package, through Hyundai's pan-European integrated public charging service Charge myHyundai which offers access to over 400,000 charging points across Europe.
The Hyundai IONIQ 6 First Edition is priced at £54,995. The interior features a range of sustainable materials, and there's a 401-litre boot and a 14.5-litre front trunk (or 'frunk').
Four exterior body colours are available: Biophilic Blue Pearl, Serenity White Pearl, Nocturne Grey Metallic and Gravity Gold Matte.
The IONIQ 6 will also be available in two other trim levels: Premium and Ultimate - Hyundai says that pricing and specification for these models will be announced soon.
Saloon
Up to 340 miles range
£4,066.71 Initial rental (ex. VAT)
£4,880.06 Initial rental (inc. VAT)
48 Month term
5000 Annual mileage
Subject to status and conditions + arrangement fee
From
£451.

86
per month (ex. VAT)
From
£542.

23
per month (inc. VAT)
Take a look at some of our electric car lease special offers...
£2,713.18 Initial rental (ex. VAT)
£3,255.81 Initial rental (inc. VAT)
48 Month term
5000 Annual mileage
Subject to status and conditions + arrangement fee
£301.

46
Business contract hire per month (ex. VAT)
£361.

76
Personal contract hire per month (inc. VAT)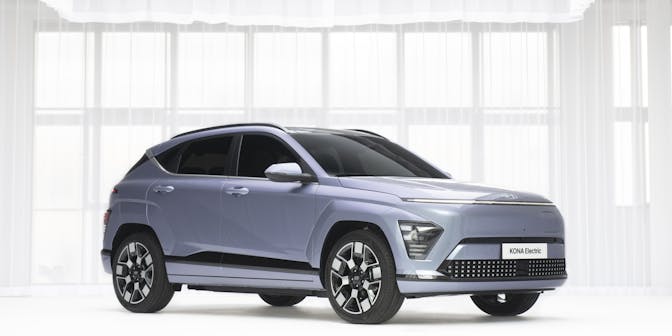 £1,951.79 Initial rental (ex. VAT)
£2,342.15 Initial rental (inc. VAT)
48 Month term
5000 Annual mileage
Subject to status and conditions + arrangement fee
£216.

87
Business contract hire per month (ex. VAT)
£260.

24
Personal contract hire per month (inc. VAT)
£2,728.44 Initial rental (ex. VAT)
£3,274.13 Initial rental (inc. VAT)
24 Month term
5000 Annual mileage
Subject to status and conditions + arrangement fee
£303.

16
Business contract hire per month (ex. VAT)
£363.

79
Personal contract hire per month (inc. VAT)