Hyundai announces pricing and specs for the IONIQ 5 N performance EV
Hyundai has opened order books for the IONIQ 5 N, an upgraded, high performance version of the IONIQ 5 EV.
The all-electric Hyundai IONIQ 5 N offers up to 650PS of power and 770Nm of torque, resulting in a 0-62mph time of just 3.4 seconds, and a top speed of 161mph. It even has a simulated eight-speed dual-clutch transmission. Pricing, specification and technical information has now been released by Hyundai, along with order books being opened. Driving range is yet to be confirmed.
The IONIQ 5 N is based on the regular Hyundai IONIQ 5, but the 'N' model has had a number of 'N' performance-focused tweaks, as summarised below. One of the most interesting features is the simulated eight-speed dual-clutch transmission ('N e-shift'), which works together with a simulated soundtrack ('N Active Sound+'). Both of these functions are designed to offer more driver feedback than is typically provided by an EV.
N e-shift allows the driver to control simulated eight-speed dual-clutch transmission gearshifts using the paddles on the steering column.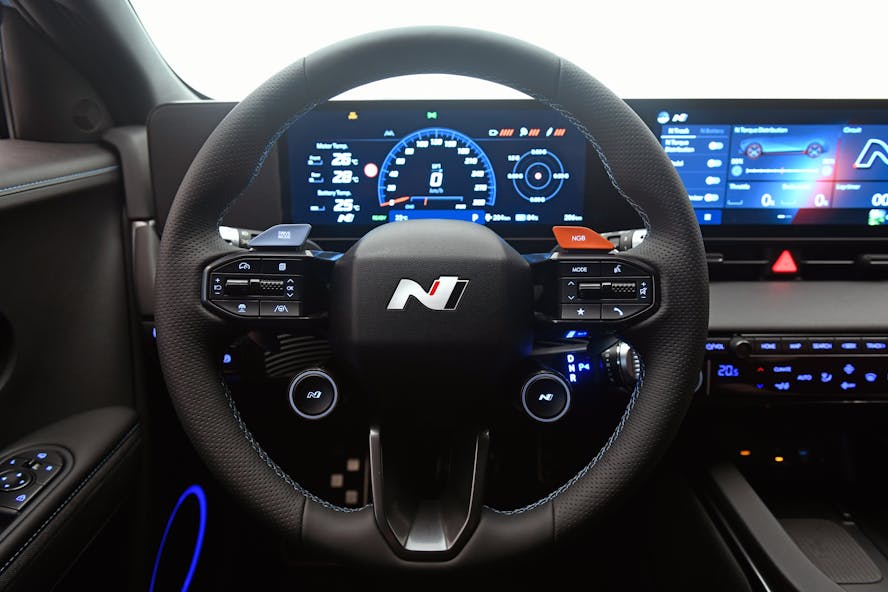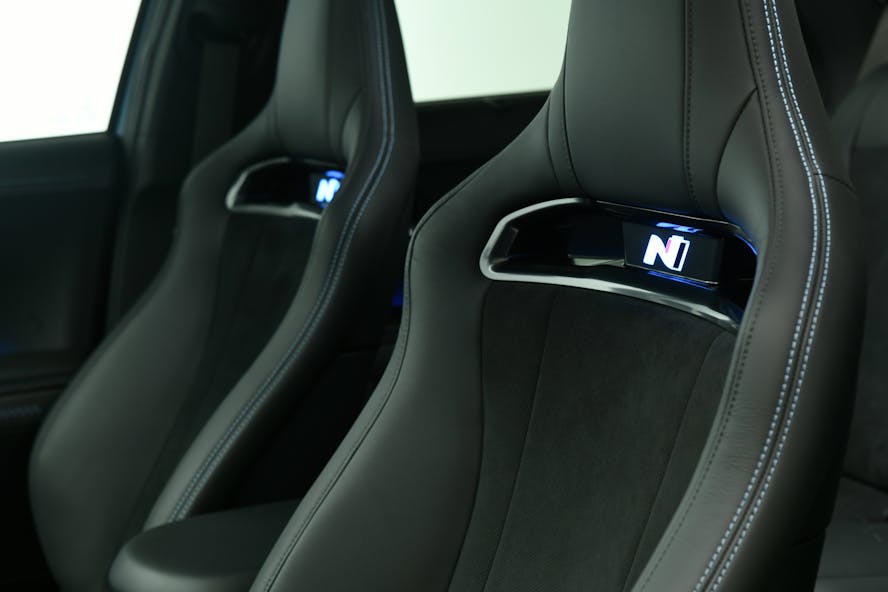 Working with N e-shift is N Active Sound+, using ten speakers (eight internal, two external), which simulates an 'ignition' sound, a high-performance sound, and a 'supersonic' cornering sound, inspired by twin-engine fighter jets.
Other 'N' features include the 'N Pedal', which provides enhanced throttle sensitivity and sharper cornering. 'N Drift Optimizer' helps to maintain drift angles, and a 'Torque Kick Drift' helps to provide more immediate drift initiation.
'N Torque Distribution' is fully variable front and rear torque distribution that can be adjusted to 11 levels, with an e-LSD (electronic limited slip differential) at the rear axle which aims to optimise cornering performance and control.
'N Grin Boost' (NGB) increases power from 609PS to 650 PS, maximising acceleration for up to 10 seconds. 'N Launch Control' includes three different traction levels in order to deliver the fastest possible start.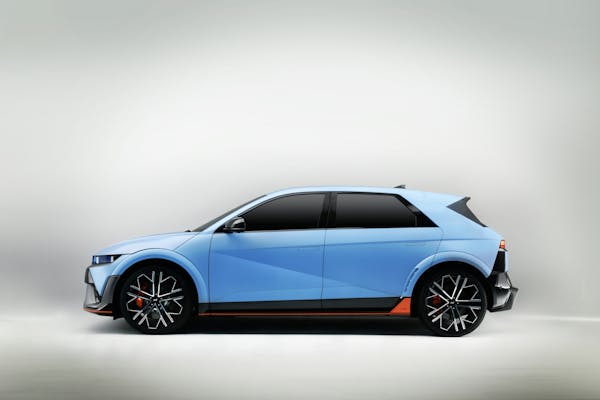 The IONIQ 5 N's powertrain is enhanced for performance in the areas of power output, battery cooling and braking. The EV also has additional strengthening of its body and its steering, together with Electronic Controlled Suspension (ECS), which adapts suspension stiffness according to the drive mode.
Continuous fast driving can result in excess battery temperatures, which can degrade performance. To counteract this, the IONIQ 5 N has an enhanced battery thermal management system comprising of an increased cooling area from independent radiators for the battery and motor, revised motor oil cooler and battery chiller.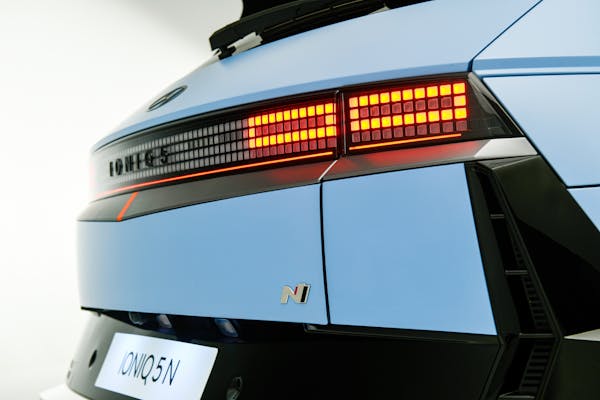 'N Battery Pre-conditioning' optimises the battery cells to the most power-efficient temperature by choosing between 'Drag' mode for a short burst of full power, or 'Track' mode, which optimises the lowest possible battery temperature for more laps.
The 'N Race' feature of the IONIQ 5 N allows drivers to prioritise 'Endurance' or 'Sprint' modes. 'Endurance' maximises range on the racetrack by limiting the peak power, which results in a slower build-up of battery temperature, whilst 'Sprint' prioritises power and provides shorter bursts of full energy.
The IONIQ 5 N features N-tuned brakes, with new lightweight materials and optimised airflow for improved cooling efficiency – this is Hyundai's most powerful braking system yet. The regenerative braking system is the primary source of brake force, while the mechanical brakes supplement additional braking force when required.
The IONIQ 5 N is 20 mm lower overall than the standard model, 50 mm wider at the bottom to accommodate wider tyres, and 80 mm longer due to the diffuser. Pirelli P-Zero tyres aim to offer improved ride and handling and better grip on the track. New N bucket seats are positioned 20 mm lower compared to the standard model.
The IONIQ 5 N is priced at £65,000.
Our electric car lease special offers
£2,713.18 Initial rental (ex. VAT)
£3,255.81 Initial rental (inc. VAT)
48 Month term
5000 Annual mileage
Subject to status and conditions + arrangement fee
£301.

46
Business contract hire per month (ex. VAT)
£361.

76
Personal contract hire per month (inc. VAT)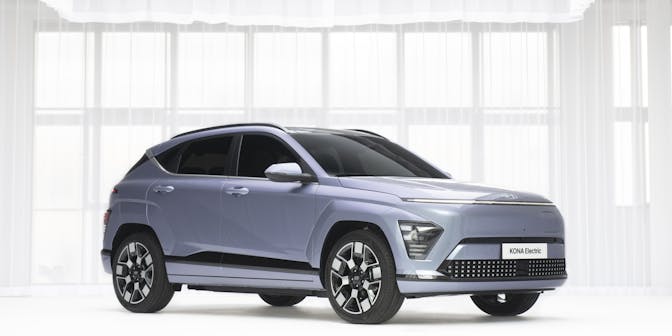 £1,951.79 Initial rental (ex. VAT)
£2,342.15 Initial rental (inc. VAT)
48 Month term
5000 Annual mileage
Subject to status and conditions + arrangement fee
£216.

87
Business contract hire per month (ex. VAT)
£260.

24
Personal contract hire per month (inc. VAT)
£2,728.44 Initial rental (ex. VAT)
£3,274.13 Initial rental (inc. VAT)
24 Month term
5000 Annual mileage
Subject to status and conditions + arrangement fee
£303.

16
Business contract hire per month (ex. VAT)
£363.

79
Personal contract hire per month (inc. VAT)