Hyundai's new streamlined saloon, the IONIQ 6
Equipped with new advanced technologies, we dig into the pricing and specification for the new IONIQ 6 range from Hyundai.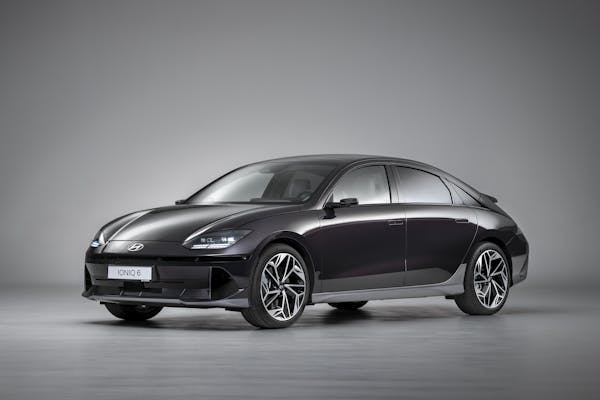 Hyundai IONIQ 6 prices will start from £46,745, with Rear Wheel Drive and All Wheel Drive variants available, as well as Premium and Ultimate trim levels. 
The IONIQ 6 is designed to be as aerodynamic and therefore as efficient as possible. It has an ultra-low drag coefficient of just 0.21, assisted by its low frontal area, active air flaps at the front, and wheel gap reducers.
Such features help to deliver a driving range of up to 338 miles for the rear-wheel drive model, or 322 miles for the all-wheel drive model, from the standard long range 77kWh battery.
Digital side mirrors are an option that aim to ensure the IONIQ 6 is even more efficient; these are available for £995 with the Ultimate trim.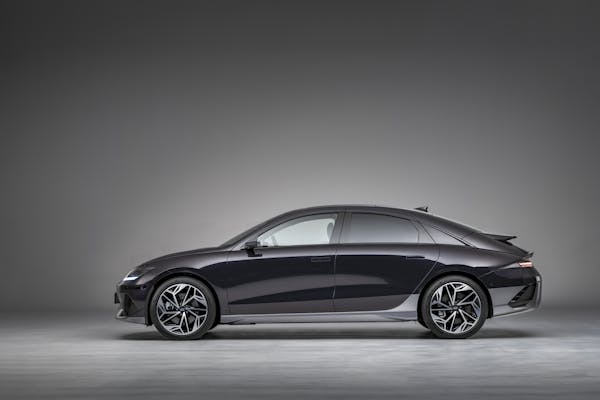 The IONIQ 6's rear-wheel drive powertrain delivers 228PS of power and 350Nm of torque, or 325PS and 605Nm with the all-wheel drive powertrain. Both powertrains offer a braked towing capacity of 1,500kg.
Thanks to its 800v charging system, the IONIQ 6 can ultra-rapid charge at up to 233 kW, and it has a standard battery heating system to optimise charge times.
The IONIQ 6 features Vehicle 2 Load (V2L). This means that it can power electrical appliances such as laptops from a 3-pin plug socket inside the car, or items such as camping equipment – or another EV – from the external charging port. To do the latter, a V2L adapter is needed, which is available from Hyundai retailers for £375.
The IONIQ 6 will be Hyundai's first model to offer an Over-the-Air (OTA) software update feature for various vehicle systems.
Prices for all Hyundai IONIQ 6 models are:
IONIQ 6 Premium Rear Wheel Drive 228PS      £46,745
IONIQ 6 Premium All Wheel Drive 325PS         £50,245
IONIQ 6 Ultimate Rear Wheel Drive 228PS       £50,245
IONIQ 6 Ultimate All Wheel Drive 325PS          £53,745
Standard equipment highlights include heated rear seats on all trim variants, and a sunroof and driver's head-up-display on the Ultimate trim level.
The IONIQ 6 Ultimate also features LED steering wheel lights that provide vehicle to driver interactions when carrying out a number of different functions such as voice recognition, reverse gear selection, EV charging status and vehicle welcome and goodbye.
Further functions on the Ultimate include Active Sound Design (e-ASD), a technology that gives IONIQ 6 a unique sound under acceleration.
We're really excited about the promise of the Hyundai IONIQ 6, combining cutting edge electric car technology with super-slippery aerodynamics will make this car one of the most efficient on the market.
Our electric car lease specials...
£2,713.18 Initial rental (ex. VAT)
£3,255.81 Initial rental (inc. VAT)
48 Month term
5000 Annual mileage
Subject to status and conditions + arrangement fee
£301.

46
Business contract hire per month (ex. VAT)
£361.

76
Personal contract hire per month (inc. VAT)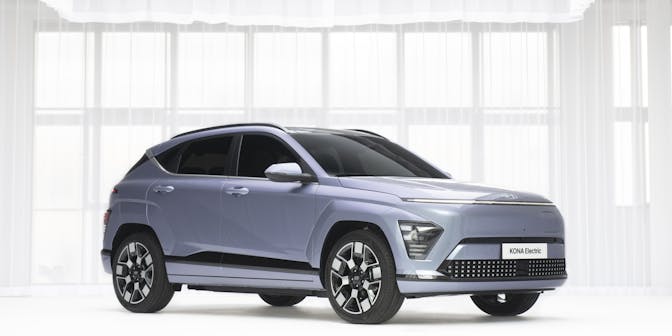 £1,951.79 Initial rental (ex. VAT)
£2,342.15 Initial rental (inc. VAT)
48 Month term
5000 Annual mileage
Subject to status and conditions + arrangement fee
£216.

87
Business contract hire per month (ex. VAT)
£260.

24
Personal contract hire per month (inc. VAT)
£2,728.44 Initial rental (ex. VAT)
£3,274.13 Initial rental (inc. VAT)
24 Month term
5000 Annual mileage
Subject to status and conditions + arrangement fee
£303.

16
Business contract hire per month (ex. VAT)
£363.

79
Personal contract hire per month (inc. VAT)