Kia Niro EV - Trim Details & Pricing Announced
Kia's immensely popular e-Niro is finally getting a new version that's just around the corner - the Niro EV.
With the e-Niro becoming the UK's second best-selling EV, the second-generation Niro EV is likely to continue the upward trend for the Korean automaker. Stuffed with the latest in cutting-edge tech, a vastly improved exterior design and a competitive price - the new Niro EV looks to build on everything that was great about the original and vastly improve on it.
Battery, Range and Charging
The new Niro EV ships with a long-range 64.8kWh battery pack and 150kW electric motor. Kia's engineers hope to achieve a WLTP range of around 285 miles from a single charge - almost exactly the same as the original e-Niro. In reality however, real world range will probably be similar to the first gen: hovering around 235 miles from a single charge.
Performance remains respectable; 0-62mph takes 7.8 seconds with torque rated at 255 Nm, and the 150kW motor provides just over 200 bhp.
Recharging the battery is quick and easy. Using the vast rapid charger network in the UK will see the Niro charge from 10 - 80% in as little as 45 minutes.
The greatest introduction to the new Niro however, is the navigation-based conditioning that will pre-heat the battery when a charge point is selected as a destination. Cold temperatures are the enemy of battery efficiency, so this tech will help the Niro achieve shorter charge times and optimise battery performance. It's clever stuff.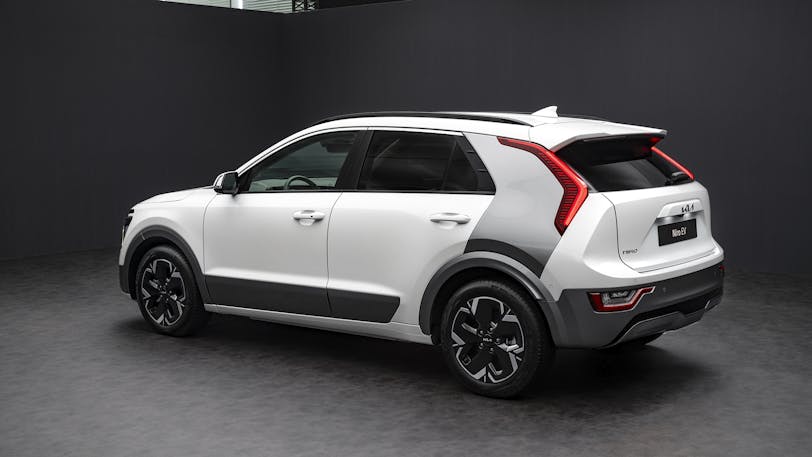 Trims and Price
Kia is sticking with its trim designations previously used on the first generation Niro: '2', '3' and '4'.
The base Niro EV '2' model starts from just £34,995, and includes all the bells-and-whistles customers have come to expect: Apple CarPlay/Android Auto, rear parking sensors with camera system, Forward Collision Avoidance and Smart Cruise Control. Exclusive to the EV '2' model sees an 8" touchscreen display with a 10.25" instrument cluster, larger 17" alloy wheels over the ICE variant and an 11kW on-board charger.
Opting for the mid-range Niro EV '3' model pushes the price up to £37,745. The additional cash gets you a nicer TFT digital instrument cluster, larger 18" alloy wheels, front parking sensors, keyless functionality, wireless smartphone charging and heated seats+steering wheel. Another perk for the EV model of ICE equivalents is the Vehicle-to-Device/Load option (as debuted in the EV6, as well as an optional heat pump. This provides a 3-pin plug as standard, allowing drivers to power appliances directly from the unused charge in the Niro's battery.
The top-spec Niro EV '4' model is priced at £40,495, and massively ups the luxury. This model is equipped with a premium sound system, vegan leather seats (made from Tencel and eucalyptus trees), a heads-up display, heated seats throughout, power-operated tailgate, electric sunroof and privacy glass. Other cool tech includes Remote Smart Parking Assist and Parking Collision-Avoidance Assist. EV versions of the Niro '4' also get Highway Driver Assist 2 (HDA2) and Forward Collision Avoidance 2 (FCA2) with additional functionality.
Overall, the Kia Niro EV is shaping up to be a very impressive all-electric package - regardless of which trim it comes in. At DriveElectric, we can't wait to take the trailblazing EV for a spin.