Kia Soul EV given surfer makeover
A unique Boardmasters Edition Kia Soul EV has been revealed by the Korean carmaker. A refit of a pre-production Soul EV, this special event car has been commissioned for the Boardmasters 2021 event which starts on the 11th August in Cornwall.
With Kia being the official automotive partner for the event, the special EV will be present for the duration, with festival-goers able to get up close to explore some of the unique features.
So what's been updated on the car?
Kia has been keen to point out that this is a 'recycled' pre-production version of the Soul which has been modified for the event – so the usual 17-inch alloys have been replaced with 16-inch bright white steel wheels complete with chunky sand tyres. The suspension has been tweaked to accommodate the larger tyres and as a result the ground clearance has doubled from 153mm to 310mm.
There's also the little matter of the custom roof rack, built to accommodate a pair of surfboards, and built out of recyclable lightweight steel tubing.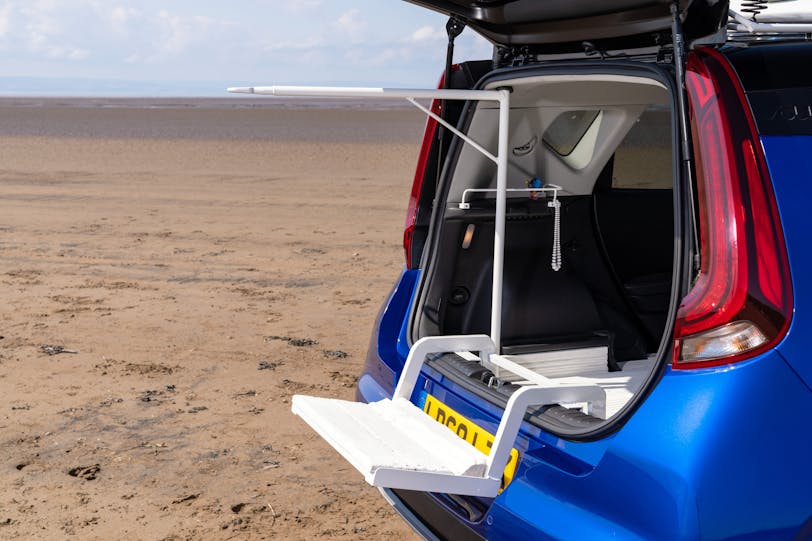 Inside, the rear seats have been removed to create a large wooden deck and opening the boot reveals a fold-out bench, plus an additional drying arm perfect for, you've guessed it, a couple of wetsuits to hang.
To complete this custom vehicle, there's even a solar charging system which operates independently of the main battery pack. Fitted with a 12V leisure battery and mains inverter, it can therefore power the LED lamp and other electrical devices without reducing vehicle range.
Get your self down to the Boardmasters 2021 event to check this unique Soul EV out in person.