Kia's suite of smart technologies is enhancing EV charging and connected mobility
Kia's revolutionary suite of smart technologies, Kia Connect, Kia Command, and Kia Smart Charging, puts customers "in charge" by making electric car mobility more efficient than ever before with vehicle-to-grid and bidirectional charging capabilities.
The Kia EV9 will be able to power your home. The benefit of this is that you can charge your Kia EV9 from home solar panels, or when electricity is cheaper, such as during the night, and then put electricity back into your home, or the grid, when electricity is more expensive, such as during peak early evening times. This has the potential for EV owners to save money, reduce carbon, and reduce the load on electricity networks.
To enable this to happen, Kia's bidirectional Smart Charging, which enables energy to flow both ways, into and out of the vehicle, includes V1G (Automated Unidirectional Smart Charging, Vehicle-to-Load (V2L), Vehicle-to-Building/Vehicle-to-Home (V2B/V2H) and Vehicle-to-Grid (V2G).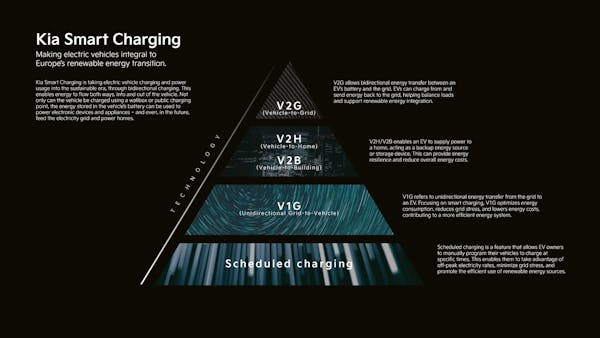 V2L, first introduced with the Kia EV6 and available as standard with the EV9, allows customers to power 110V/220V appliances using their EV9 battery by plugging the cable into the EV charging port. A fully charged EV9 with a 99.8kWh battery could power a household for five to 10 days using V2B and V2H. Using V2G the vehicle can transfer energy directly to the grid for wider use.
With V2G, thousands of electric vehicles connected to the grid could act as a virtual power plant, potentially providing enough energy to power towns and cities for temporary periods.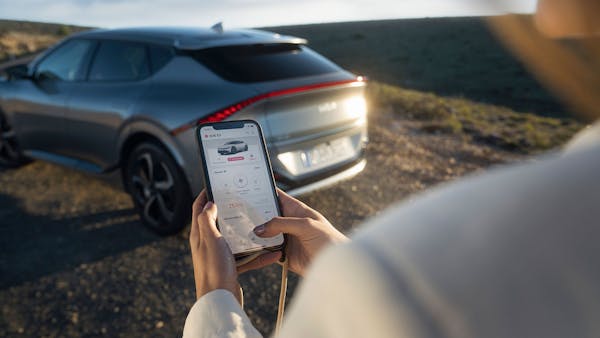 The Kia EV9 will also feature real-time updates and information via Kia Connect. A practical benefit of this is the ability to find available charging stations.
The Kia Connect app allows customers to take advantage of features available in the new Kia Connect Store where customers can purchase upgrades for their cars, enabling a vehicle to be continuously updated with the specific technologies the customer wants. The Kia EV9 will also have the EV Route Planner feature, which suggests the best charging points based on vehicle battery level while travelling to a destination.
The Kia Charge app enables access to the charging network in Europe which includes more than half a million charging points in 28 countries, and it continues to grow thanks to pan-European partnerships with Ionity and Digital Charging Solutions (DCS) as well as local charging providers.
For public fast chargers, Kia is expanding regional joint ventures to establish 30,000 new chargers by 2030, and the company is also setting up co-branded fast chargers at dealerships.
Kia is due to launch 15 EVs by 2027.
Our electric car lease special offers
£2,524.26 Initial rental (ex. VAT)
£3,029.11 Initial rental (inc. VAT)
48 Month term
5000 Annual mileage
Subject to status and conditions + arrangement fee
£280.

47
Business contract hire per month (ex. VAT)
£336.

57
Personal contract hire per month (inc. VAT)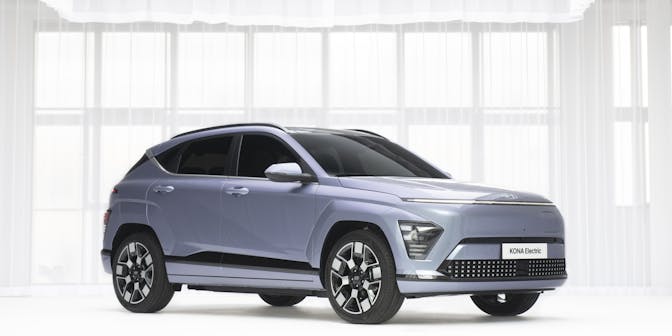 £2,067.67 Initial rental (ex. VAT)
£2,481.20 Initial rental (inc. VAT)
48 Month term
5000 Annual mileage
Subject to status and conditions + arrangement fee
£229.

74
Business contract hire per month (ex. VAT)
£275.

69
Personal contract hire per month (inc. VAT)
£2,676.21 Initial rental (ex. VAT)
£3,211.46 Initial rental (inc. VAT)
48 Month term
5000 Annual mileage
Subject to status and conditions + arrangement fee
£297.

36
Business contract hire per month (ex. VAT)
£356.

83
Personal contract hire per month (inc. VAT)