Maserati goes electric with the Grecale Folgore SUV & GranTurismo Folgore
Maserati debuts its first all-electric SUV at the Shanghai Auto Show - the Grecale Folgore and the new iconic GranTurismo. Now part of the new electrified era, the Trident promises to deliver fully-electric versions of all their vehicles by 2030.
Shanghai, 19 April 2023 – The 2023 Shanghai Auto Show is opening its doors for an electrifying new edition and Maserati is thrilled to show the world its latest full-electric creations, marking the historic moment of being the first Italian luxury brand to produce 100% electric vehicles.
And of course, China is the cradle of this fascinating and exciting revolution of mobility – not only in terms of innovation but also of forward-thinking and embedded interest in the luxury market – and the ideal venue for the global premiere of Maserati Grecale Folgore.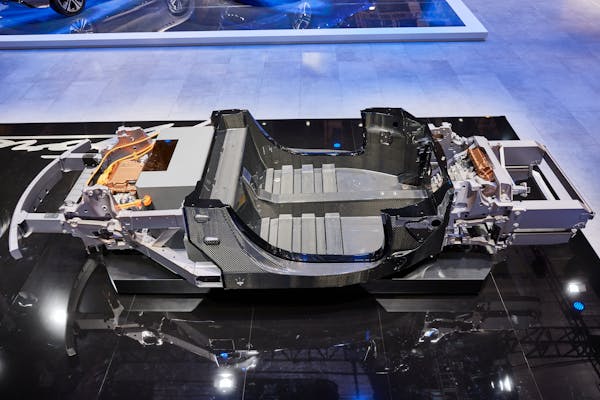 Few technical details about the Maserati Grecale Folgore have so far been released, other than that it's equipped with a 105 kWh battery, it will have a 500 hp power output, 800 Nm of torque, and a top speed of more than (WLTP) 124 mph.
Maserati says that interior materials will be manufactured using recycled fishing nets.
The Grecale Folgore shares the same platform as the Alfa Romeo Stelvio, so an all-electric version of that SUV is also possible.
The Maserati Grecale Folgore SUV is due to go on sale in the summer of 2024.
The Maserati GranTurismo Folgore performance car features a platform developed from Formula E with a 'T-shaped' battery, with no battery cells positioned under passengers in order to ensure the lowest possible center of gravity.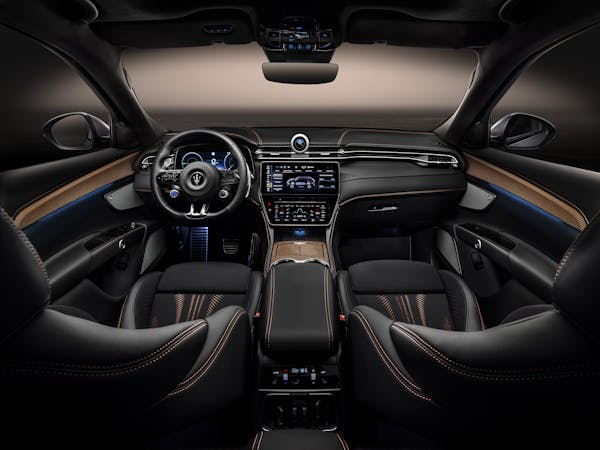 The GranTurismo's 800V battery system powers three 300 kW electric motors – one at the front and two at the rear – delivering up to 750 hp of power and a huge 1,350 Nm of torque. This results in a 0-60 mph acceleration time of just 2.7 seconds.
The GranTurismo Folgore is expected to have an electric driving range of up to (WLTP) 279 miles and ultra-rapid charging capabilities that can add 62 miles in around five minutes.
Maserati – part of Stellantis – says that electrification will play a key role in its future strategy, with a commitment to producing electric versions of all its models by 2025, and full-electric vehicles only by 2030.
As well as the Grecale Folgore and the GranTurismo Folgore, other all-electric models due from Maserati will include the open-top GranCabrio, to be revealed later this year, and joined before 2025 by pure-EV versions of the Maserati MC20 supercar, Quattroporte sports saloon, and larger Levante SUV.
Our electric car lease special offers
£2,713.18 Initial rental (ex. VAT)
£3,255.81 Initial rental (inc. VAT)
48 Month term
5000 Annual mileage
Subject to status and conditions + arrangement fee
£301.

46
Business contract hire per month (ex. VAT)
£361.

76
Personal contract hire per month (inc. VAT)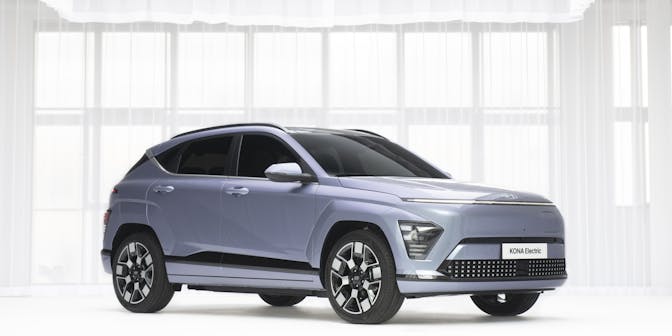 £1,951.79 Initial rental (ex. VAT)
£2,342.15 Initial rental (inc. VAT)
48 Month term
5000 Annual mileage
Subject to status and conditions + arrangement fee
£216.

87
Business contract hire per month (ex. VAT)
£260.

24
Personal contract hire per month (inc. VAT)
£2,728.44 Initial rental (ex. VAT)
£3,274.13 Initial rental (inc. VAT)
24 Month term
5000 Annual mileage
Subject to status and conditions + arrangement fee
£303.

16
Business contract hire per month (ex. VAT)
£363.

79
Personal contract hire per month (inc. VAT)