MAXUS unveils eDELIVER 7 medium-size electric van
MAXUS unveils the newest addition to its electric van offerings, the eDELIVER 7, and is expected to be available in the UK in early December 2023.
The new MAXUS eDELIVER 7 medium-sized eLCV has been unveiled, which will fit between MAXUS' current electric vans, the smaller eDELIVER 3 and the larger eDELIVER 9.
Available in three size configurations, with a payload of up to 1,200kg, the eDELIVER 7 features a 150kW/330Nm electric motor and an acceleration time of 0-62 mph in 11 seconds.
There are two battery options, 77kWh, and 88kWH, with the larger variant offering an electric driving range of up to 226 miles (WLTP combined). A 0-80% battery charge should take 43 minutes at a DC rapid charge point.
The MAXUS eDELIVER 7 is available in three sizes.
The L2H1 Cargo Van is 5,364mm long, and 1,990mm high, with a wheelbase of 3,366mm and a cargo volume of 6.7m3.

The L2H2 Cargo Van is 5,364mm long, and 2,390mm high, with a wheelbase of 3,366mm and a cargo volume of 8.7m3.
The eDELIVER 7 offers three driving modes, Eco, Normal, and Power. Safety features include blind spot detection, lane change assist, AEBS (autonomous emergency braking system), fatigue driving monitoring, plus front and rear parking sensors, and 360-degree cameras. A 12.3-inch touchscreen infotainment system is also included as standard with Apple Carplay and Android Auto available.
MAXUS is a subsidiary of SAIC Motor Corp (formerly Shanghai Automotive Industry Corporation), a Chinese state-owned vehicle manufacturer, considered one of China's 'Big Four'. SAIC is recognized as a global leader in the technical revolution, particularly in terms of battery technology, and has invested £2 billion into innovation in recent years with particular attention to the MAXUS range of zero-emission vehicles.
MAXUS' full range of 12 EVs was on display at the CV Show including the eDELIVER 3 and eDELIVER 9 cabin van and chassis variants and an eDELIVER 9 minibus. Also on show were the MAXUS MIFA 9 MPV and the T90EV on-road pick-up truck, which launched at the CV Show in 2022.
Pricing for the MAXUS eDELIVER 7 will be announced in June 2023, with orders from August.
Our electric car lease special offers
£2,524.26 Initial rental (ex. VAT)
£3,029.11 Initial rental (inc. VAT)
48 Month term
5000 Annual mileage
Subject to status and conditions + arrangement fee
£280.

47
Business contract hire per month (ex. VAT)
£336.

57
Personal contract hire per month (inc. VAT)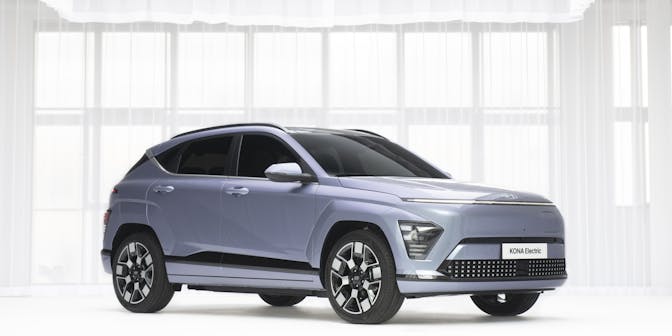 £2,067.67 Initial rental (ex. VAT)
£2,481.20 Initial rental (inc. VAT)
48 Month term
5000 Annual mileage
Subject to status and conditions + arrangement fee
£229.

74
Business contract hire per month (ex. VAT)
£275.

69
Personal contract hire per month (inc. VAT)
£2,676.21 Initial rental (ex. VAT)
£3,211.46 Initial rental (inc. VAT)
48 Month term
5000 Annual mileage
Subject to status and conditions + arrangement fee
£297.

36
Business contract hire per month (ex. VAT)
£356.

83
Personal contract hire per month (inc. VAT)