Munro MK_1 Pick-Up Unveiled at Fully Charged Live North 2023
Munro Vehicles has taken the next step in its worldwide growth plan by introducing the new all-electric 4x4 MK_1. The MK-1 has a payload of 1050kg, a rapid charge time of 36 minutes, and zero emissions.
The all-electric, all-wheel drive Munro MK_1 Pick-Up has been unveiled at Fully Charged Live North 2023, joining the Munro MK_1 Truck.
Like the Truck version, the Pick-Up is primarily designed as a utility vehicle to meet the needs of businesses in sectors such as mining, construction, utilities, agriculture, and defence.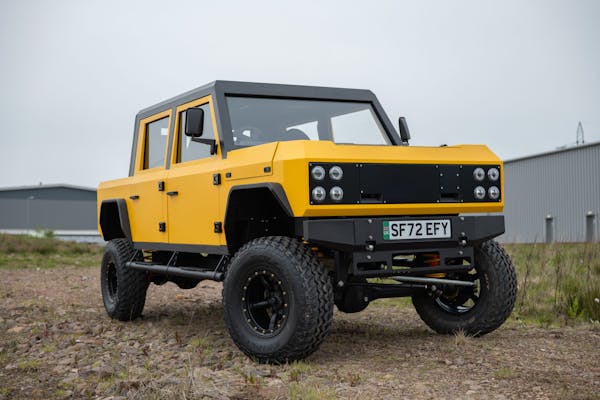 Seeing the Munro MK_1 in the metal leaves you with no doubt that this is a highly capable off-road vehicle.
Key statistics include an electric driving range of up to (WLTP) 190+ miles from its 82.4 kWh battery, which Munro claims should enable it to operate off-road for up to 16 hours on a single battery charge; 375hp of power and 700Nm of torque from its 220 kW electric motor; and a 0 to 60 mph acceleration time of just 4.9 seconds.
With a 100 kW maximum DC charging capability, a 15% to 80% charge can be achieved in 36 minutes.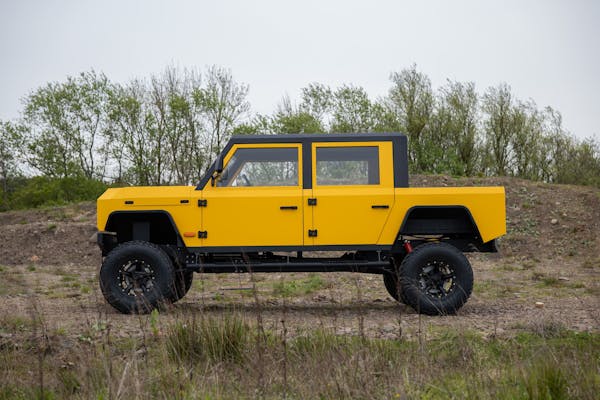 The Munro MK_1 also has a 1,050kg payload, accommodating a Euro Pallet, with a towing capacity of up to 3,500kg.
There are three model variants, Utility, Range and Performance; prices start at £49,995 excluding VAT. The Munro MK_1 is designed to give 50 years of service – undoubtedly helped by its rugged engineering and the lack of extravagant, unnecessary technological features.
Munro has already had 200 orders for the Munro MK_1, which the company says equates to one and a half years of production.
Deliveries are due to start later this year, with 50 vehicles expected to be built in 2023, and the company is moving into larger premises near Glasgow in 2024 which should allow it to increase production to 250 vehicles per year. The plan is to deliver 2,500 vehicles per year by 2027.
The Munro MK_1 is designed, engineered and built in Scotland. The company is now promoting its ability to serve global markets and help businesses deliver their decarbonisation targets.
Our electric car lease special offers
£2,713.18 Initial rental (ex. VAT)
£3,255.81 Initial rental (inc. VAT)
48 Month term
5000 Annual mileage
Subject to status and conditions + arrangement fee
£301.

46
Business contract hire per month (ex. VAT)
£361.

76
Personal contract hire per month (inc. VAT)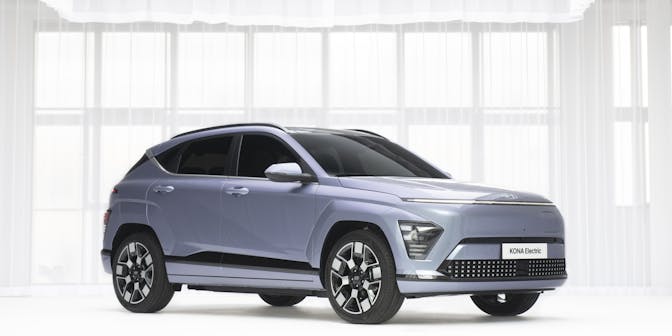 £1,951.79 Initial rental (ex. VAT)
£2,342.15 Initial rental (inc. VAT)
48 Month term
5000 Annual mileage
Subject to status and conditions + arrangement fee
£216.

87
Business contract hire per month (ex. VAT)
£260.

24
Personal contract hire per month (inc. VAT)
£2,728.44 Initial rental (ex. VAT)
£3,274.13 Initial rental (inc. VAT)
24 Month term
5000 Annual mileage
Subject to status and conditions + arrangement fee
£303.

16
Business contract hire per month (ex. VAT)
£363.

79
Personal contract hire per month (inc. VAT)