New electric vans from PSA Groupe
Exciting news from PSA Groupe that they plan to launch three new electric vans.
Available to lease now, a new line up of all-electric mid-size commercial and passenger vans from Groupe PSA brands; Citroën, Vauxhall and Peugeot. PSA's new line up of vans are electrified versions of already well-known vans; the Vauxhall Vivaro, Citroën Dispatch and Peugeot Expert. The aim is for PSA's entire passenger car and LCV (Light Commercial Vehicle) range to be electrified by 2025.
This electric line-up is available in more length and seating configurations than you can shake a stick at – and more good news is that the XL length models will be long enough to fit a sheet of plasterboard in. So more van drivers will now have the opportunity to reduce their carbon footprint without compromising on functionality and load space, which has been an issue up until now – with only smaller vans like the Nissan e-NV200 and Renault Kangoo ZE available.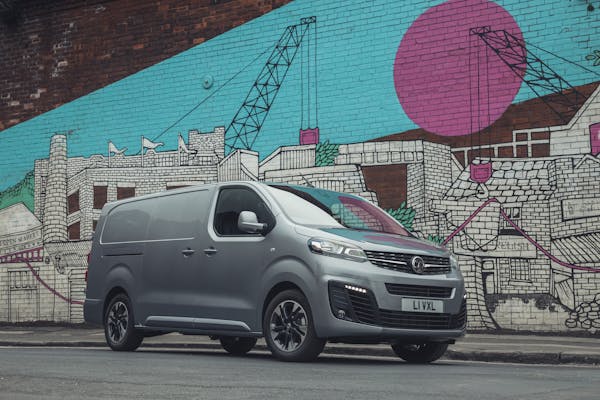 Vauxhall has introduced its new all electric panel van the Vivaro-e. A passenger van variant will also be available, the Vivaro-e Life which can seat up to 9 people. The Vivaro-e will be available in 50kWh and 75kWh battery options with a top driving ranges of up to 206 miles WLTP.
This electric van has a practical Flex Cargo loading extending the cargo length and maximum cargo capacity. As with all electric vans the Vivaro-e has automatic transition and has 3 different driving modes ECO, Normal and POWER. It also comes with a wide range of driving assistance aids including Lane Keep assist, Traffic Sign Recognition, Drowsiness Alert, Semi Adaptive Cruise Control, Automatic Emergency Breaking.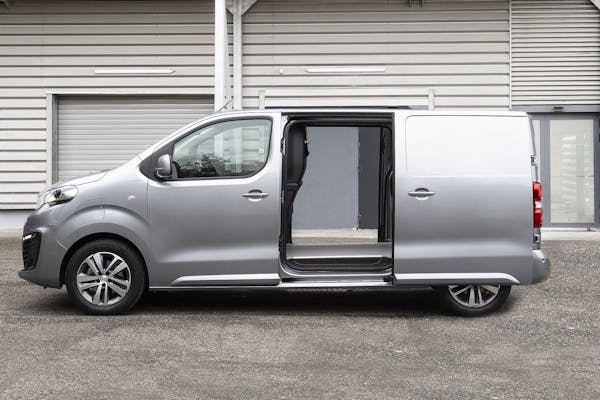 Following on from the popular Peugeot Expert a 100% electric version is on the way. This new electric van will also be available in 3 lengths as well as 2 battery sizes and will have the ability to rapid charge at public charging stations at speeds of up to 100kW, meaning you can top-up on the go in no time.
The e-Expert comes with a the same payload as the other two new PSA Groupe vans at 1226kg and like it's siblings, the Vivaro-e and the E-Dispatch, the electric van also has a tow capacity of up to 1000kg.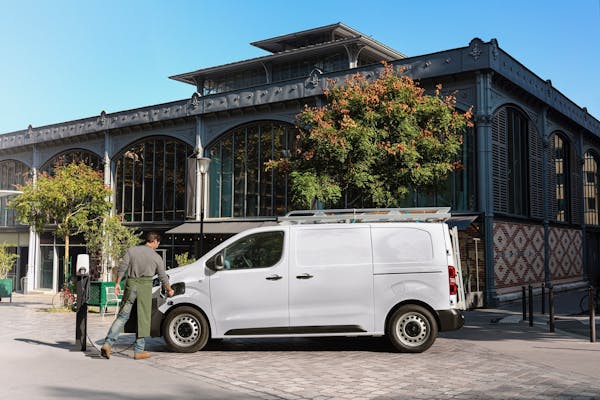 The Citroën Dispatch launched as a petrol/diesel model back in 2016 and now Citroën will offer a 100% battery electric version of the van. The ë-Dispatch is the start of the electrification across the entire Citroën Light Commercial Vehicle (LCV) range with plans to see all their LCVs with battery-electric drivetrain options by the end of 2021.
This version of the popular and reputable Dispatch van will once again be available in two all-electric battery options, which both offer great driving range capabilities and a variety of price points to suit a variety of budgets. The new electric van comes in 3 body lengths and the largest has the ability to carry a load volume of up to 6.6 cubic metres. The van produces zero emissions, yet has impressive power and torque giving you a smooth and almost silent drive.
How far can they go?
There are two different battery options to choose from, 50kWh or 75kWh, both of which are integrated into the floor of the vehicle without encroaching into any cabin space. Vauxhall state that the positioning of the Vivaro-e's battery also helps provide "…a stable centre of gravity." Clever stuff!
Official WLTP range figures vary according to van and battery size you select, but sit between 143 and 205 miles per charge (these figures are calculated on a 50% payload).
PSA states, on average, 83% of commercial van drivers travel less than 124 miles on a daily basis, so the range of these new vans should be more than sufficient for most drivers to get around without the need to recharge during the day.
Switch and save
With clean air zones and low emission zones being introduced in cities across the UK, driving one of these vans could save you hundreds of pounds over the year and give you the freedom to access restricted CO2 emission areas. Electric cars and vans in London for example qualify for a 100% discount on Congestion and ULEZ charges, which currently add up to a £17.50 daily fee for non-compliant vehicles accessing central London.
Conventional styling with electric benefits
At a glance, appearance-wise this electric trio will look the same as their internal combustion engine (ICE) counterparts but with the benefits of zero emission driving:
Electric vehicles have fewer moving parts and require less maintenance as a result,
and charging with electric rather than filling up with fossil fuels also adds up to significant savings.
With no gear changing these vans promise a simplified driving experience
and the lack of an engine means it'll be a much more peaceful and quiet ride too.
The regenerative braking function means minimal wear on brake pads too, Vauxhall explain regenerative braking really well: "Lift your foot off the accelerator and the Regenerative Braking System captures kinetic energy which can be used to take you further. Use the highest setting and most short journeys can be made without using your brakes – so they last longer and save you money."
Specifications
These electric vans are built on the same platform and will be available in multiple lengths (4.6m, 4.95m, and 5.30m), seating, and battery configurations to suit different businesses needs.
Additional extras are included in some specifications such as heated seats and temperature pre-conditioning. Some of the stand-out highlights for these vans would be the impressive range and payload capacity which have not been seen in any full electric vans before; depending on the model of the van, it can have a payload of up to 1,226kg, and not forgetting the XL versions' sheet of plasterboard carrying capacity!