New ŠKODA ENYAQ COUPÉ iV 2022
In the UK the ŠKODA ENYAQ COUPÉ iV will be available with one battery size – 82 kWh (net 77 kWh) – and a choice of rear or all-wheel drive, and three power outputs ranging from 150 kW to 220 kW. The ŠKODA ENYAQ COUPÉ iV 80 will be rear-wheel drive with a power output of 150kW and will have a driving range of up to 339 miles.
The ENYAQ COUPÉ iV 80x and ENYAQ COUPÉ iV vRS feature a second motor on the front axle, making them all-wheel drive. The ENYAQ COUPÉ iV 80x has a system output of 195 kW. The top-of-the-range ENYAQ COUPÉ iV vRS delivers 220 kW and maximum torque of 460 Nm, resulting in a 0 to 62 mph time of just 6.5 seconds and a top speed of 111 mph.
The ENYAQ COUPÉ iV SportLine and ENYAQ COUPÉ iV vRS feature a sports chassis as standard, which is 15mm lower at the front and 10mm at the rear.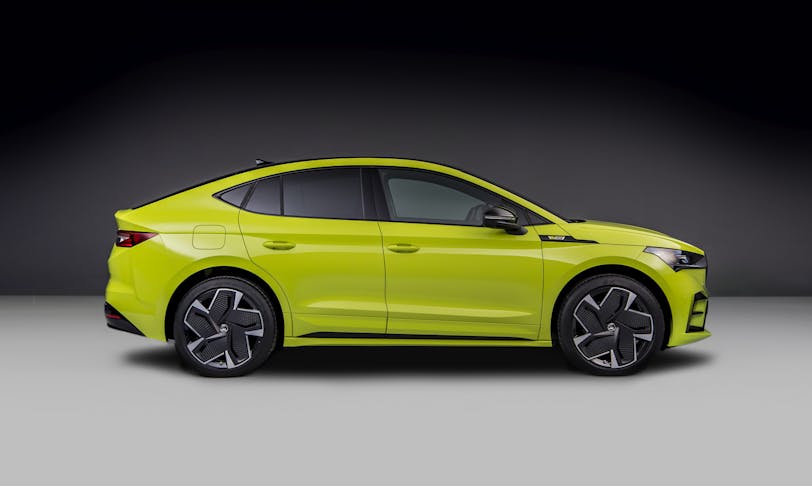 The ŠKODA ENYAQ COUPÉ iV can rapid charge at up to 135 kW DC, allowing a charge of 10 to 80% in just 29 minutes. It can also charge at up to 11 kW AC, when a full charge would take six to eight hours.
The ŠKODA ENYAQ COUPÉ iV has an optional heat pump for more efficient interior heating and air conditioning. The heat pump system compresses refrigerant under high pressure. This produces heat, which is used to warm up cold air flowing into the car, meaning less energy from the vehicle battery is required to power the high-voltage heater, increasing the vehicle's range.
The ENYAQ COUPÉ iV also has a new infotainment system. The latest software version brings updates to the infotainment and head-up display, as well as improving battery management.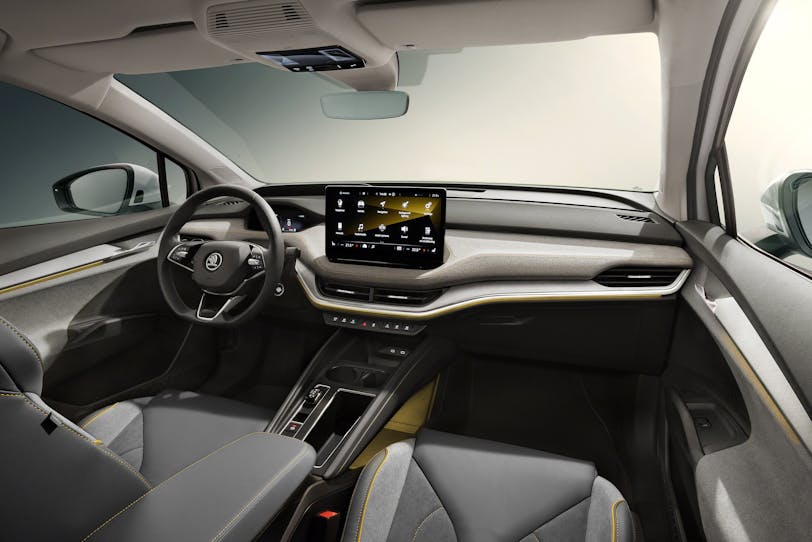 The largest, 13-inch ŠKODA touchscreen and the 5.3-inch Digital Cockpit come as standard. The permanent internet connection enables the use of the ŠKODA Connect online services, many of which are specifically designed for an electric vehicle. The features included allow battery charging or the interior's air conditioning to be controlled remotely via the MyŠKODA app.
The ENYAQ COUPÉ iV offers a large boot capacity of 570 litres, and it can tow up to 1,400 kg. The ŠKODA ENYAQ COUPÉ iV is available with a number of 'design selections' including; Loft, Lodge, Lounge, Suite, ecoSuite, SportLine and vRS Suite.