Nissan Ariya to attempt 17,000-mile drive from Pole to Pole
Putting the Nissan Ariya to the test, husband and wife team up to take on the world-first challenge.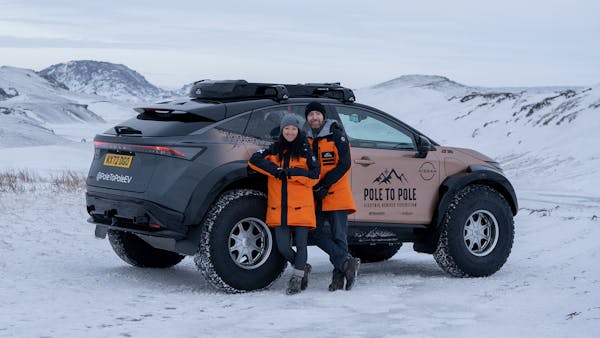 An electric Nissan Ariya SUV will attempt to drive 17,000 miles from the magnetic North Pole to the South Pole. The challenge is due to start in March and the car that will be used has been revealed.
Arctic Trucks, a specialist in polar expedition vehicles, has collaborated with Nissan design and engineering teams to prepare the Ariya for conditions that will include ice fields, deep snow, steep mountain climbs and desert dunes.
The battery and powertrain, including e-4ORCE all-wheel-control technology, are the same as the production car, but one obvious change is the adoption of 39-inch BF Goodrich snow tyres, along with widened wheel arches and raised suspension – modifications that have been tested in Iceland.
The world-first electric journey has been planned for four years by husband and wife team Chris and Julie Ramsey. Chris says that the aim is to "take a standard production EV and aim to make minimal changes". Presumably one of the minimal changes is the specially integrated espresso machine (although perhaps Nissan can include this feature in a special Pole-to-Pole edition of the Ariya).
Another item that we don't believe is currently a standard Nissan option is a drone which can launch directly from the roof to record the expedition.
An interesting innovation is a portable renewable energy unit that will be used to charge the Ariya in the polar regions. The towable prototype includes a lightweight wind turbine and solar panels that will take advantage of high winds and long daylight hours to provide charge for the EV's battery when Chris and Julie stop to rest.
The 10-month expedition through the Americas aims to showcase initiatives and communities harnessing renewable energy.
Chris and Julie Ramsey were the first people to complete the 17,000km Mongol Rally in an electric vehicle, their own Nissan Leaf.
Our electric car lease special offers
£2,713.18 Initial rental (ex. VAT)
£3,255.81 Initial rental (inc. VAT)
48 Month term
5000 Annual mileage
Subject to status and conditions + arrangement fee
£301.

46
Business contract hire per month (ex. VAT)
£361.

76
Personal contract hire per month (inc. VAT)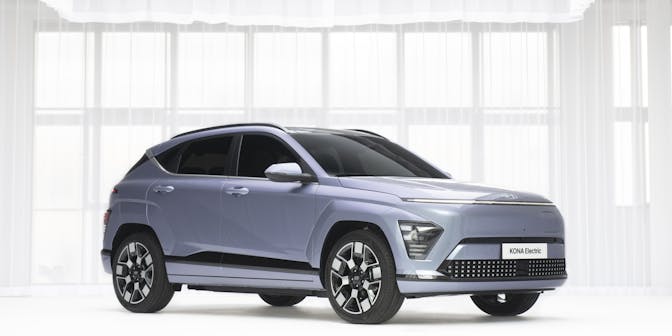 £1,951.79 Initial rental (ex. VAT)
£2,342.15 Initial rental (inc. VAT)
48 Month term
5000 Annual mileage
Subject to status and conditions + arrangement fee
£216.

87
Business contract hire per month (ex. VAT)
£260.

24
Personal contract hire per month (inc. VAT)
£2,728.44 Initial rental (ex. VAT)
£3,274.13 Initial rental (inc. VAT)
24 Month term
5000 Annual mileage
Subject to status and conditions + arrangement fee
£303.

16
Business contract hire per month (ex. VAT)
£363.

79
Personal contract hire per month (inc. VAT)