Orders Open for the Volkswagen ID.5 and ID.5 GTX SUV-Coupés
The all-electric Volkswagen ID.4 SUV offers lots of space and a 300 mile+ driving range, but if you want something that looks a bit more sporty, orders have now opened for the coupé versions, the ID.5, and the ID.5 GTX.
The ID.5 is basically an ID.4 with a sloping rear window, so you would imagine that there's less space in the boot, but somehow Volkswagen has increased the boot space, from 543-litres in the ID.4 SUV to 549-litres in the ID.5 SUV-coupé.
The Volkswagen ID.5 has a 77 kWh battery, giving a driving range of up to 313 miles. It can also rapid charge at up to 135 kW – this means that it can charge from 0-80% in less than 30 minutes. This equates to adding 62 miles of range in six minutes.
Like the Volkswagen ID.4, the ID.5 is rear-wheel drive. However if you want all-wheel drive, this is what the ID.5 GTX offers, along with more power (299 PS) and double the torque thanks to its dual motors, and a faster 0-62mph acceleration time of 6.3 seconds. The ID.5 GTX Max is expected to account for around 15% of ID.5 sales
The ID.5 is available with three power options – 174 PS Pro, 204 PS Pro Performance, and 299 PS GTX, and in three trim levels: Tech, Max, and the GTX Max.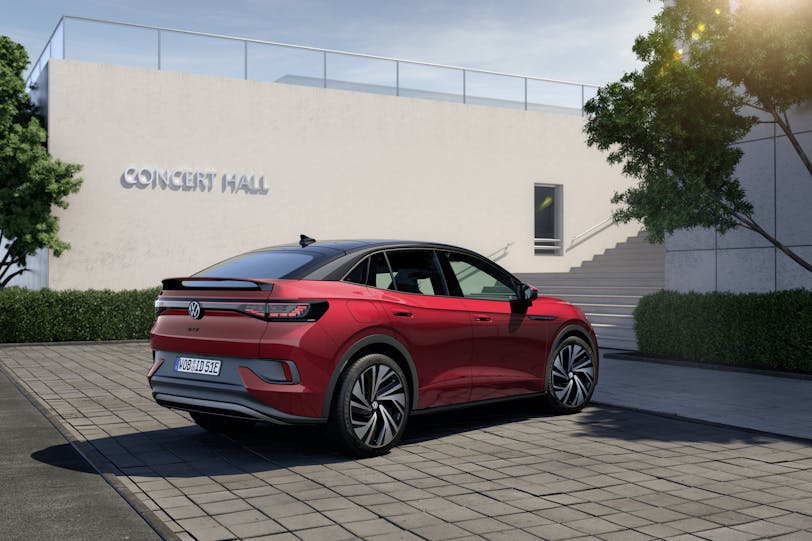 Every ID.5 variant is equipped with a panoramic sunroof; ID.Light LED matrix headlights; 3D-LED tail lights; the latest iteration of the Travel Assist semi-autonomous assistance system; an electric tailgate; 3-zone climate control; Volkswagen's Augmented Reality Head-Up Display; and 12-way electrically adjustable microfleece seats with massage function.
Over the entry-level Tech trim, the ID.5 Max gains additional features including 20-inch alloy wheels; Top-Sport 'Plus' seats; and the Sports Package Plus, which incorporates Dynamic Chassis Control (DCC) with Driving Profile Selection, and progressive steering for additional driver engagement. The ID.5 Max and GTX Max also benefit from an energy-efficient heat pump.
Volkswagen ID.5 prices start at £50,550, or £58,640 for the ID.5 GTX Max.