Peugeot e-Boxer van: longer range and lower price
The Peugeot e-Boxer van is now available with a larger 75kWh battery which adds up to 15 miles of range, now giving a total WLTP range of 154 miles.
The larger battery is available across all e-Boxer variants. The new 75kWh battery is mated with an electric motor producing 122bhp and 350Nm of torque.
The new 75kWh e-Boxer also has a price reduction of £8,770 on the 4 tonne versions. Peugeot says that this is possible due to economies made in the manufacturing process. This means that prices for the e-Boxer 440 Electric 75kWh auto Professional now start from £66,535 before the UK Government's Plug in Vehicle Grant (PiVG), which provides further savings of up to £5,000 across all versions of the Peugeot e-Boxer.
Savings are also available on the 75kWh Peugeot e-Boxer Window van variant.
As with all Peugeot electric vans, the e-Boxer has exactly the same volume and practicality compared with diesel versions.
The e-Boxer van also offers lower running costs than the diesel versions – as well as being better to drive.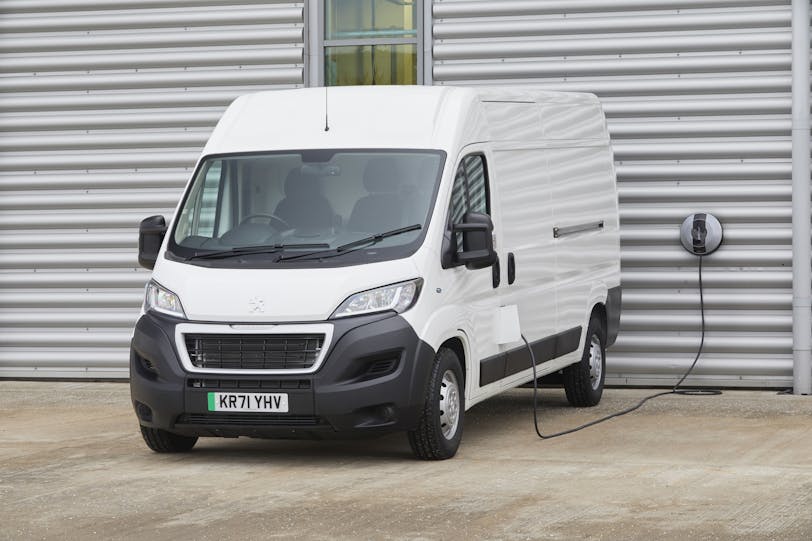 The Peugeot e-Boxer can be charged from 0-80% in one hour when using a 50kW rapid charger.
All Peugeot's electric vans can drive into emission restriction zones, as well as the London Congestion Charge Zone, without any charges.
The Government PiVG is 35% of the Base Vehicle Price (including VAT) and including any discounts applied up to a maximum of £5,000 on all e-Boxer versions. See more details at www.gov.uk/plug-in-car-van-grants.
The unfortunate truth for most however, is that outright purchase of an electric van is still too dear to justify to the accountant. Even with the plug-in grant. At DriveElectric, we offer a range of vans at affordable price points for every business. If you're still unsure and want to try an electric vehicle out for a few months, why not try out our FlexiHire option?
Otherwise, take a look at our top van leases below.