Rolls-Royce's first EV 'Spectre' concludes testing
If you want to buy an electric Rolls-Royce today, you can't – but you will be able to in 2023, when the first electric production Rolls-Royce will be called the Spectre.
Described by Rolls-Royce as an 'Electric Super Coupé', the Spectre has just completed winter testing in Arjeplog, Sweden. This represents 25% of a testing programme covering 2.5 million kilometres, simulating more than 400 years of use for a Rolls-Royce.
The Spectre isn't actually the first all-electric Rolls-Royce in recent years. Back in 2011 there was the 102EX based on the Phantom, but this was just an 'experimental concept'. Following this came the 103EX design study. Rolls-Royce says that the reaction from customers to these concepts was positive. This led to Rolls-Royce confirming in September 2021 that it had commenced testing of the Spectre.
The company says that if you laid out all of the Spectre's electrical cables end-to-end they would cover a distance of seven kilometres, or over four miles. This is a substantial increase from two kilometres in existing Rolls-Royce products and is a reflection of the vehicle's advanced technology and connectivity.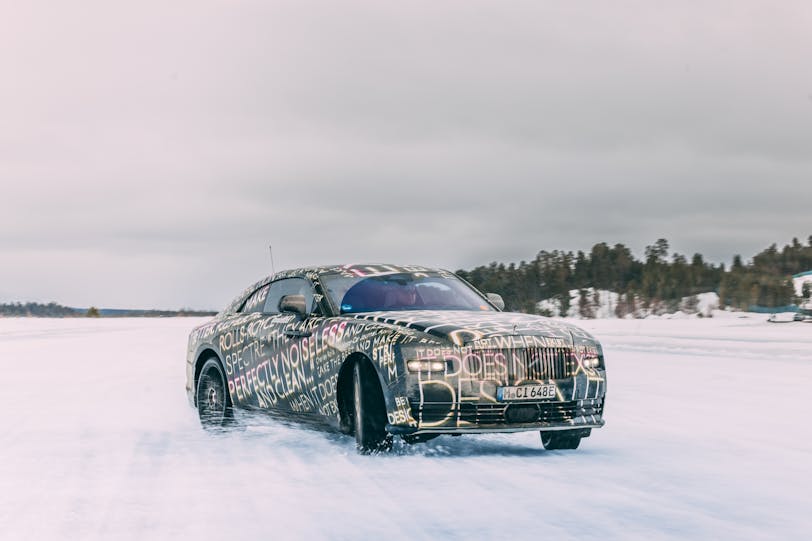 All this technology has now been tested at -40˚C, along with noise, vibration and harshness tests; the efficiency of the motor car's heating, ventilation, air conditioning and cooling systems; and the chassis control systems, powertrain management and electronics control. Handling, controllability, stability, predictability have all also been assessed in the ice and snow (presumably along with the performance of the huge 23-inch wheels).
Like most EVs, the battery (which Rolls-Royce quotes as weighing 700kg) sits in the floor, and it's also being used as sound deadening. So despite any reduction in mass as a result of the aluminium spaceframe, thanks to the battery, all those electrical cables, and the sheer size of the car, we can probably expect the Spectre to weigh a substantial amount (the 102EX felt very heavy to drive). Therefore it's a good job that the Spectre is aerodynamic – its fastback body style has a drag coefficient (cd) of just 0.26 in early prototypes.