ŠKODA ENYAQ iV Updated & vRS Model Price Announced
The ŠKODA ENYAQ iV is benefitting from a number of updates, and prices have been announced for the ŠKODA ENYAQ Coupé iV vRS
ŠKODA ENYAQ iV 80 models will now be able to rapid charge at 135kW, up from 125kW. This will deliver reduced charging times for drivers when charging on a 150kW+ public charger. There's even more of an improvement for ENYAQ iV 60 models, which will now be able to charge at speeds up to 120kW, up from 100kW.
The ENYAQ iV 80x all-wheel drive models will also benefit from a new 'Traction mode', which ŠKODA claims will improve the distribution of torque between the front and rear axle.
There's also a new Battery Care Mode, which limits the charging to a maximum of 80% – as per Tesla – in order to extend the life of the battery; presumably the driver will be able to override this to charge to 100% if needed.
The navigation system now shows an estimated battery level on arrival at a destination, and the charging screen has been redesigned to show more information.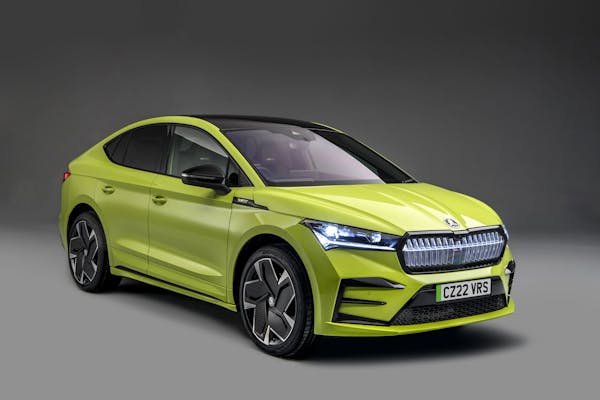 ŠKODA has also announced prices for its first ever fully-electric vRS model, the ENYAQ Coupé iV vRS, which start from £51,885.
The ENYAQ Coupé iV vRS is fitted with an 82kWh (77kWh net) battery pack and has a WLTP driving range of 309 miles. The vRS is equipped with twin motors – one on either axle – that provide all-wheel drive and a combined power output of 299PS and maximum torque of 460Nm. The ENYAQ Coupé iV vRS is capable of acceleration from 0-62mph in just 6.5 seconds and has a top speed of 111mph.
When rapid charged at up to 135kW, an 80% charge can be achieved in 36 minutes. On a standard 7.2kW home wallbox, a charge from empty to full will take around 13 hours.
The ENYAQ Coupé iV vRS will be available to order from 17 February and will arrive in the UK in July.