SUV version of the Skoda Enyaq iV vRS now available
Are you looking for a new all-electric SUV? Skoda adds a fresh addition to its lineup that combines sustainability and high-performance driving.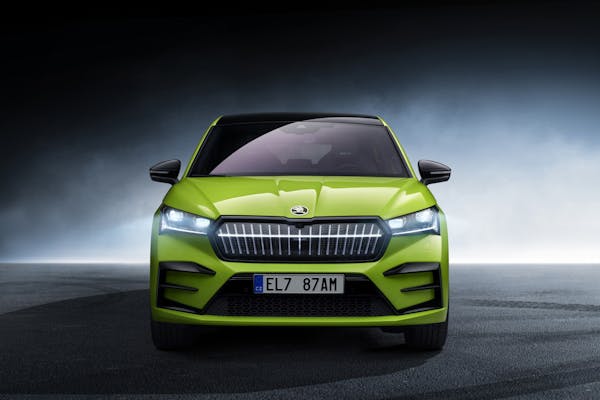 We already have the all-electric Skoda Enyaq Coupe iV vRS; now you can order an Enyaq iV vRS with an SUV body style.
The vRS label means that this is the sporty version of the Enyaq iV. So it has more power (299 PS) and more torque (460 Nm), thanks to two electric motors, which deliver all-wheel drive.
The powertrain of the Enyaq iV vRS results in a top speed of 111 mph (the same as the Enyaq Coupe iV vRS), which is 12 mph faster than the other Enyaq iV models. Acceleration from 0 to 62 mph takes just 6.5 seconds.
The two vRS versions of the Enyaq iV are the most powerful vehicles in Skoda's model line-up.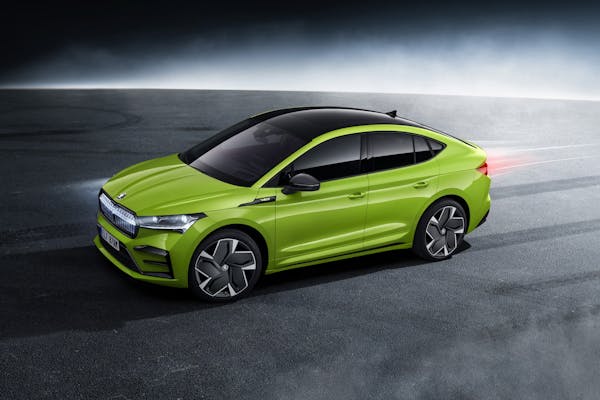 However there's still an electric driving range of over 310 miles. The 82 kWh battery is responsible for this, along with the drag coefficient of cw 0.265.
To ensure the handling of the Enyaq iV vRS can cope with the extra performance, it has standard sports suspension which lowers the body by 15 millimetres at the front axle and 10 millimetres at the rear axle, as well as having large 20 or 21-inch wheels. Adaptive Chassis Control (DCC), which automatically adjusts the damping, is available as an option.
There are drive modes of Eco, Comfort, Normal and Sport, and the additional driving profile 'Traction' is designed for driving on slippery surfaces, offering constant all-wheel drive at speeds of up to 12 mph.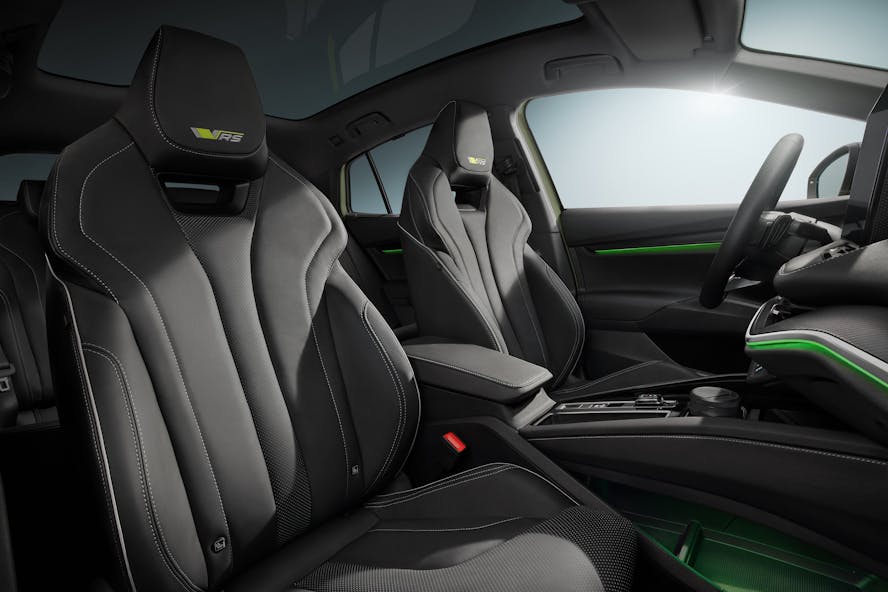 At 585 litres, the boot capacity is 15 litres larger than the Enyaq Coupe iV vRS, and can be increased up to 1,710 litres by folding down the rear seats.
The Enyaq iV vRS has a maximum charging rate of 135 kW, allowing it be charged from 10% to 80% in just 36 minutes at a rapid charger.
The new 'Plug & Charge' function makes it possible to start the charging process at suitable charging points stored in the POWERPASS app simply by connecting the charging cable; the vehicle is identified at the charging point and the charging session is billed automatically.
Take a look at some of our electric car lease special offers...
£2,713.18 Initial rental (ex. VAT)
£3,255.81 Initial rental (inc. VAT)
48 Month term
5000 Annual mileage
Subject to status and conditions + arrangement fee
£301.

46
Business contract hire per month (ex. VAT)
£361.

76
Personal contract hire per month (inc. VAT)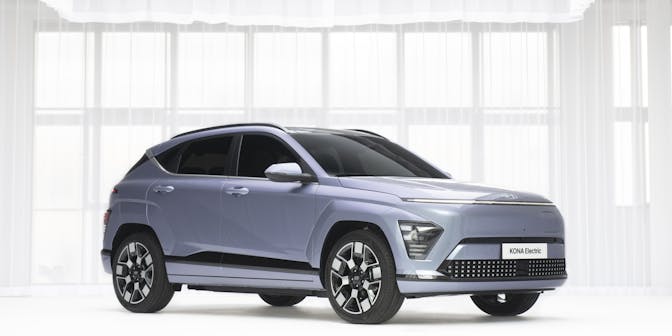 £1,951.79 Initial rental (ex. VAT)
£2,342.15 Initial rental (inc. VAT)
48 Month term
5000 Annual mileage
Subject to status and conditions + arrangement fee
£216.

87
Business contract hire per month (ex. VAT)
£260.

24
Personal contract hire per month (inc. VAT)
£2,728.44 Initial rental (ex. VAT)
£3,274.13 Initial rental (inc. VAT)
24 Month term
5000 Annual mileage
Subject to status and conditions + arrangement fee
£303.

16
Business contract hire per month (ex. VAT)
£363.

79
Personal contract hire per month (inc. VAT)