Tesla makes revisions to 2024 Model 3
The Tesla Model 3 is being updated, with Rear-Wheel Drive and Long Range All-Wheel Drive variants coming to the UK in 2024.
The first Tesla Model 3 rolled off the assembly line six years ago, and over two million cars have been manufactured since.
Tesla sees the Model 3 as "delivering great range and efficiency with sports-car performance and handling at an approachable price point". The update aims to make the Model 3 more refined, comfortable and premium, with improved aerodynamics, new lighting, and a brand-new interior.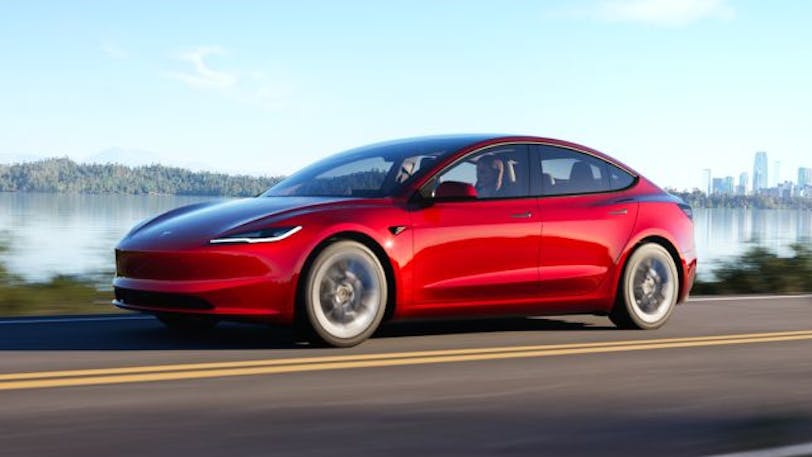 On the outside, an optimised body shape features sharper body lines, and aero-optimised surfaces reduce drag, improve wind noise and increase range.
The headlights feature a new design, and revised tail lights have brighter colours and are integrated into the liftgate to improve fit.
Wheels benefit from updated styling with improved aerodynamics, with tyres optimised to reduce noise and improve range.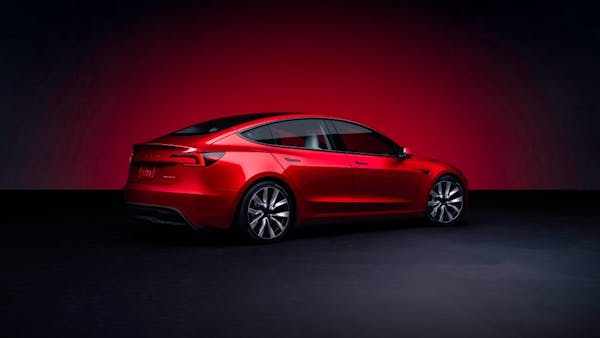 There are two new colours, Ultra Red and Stealth Grey. Ultra Red is a high-chroma colour with dynamic depth created from a multi-coat paint. Stealth Grey is a dark grey metallic colour.
Inside the updated Model 3, the revised cabin design gains more premium materials such as aluminium, with customisable ambient lighting around the entire cabin. Ventilated front seats and heated seats all-round are fully integrated into automatic climate controls.
The cabin is quieter thanks to acoustic glass, improved suspension bushes, seals and sound-dampening materials. A redesigned centre console covered in aluminium has dual wireless phone chargers, along with one front and two rear USB-C charging ports, each with up to 65W of power.
A new Tesla-designed premium audio system features 17 speakers, dual subwoofers and dual amplifiers for Long Range vehicles, and 9 speakers, a single subwoofer and amplifier for Rear-Wheel Drive vehicles.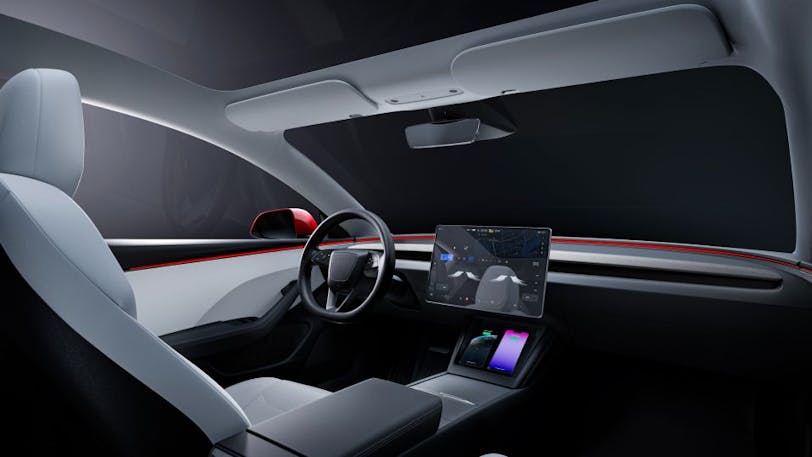 An all-new 8-inch rear display screen features integrated climate control, ventilation, and entertainment.
Perhaps most interestingly, stalks are replaced with steering wheel controls, including both haptic switches and physical buttons.
Prices for the new Model 3 haven't been announced for the UK yet, but there has been a significant price increase in China, so this can also be expected for Europe, and WLTP driving range figures are yet to be confirmed.
Our electric car lease special offers
£2,713.18 Initial rental (ex. VAT)
£3,255.81 Initial rental (inc. VAT)
48 Month term
5000 Annual mileage
Subject to status and conditions + arrangement fee
£301.

46
Business contract hire per month (ex. VAT)
£361.

76
Personal contract hire per month (inc. VAT)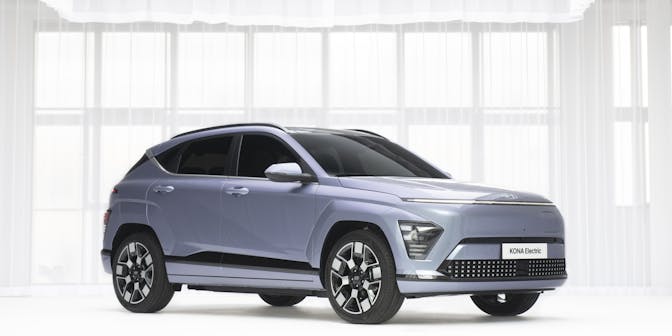 £1,951.79 Initial rental (ex. VAT)
£2,342.15 Initial rental (inc. VAT)
48 Month term
5000 Annual mileage
Subject to status and conditions + arrangement fee
£216.

87
Business contract hire per month (ex. VAT)
£260.

24
Personal contract hire per month (inc. VAT)
£2,728.44 Initial rental (ex. VAT)
£3,274.13 Initial rental (inc. VAT)
24 Month term
5000 Annual mileage
Subject to status and conditions + arrangement fee
£303.

16
Business contract hire per month (ex. VAT)
£363.

79
Personal contract hire per month (inc. VAT)