The Citroën ë-C4 Electric Is Now Cheaper to Buy
The price has been lowered for the all-electric Citroën ë-C4: the new entry-level 'Sense' version starts at £29,995. This is eligible for the OZEV Plug-in Car Grant (PiCG), so the price after the grant is just £28,495.
Another new trim level is the Citroën ë-C4 Electric 'Shine Edition', which replaces the outgoing 'Shine' trim level and offers the same specification for £30,495 (after the PiCG).
The Citroën ë-C4 Electric has a range of up to 217 miles and can be charged from 0-80% in just 30 minutes at a 100kW rapid charger.
The 2022 ë-C4 range now includes 'Sense' (the 'Sense Plus' trim is no longer being offered), 'Shine Edition' and 'Shine Plus' models.
The Citroën ë-C4 Electric 'Sense' trim includes LED headlights, 18-inch alloy wheels, power folding mirrors, rear parking sensors and Keyless Entry & Start. Safety equipment includes Active Safety Brake (video assisted), Speed Limit Information, Lane Keeping Assist and Forward Collision Warning.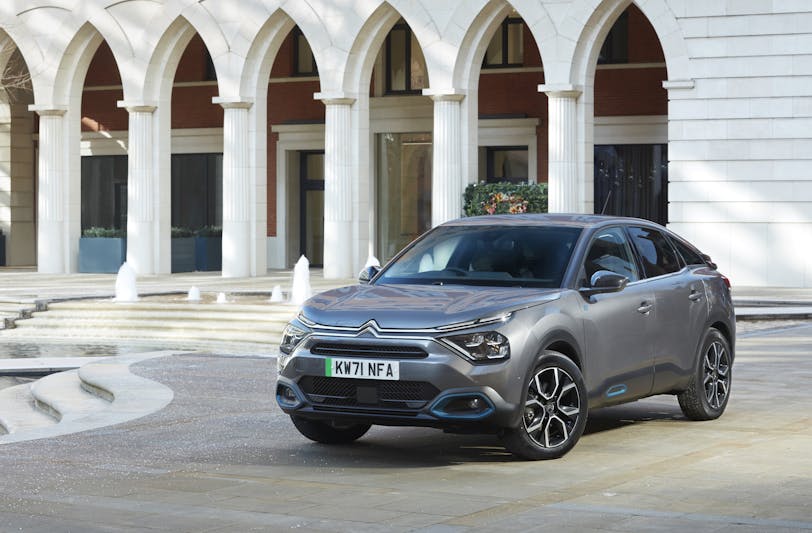 Infotainment includes a 10-inch touchscreen featuring Bluetooth telephone and audio streaming, DAB digital radio, Apple CarPlay and Android Auto. There's also a Citroën Smart Pad Support for the front passenger, which provides an integrated mount for tablet devices.
The Citroën ë-C4 Electric 'Shine Edition' features Citroën Connect Nav, front and rear parking sensors, colour reversing camera, heated steering wheel and a two-position boot floor, as well as a head-up display, Active Cruise Control, Active Blind Spot Detection and the Safety Plus Pack.
The Citroën ë-C4 Electric with 'Shine Plus' trim – top of the range and the current best-seller in the Citroën ë-C4 Electric range in the UK – costs £34,995, and includes extra equipment such as heated front seats – one of the most important items of equipment for an electric car to help to preserve its battery range in cold weather.
The Citroën ë-C4 Electric gained up to 18 miles of range in October 2021 thanks to changes to the heat pump and transmission system.