Ford Mustang Mach-E becomes the first 'Hands-Free' EV in the UK
The Ford Mustang Mach-E becomes the first self-driving EV in the UK thanks to its new Level 2 advanced driver assistance system, which allows the vehicle to self-drive when on 'pre-mapped motorways'.
The 2023 Ford Mustang Mach-E can now drive itself, without any human hands on the steering wheel, on certain sections of pre-mapped motorways in Britain - the first system of its kind approved in Europe.
Ford's 'BlueCruise' allows drivers on 2,300 miles of approved 'Blue Zone' sections of motorway (all of the motorway network in England, Scotland, and Wales) to drive with their hands off the steering wheel if they continue to pay attention to the road ahead.
Blue Zones have been designated using geofencing technology that utilizes GPS to create a virtual boundary in which the system can only be activated.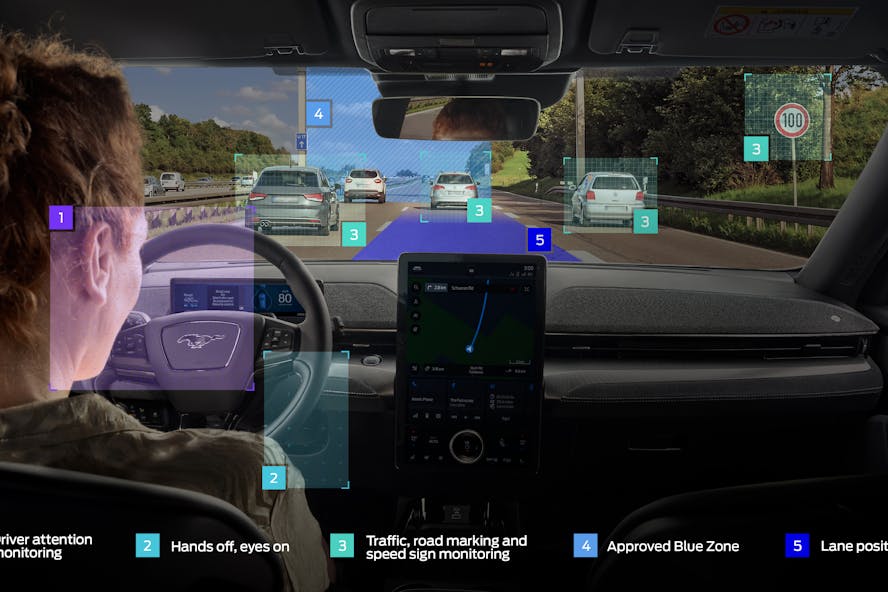 Before transitioning to 'Level 2' (Partial Driving Automation) hands-free driving, BlueCruise-equipped vehicles confirm that lane markings are visible, that the driver has their hands on the wheel and eyes on the road, and that other conditions are appropriate.
Operating up to a maximum speed of 80 mph, BlueCruise uses a combination of radars and cameras to detect and track the position and speed of other vehicles on the road. A forward-facing camera detects lane markings and speed signs and the system also uses an infrared driver-facing camera located below the instrument cluster to check the driver's eye gaze and head pose and ensure their attention remains focused on the road.
When engaged by the driver via the vehicle's driver assistance settings menu, BlueCruise hands-free driving becomes available when the vehicle detects it has entered an approved Blue Zone on the public highway, and Intelligent Adaptive Cruise Control (IACC) is active. The system will revert to IACC when leaving a Blue Zone.
When directed by the instrument display, drivers can take their hands off the steering wheel while keeping their eyes on the road, allowing the vehicle to:
Keep pace with other vehicles up to a chosen maximum speed and down to a complete stop

Adjust the vehicle's maximum speed to limits posted at the roadside, on overhead gantries and in the navigation system

Position itself according to lane markings, including using In-Lane Repositioning to make the experience feel more natural by subtly shifting away from vehicles in adjacent lanes

Allow drivers to temporarily retake control of steering.
Ford has carried out more than 700,000 miles of advanced driver assistance system testing globally, and drivers of 193,000 BlueCruise-equipped Ford and Lincoln vehicles have already driven more than 64 million hands-free miles in Canada and the US. Ford says that validation drives in Britain helped prove the ability to handle circumstances that drivers encounter every day, such as worn-out lane markings, poor weather, and roadworks.
Drivers of Ford Mustang Mach-E model year 2023 vehicles in Great Britain are the first to be able to activate BlueCruise via subscription. The first 90 days are included with the vehicle purchase, after that, the subscription costs £17.99 per month.
Ford is aiming to deliver BlueCruise via a future software update to Mustang Mach-E models equipped with the optional Tech Pack or Tech Pack + and built before 2024.
Our electric car lease special offers
£2,713.18 Initial rental (ex. VAT)
£3,255.81 Initial rental (inc. VAT)
48 Month term
5000 Annual mileage
Subject to status and conditions + arrangement fee
£301.

46
Business contract hire per month (ex. VAT)
£361.

76
Personal contract hire per month (inc. VAT)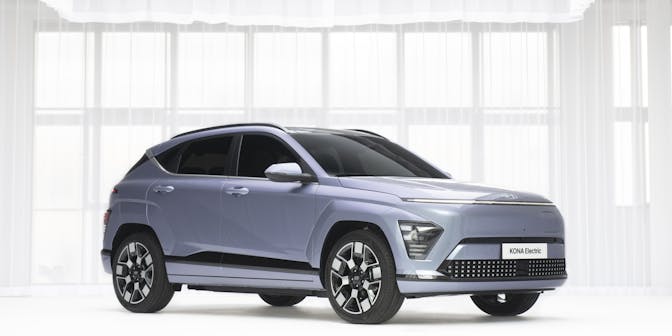 £1,951.79 Initial rental (ex. VAT)
£2,342.15 Initial rental (inc. VAT)
48 Month term
5000 Annual mileage
Subject to status and conditions + arrangement fee
£216.

87
Business contract hire per month (ex. VAT)
£260.

24
Personal contract hire per month (inc. VAT)
£2,728.44 Initial rental (ex. VAT)
£3,274.13 Initial rental (inc. VAT)
24 Month term
5000 Annual mileage
Subject to status and conditions + arrangement fee
£303.

16
Business contract hire per month (ex. VAT)
£363.

79
Personal contract hire per month (inc. VAT)