Kia unveils their newest flagship model: The Kia EV9 SUV
Kia has unveiled its first flagship three-row electric SUV, which will be available in Europe by March 2024. The new all-electric Kia EV9 SUV provides consumers with ultra-fast charging, an amazing driving range, Kia's trademark design, smart technology improvements, and multifarious connections.
The all-electric Kia EV9 SUV is available with either rear-wheel drive or all-wheel drive and a 99.8kWh battery offering an electric driving range of up to (WLTP) 335 miles, as well as ultra-fast charging that can add up to 148 miles of driving range in 15 minutes. It's also equipped with bi-directional charging, allowing it to use the power stored in the EV battery to power electronic appliances – or even, in the future, a home.
The EV9 comes with three rows of seats and is available in a standard seven-seat layout (one of only a few seven-seat EVs that are available), or with six seats, only available for GT-Line models, when the second row of seats can swivel around to face the third row, turning the vehicle interior into a lounge. A long sliding tray, extending from the center console, acts as a table in between the seats.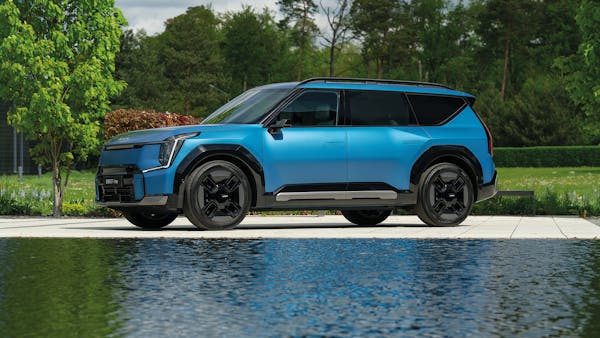 The EV9 will be available in five colors in Europe, including Snow White Pearl, Aurora Black Pearl, Flare Red, Pebble Gray and Iceberg Green. Ivory Silver gloss or matt is available for the EV9 Baseline, and the GT-line is available with Ocean Blue in a matt or gloss. It will be available with 19, 20, or 21-inch noise-absorbing tyres mounted on low-drag alloy wheels with a rectangular or triangular design.
The EV9 is the first Kia model in Europe with a new climate control panel which makes it easier to see and control all climate settings without needing to access the infotainment sub-menus. The SUV also features digital side mirrors, a digital rear view mirror, and pop-up auto flush door handles.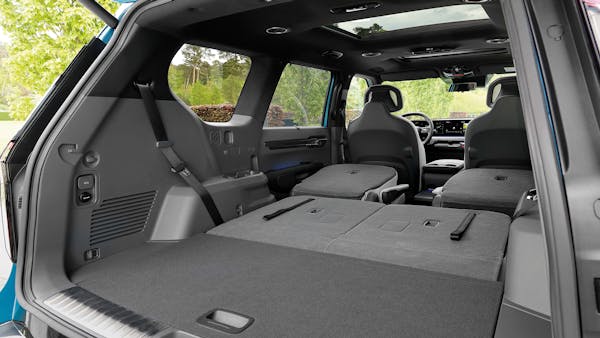 Measuring 5,010mm in length, and based on the same E-GMP dedicated BEV platform as the EV6, the Kia EV9 also comes with additional storage space in the form of a frunk, or front trunk. The rear-wheel drive variation has a maximum frunk volume of 90 litres, while the all-wheel drive version offers 52 litres of storage space. The rear boot offers 828 litres of storage space when the second row of seats are upright, and up to 333 litres when the third row of seats are in use.
The rear-wheel drive version has a 150kW motor with a torque output of 350Nm, a top speed of 115 mph, acceleration from 0-62 mph in 9.4 seconds, and an all-electric driving range of up to 335 miles (WLTP).
The all-wheel drive variation is powered by twin 141kW electric motors with maximum torque of 250Nm & 350Nm for the Baseline and 350Nm & 350Nm for the GT-line, front and rear. It has a top speed of 124 mph, acceleration in the Baseline from 0-62 mph is 6.0 seconds and 5.3 seconds for the GT-line, and an estimated WLTP all-electric driving range of up to 298 miles.
The Kia EV9 is capable of 800-volt ultra-rapid charging; 15 minutes of charging results in up to (WLTP) 148 miles of all-electric driving range for the RWD version and up to (WLTP) 136 miles for the AWD version.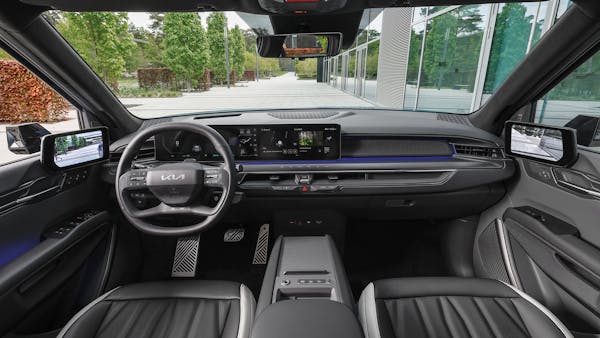 The EV9's Route Planner automatically recommends a charging point for the planned route when the navigation system detects the battery charge isn't sufficient to get to a set destination.
The interior of the Kia EV9 features a Panoramic Wide Display consisting of a 12.3-inch cluster in front of the driver, a 12.3-inch AVNT screen and a 5.3-inch applied climate system for seat and heating information. There's also a Head-Up Display (HUD).
The Kia EV9 is capable of bi-directional charging, enabling technologies as Vehicle-to-Load (V2L), Vehicle-to-Building/Vehicle-to-Home (V2B/V2H) and Vehicle-to-Grid (V2G). V2B, V2H and V2G will be gradually rolled out throughout Europe, starting with the Netherlands in March 2024.
Our electric car lease special offers
£2,713.18 Initial rental (ex. VAT)
£3,255.81 Initial rental (inc. VAT)
48 Month term
5000 Annual mileage
Subject to status and conditions + arrangement fee
£301.

46
Business contract hire per month (ex. VAT)
£361.

76
Personal contract hire per month (inc. VAT)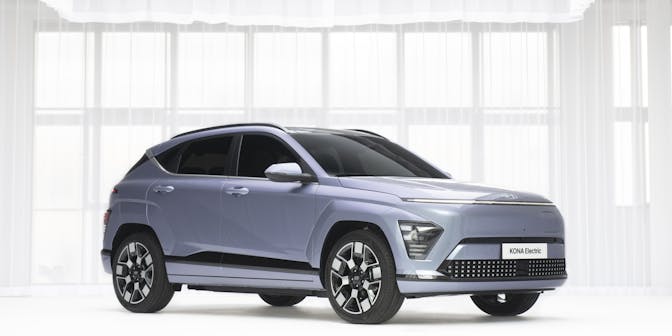 £1,951.79 Initial rental (ex. VAT)
£2,342.15 Initial rental (inc. VAT)
48 Month term
5000 Annual mileage
Subject to status and conditions + arrangement fee
£216.

87
Business contract hire per month (ex. VAT)
£260.

24
Personal contract hire per month (inc. VAT)
£2,728.44 Initial rental (ex. VAT)
£3,274.13 Initial rental (inc. VAT)
24 Month term
5000 Annual mileage
Subject to status and conditions + arrangement fee
£303.

16
Business contract hire per month (ex. VAT)
£363.

79
Personal contract hire per month (inc. VAT)