The UK's Best EV-Friendly Motorway Services
Want to know the best spots on the motorway for an EV (and stomach) refuel? As leaders in the EV industry, DriveElectric has released a new study comparing the country's charging provisions and catering facilities.
Want to know the best spots on the motorway for an EV (and stomach) refuel? As leaders in the EV industry, DriveElectric has released a new study comparing the country's charging provisions and catering facilities - so that you can plan for your most cost-efficient journey yet. Keep reading as we reveal the rankings you've been waiting for. 
As the race to net zero rapidly approaches, more and more drivers across the UK are reaping the benefits of the EV revolution. This is all great news. However, the new motorway infrastructure has sparked concern that multiple services aren't hitting the mark.
To help guide EV drivers on where the best places (and worst) places are for making a pitstop, we've conducted research that factors in the number of EV chargers, the average costs, customer reviews, and the overall quality of the facilities for each location. 
So, which secured a spot on the gold, silver, and bronze podiums?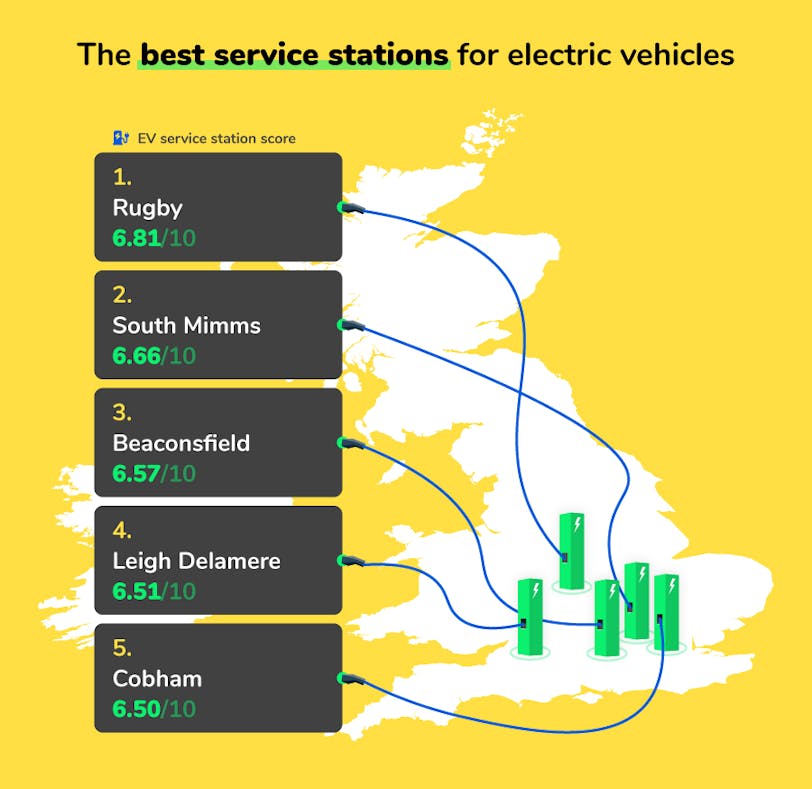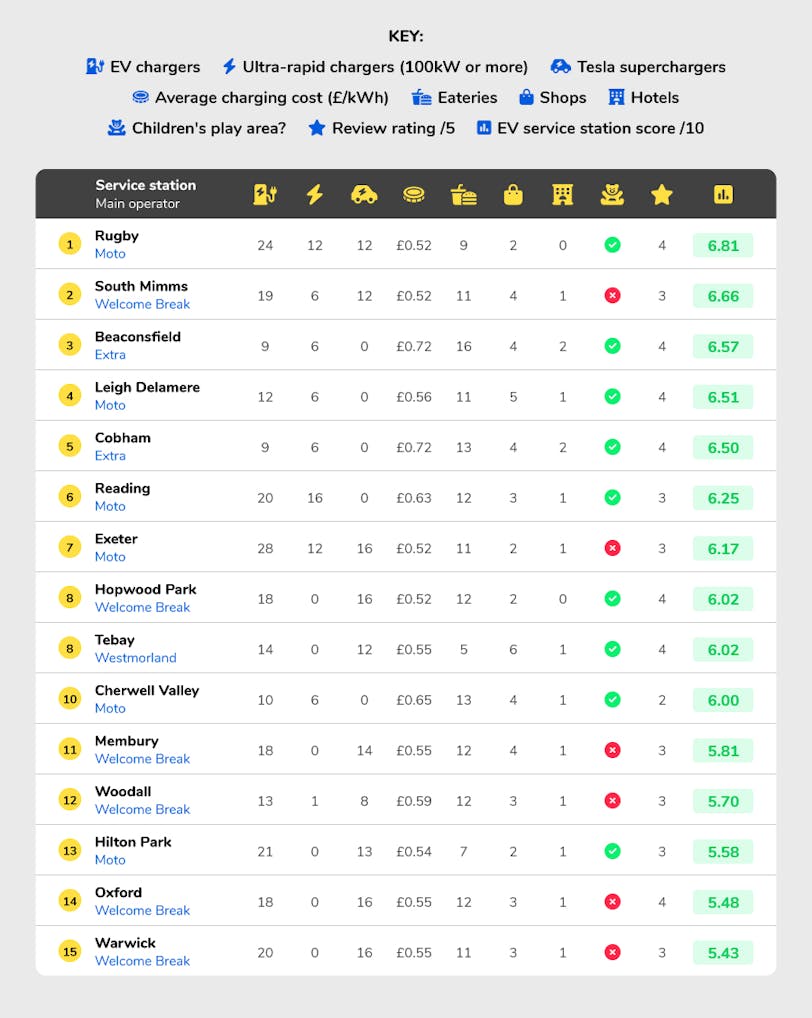 1. Rugby - 6.81/10
Rugby services on the M6 came out top for being EV-friendly. This is down to its 24 ultra-rapid chargers, a typical charging cost of 52p per kWh (less than the public charging average), and great food and shopping facilities. It's worth keeping in mind, however, that half of the chargers are Tesla-only. 
We found Rugby was also rated high for its play-area and grassy outdoor space, making it great for kids needing a break from the long car journeys. 
2. South Mimms - 6.66/10
Not too far from the leading spot comes South Mimms on the M25, a Welcome Break boasting six ultra-rapid chargers - 12 of which are designated for Tesla's. The charging cost was the same as Rugby, averaging out at 52p per kWh. As for the food and drink side? Drivers can choose between 11 options - perfect for a mid-journey refuel. 
3. Beaconsfield - 6.57/10 
Taking third position is Beaconsfield services on the M40. Along with only having nine total chargers, six of which are ultra-rapid, it also revealed to be the priciest. The average cost was 20p more (72p per kWh) than its other top contenders. So why is it still ranking high? It deserves credit for the impressive visitor reviews, choice of 20 food and shopping outlets, and clean facilities.
Special mention : Exeter Services are leading the way...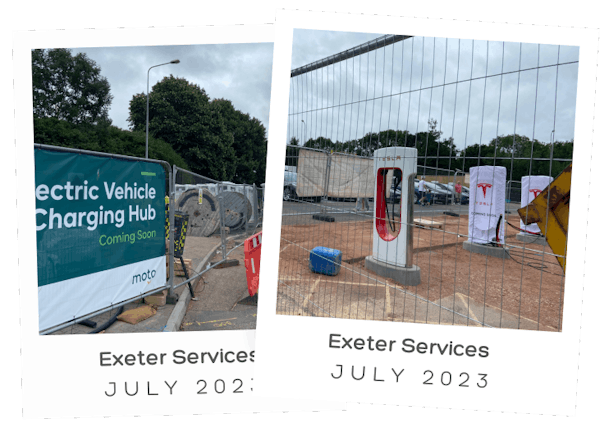 Boasting a remarkable count of 28 chargers (including 12 ultra-rapid chargers and 16 Tesla superchargers) Exeter service station is an electric vehicle charging hotspot! Although most service stations offer electric vehicle chargers, inadequate availability might mean you need to wait before accessing one. To save time on a long journey it's a good idea to plan ahead and select a suitable rest and charging spot along your way. By researching the number of chargers available online, you can opt for a location equipped with multiple chargers, eliminating the need for extended waiting periods.
Exeter is already a popular stop in the South West of England for a charge and will soon be topping our charging league table as there will be even more chargers in residence; Neil from our team made a charging stop there at the weekend and snapped this picture of some work in progress installing 16 Gridserve and 16 Tesla Superchargers.
And now for not quite so EV-friendly locations…
To narrow things down, we took out any service stops that are yet to install EV chargers.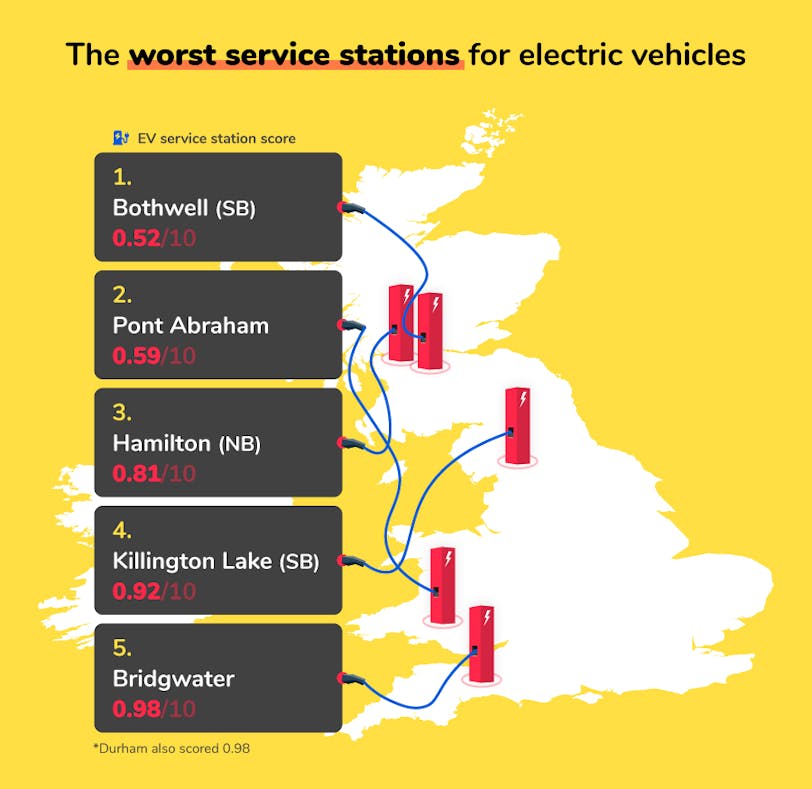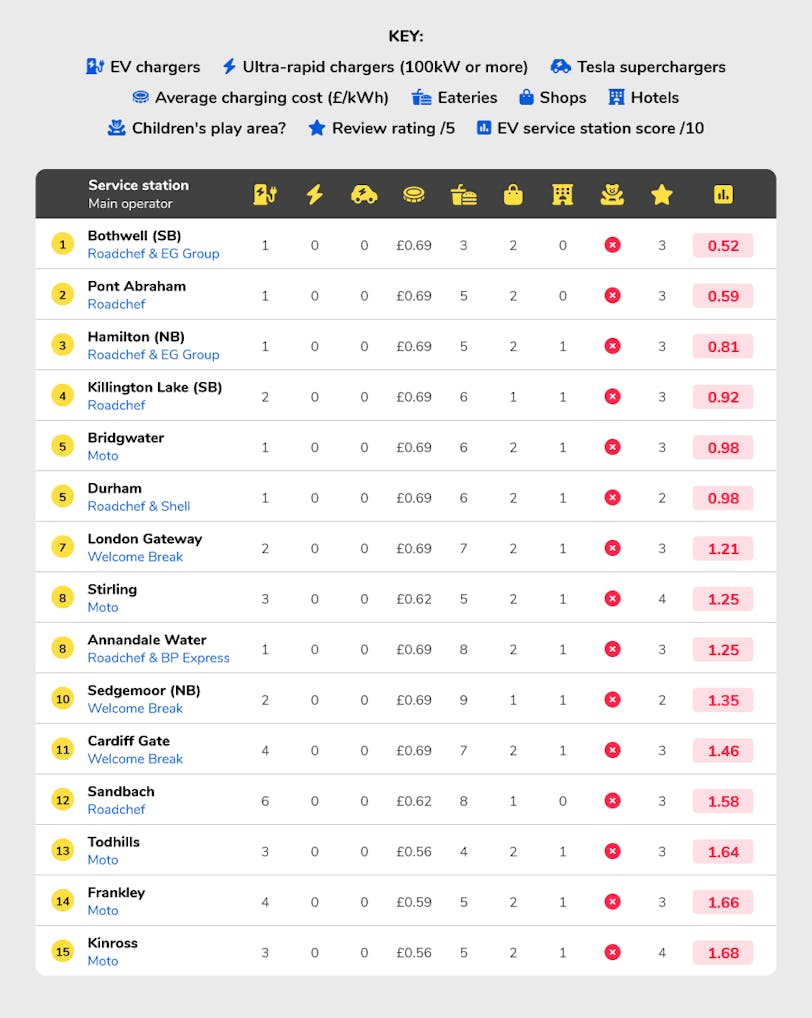 The Roadchef at Bothwell (southbound) on the M74 came out top on the list of lows with a 0.52 rating. With just one public charger, it costs 69p per pWh. The reviews, which included multiple complaints about the lack of outlets, makes it the worst contender from our survey. 
The same goes for Pont Abraham on the M40. With a score of 0.59 out of 10, it has just one charger that costs 69 per kWh. There are three choices for food along with a very standard Starbucks on the Go coffee machine.
Next was the Hamilton services on the M74. Indicating that Scottish EV drivers aren't getting the charging access they deserve, this came out as the bottom 10 of the five Scottish sites in our survey. Given the fact that it has one charger costing 69pWk and just five food and drink facilities, it's no wonder the reviews aren't exactly raving.
What's the issue?
The government is aiming to ensure every service station across the UK will have at least six ultra-rapid chargers by 2023. However, studies have shown that we're still way behind reaching this ambitious goal. Planning permissions and power supply are said to be the biggest barriers for the roll-out of EV chargers. National Highways announced a £8 million plan to use battery stacks from shipping containers to supplement rapid chargers at any locations struggling to source power supply. Meanwhile in June, Gridserve confirmed that it would use vegetable-oil powered generators and second-life EV batteries to run chargers at Ferrybridge as it waited for ongoing grid issues to be resolved.
Talk to the experts
Want to switch to electric, but feeling overwhelmed on where to start? We've got you covered. Our team of passionate experts are here to support you during every step of your EV journey - from the initial consultation right through to the final roll-out and beyond. Simply get in touch to get the wheels spinning.