Electric Toyota bZ4X SUV offers 317-mile driving range
Toyota is primarily known for its hybrid vehicles and currently it doesn't have a battery electric vehicle on sale, but that will change in June 2022 when customer deliveries of the new Toyota bZ4X SUV start in the UK.
The bZ4X will have a WLTP driving range of up to 317 miles in front-wheel drive form, or up to 285 miles with all-wheel drive.
The front-wheel drive Pure model has an efficiency rating of 14.3kWh/62 miles (4.3 miles/kWh), and the all-wheel drive bZ4X Motion has efficiency of 15.8kWh/62 miles (3.9 miles/kWh).
The bZ4X has a 71.4kWh battery, which is supported by an optional extended care programme for owners that guarantees battery capacity of 70 per cent after 10 years or 1,000,000km (620,000 miles) driven.
The all-wheel drive Toyota bZ4X has maximum power of 214bhp with 336Nm of torque; top speed is 100mph, while acceleration to 62mph is 7.7 seconds.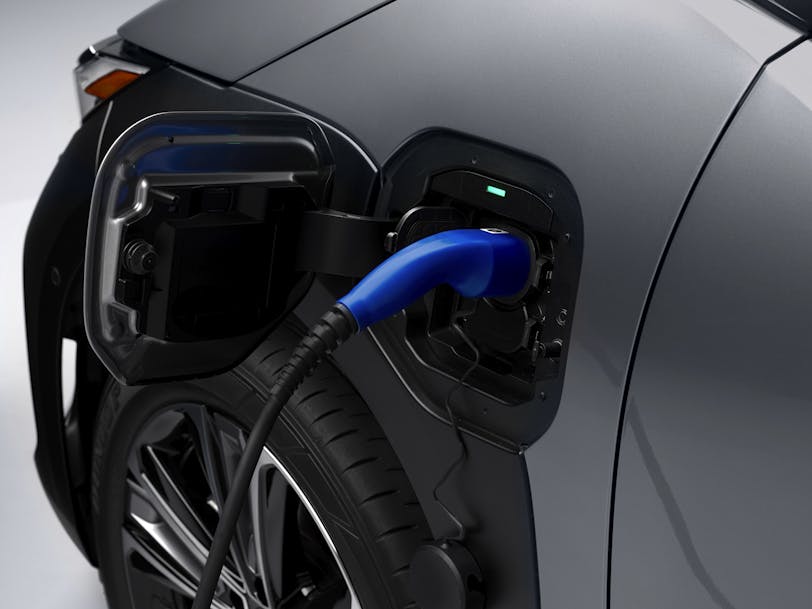 The bZ4X platform has been jointly developed with that of the Subaru SOLTERRA.
The front and rear wheels are driven with separate 80kW motors, and the car features Subaru's X-MODE AWD control system along with a new Grip Control function. X-MODE, with its different drive modes, can be selected to suit the conditions with settings for snow/mud; deep snow and mud (below 13mph); and Grip Control for tougher off-road driving (below 6mph).
Toyota claims that the new system gives class-leading all-wheel drive capability.
All vehicles come with a package that covers home and public charging requirements and roadside assistance.
Built on a dedicated new platform for battery electric vehicles, the bZ4X is the first in a series of new bZ models (bZ stands for 'Beyond Zero').
Customer deliveries for the bZ4X will be from mid-2022 in markets including Japan, the United States, Canada, Europe and China.