Volkswagen ID.3 gains updates for 2023
Volkswagen has announced new updates to the second generation of the ID.3, which include upgrades in design, more sustainable interior materials, a new touchscreen layout, and the introduction of Plug & Charge.
The Volkswagen ID.3 has been updated, including minor exterior styling changes, more sustainable interior materials, a new touchscreen layout, and the introduction of Plug & Charge.
One of the potential highlights of the updates is that Volkswagen says that "many customer wishes were taken into account when designing the menu structure for the touchscreen - among other things, the layout has become clearer, and the charging menu is now located on the first level of the touch display."
The Volkswagen ID.3 is an excellent car, but making the touchscreen controls more user-friendly is a welcome improvement. The system is also now able to receive over-the-air updates, which should allow further improvements to be made.
Another significant new feature is that 'Plug & Charge' is included as standard. This means that an ID.3 driver can stop at a charge point, plug the car in, and the EV automatically authenticates itself and starts charging without any action being needed by the driver to use an app, a charge card, or make any payment
Charging stops on a journey can also be chosen by the Electric Vehicle Route Planner, with the aim of making the trip as quick as possible. The system can identify if charging stations are available or in use and recommend stops accordingly.
An augmented reality head-up display is available as an option, projecting navigation information such as turn arrows on to the windscreen, which appears to be on the road in front of the car.
Another option is Travel Assist with swarm data, which can help to keep the ID.3 in its lane on, for example, a country road with just one white line rather than two sets of white lines for a lane on a motorway.
The ID.3 gains minor exterior updates, such as new air curtains which channel air around the front wheels to improve aerodynamics. The interior includes more sustainable materials made from recycled plastic.
Over 600,000 Volkswagen ID. models have been delivered to customers around the world since the ID.3 went on sale two and a half years ago. The Volkswagen product range is now comprised of six ID. models and the new ID.3 is one of ten electric models that VW will launch by 2026.
Our electric car lease special offers
£2,713.18 Initial rental (ex. VAT)
£3,255.81 Initial rental (inc. VAT)
48 Month term
5000 Annual mileage
Subject to status and conditions + arrangement fee
£301.

46
Business contract hire per month (ex. VAT)
£361.

76
Personal contract hire per month (inc. VAT)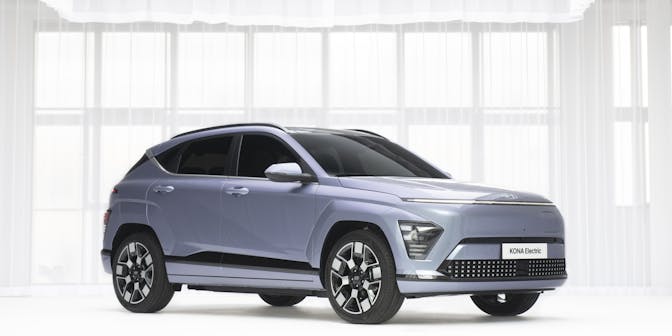 £1,951.79 Initial rental (ex. VAT)
£2,342.15 Initial rental (inc. VAT)
48 Month term
5000 Annual mileage
Subject to status and conditions + arrangement fee
£216.

87
Business contract hire per month (ex. VAT)
£260.

24
Personal contract hire per month (inc. VAT)
£2,728.44 Initial rental (ex. VAT)
£3,274.13 Initial rental (inc. VAT)
24 Month term
5000 Annual mileage
Subject to status and conditions + arrangement fee
£303.

16
Business contract hire per month (ex. VAT)
£363.

79
Personal contract hire per month (inc. VAT)