Revealed: Volkswagen ID.7 flagship saloon joins ID range
Volkswagen premiers its new all-electric flagship model, the Volkswagen ID.7, which has various innovative features such as fast charging, ample space, premium technology, and a higher range.
The Volkswagen ID.7 has been revealed. It's an 'upper mid-size' five-door saloon/hatchback with an aerodynamic body, and the largest of three battery options, with 86 kWh usable capacity, which should provide a (WLTP) electric driving range of up to 435 miles.
The ID.7 is capable of ultra-rapid 200 kW charging, which should give a 10% to 80% charge in 25 minutes. It also has a new, more efficient electric motor that delivers more torque.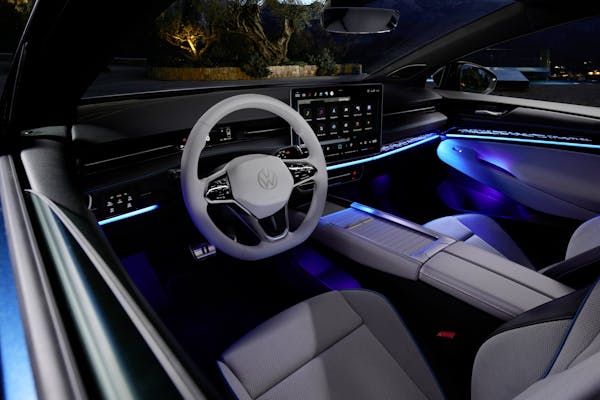 The interior features updates to the infotainment system. Volkswagen says the changes are in response to customer feedback: amongst other things, the brand's ID. models to date haven't featured shortcut buttons on the touchscreen for the most commonly-used car controls. The result is that a lot of button-pressing is required by the driver to access basic features in the infotainment system.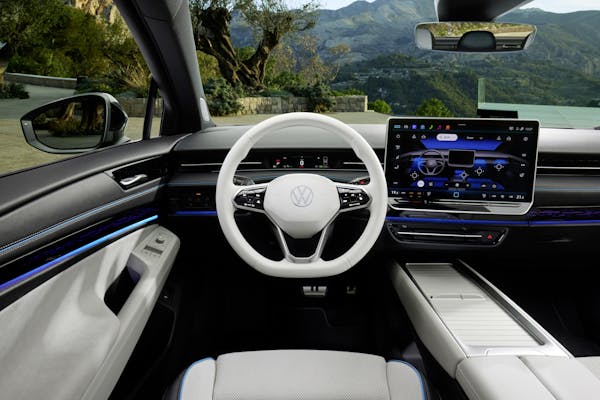 In response to this, the ID.7 has heating and ventilation controls permanently displayed along the bottom of the larger 15-inch touchscreen. However, the heating and ventilation changes go further, including new 'smart vents' which the driver can adjust on the screen to alter where the ventilation comes from.
The ID.7 can also start to heat or cool the cabin as it senses that the driver is approaching with the car key, and it can even work out where the sun is and adjust the cabin cooling accordingly.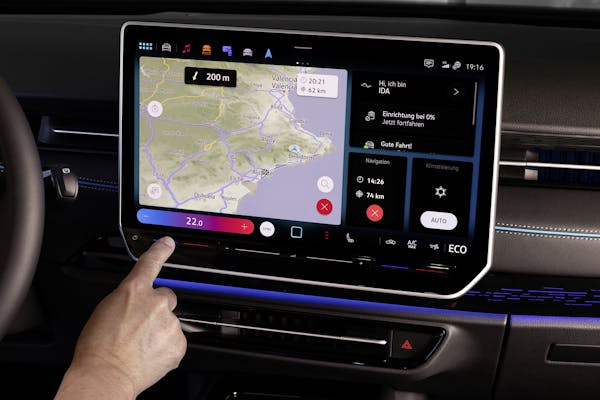 There's a map displayed on the home screen, which can be pressed to bring up navigation information. And as part of the customizable infotainment system, the driver can choose up to five 'favorite' controls to appear as shortcut icons at the top of the touchscreen.
A small but significant change is that the 'slider' controls under the touchscreen for cabin temperature and volume are now illuminated at night – amazingly, this wasn't the case with previous ID. models.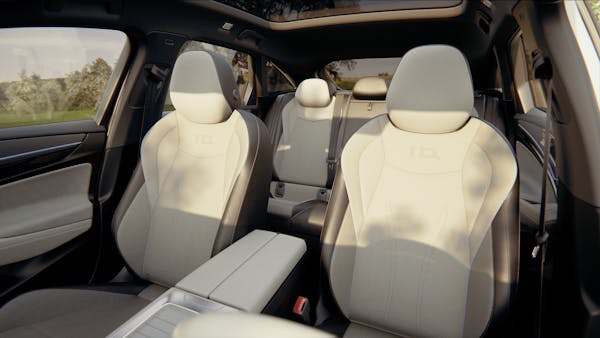 The latest generation of voice control technology – now called 'IDA' – allows the driver to ask the ID.7 for a range of in-car functions.
Other features include a new panoramic sunroof with smart glass which can be switched between opaque and transparent settings by touch control.
Volkswagen says that the ID.7 offers premium quality in the volume segment.
Production of the ID.7 is due to start in quarter three of 2023, with deliveries in the UK before the end of the year. A 'shooting brake' (estate) version of the ID.7 will follow in 2024.
Volkswagen is due to launch ten new EVs by 2026 and aims to achieve an electric car share of 80 percent in Europe by 2030.
Our electric car lease special offers
£2,524.26 Initial rental (ex. VAT)
£3,029.11 Initial rental (inc. VAT)
48 Month term
5000 Annual mileage
Subject to status and conditions + arrangement fee
£280.

47
Business contract hire per month (ex. VAT)
£336.

57
Personal contract hire per month (inc. VAT)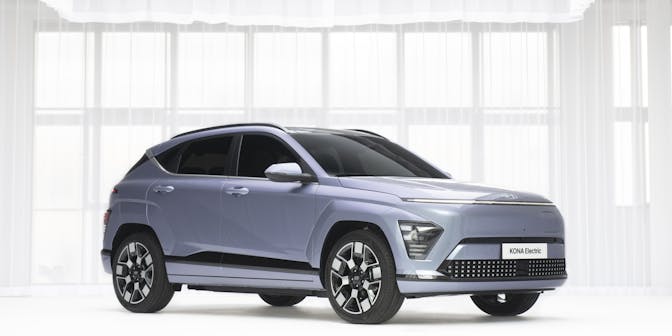 £2,067.67 Initial rental (ex. VAT)
£2,481.20 Initial rental (inc. VAT)
48 Month term
5000 Annual mileage
Subject to status and conditions + arrangement fee
£229.

74
Business contract hire per month (ex. VAT)
£275.

69
Personal contract hire per month (inc. VAT)
£2,676.21 Initial rental (ex. VAT)
£3,211.46 Initial rental (inc. VAT)
48 Month term
5000 Annual mileage
Subject to status and conditions + arrangement fee
£297.

36
Business contract hire per month (ex. VAT)
£356.

83
Personal contract hire per month (inc. VAT)