What was announced on Tesla Battery Day 2020?
More range, less Cobalt, in house battery production and something called "Plaid"…
Tesla's annual 'Battery Day' featured more announcements than you can shake a stick out, we've included the highlights below. The event (like many this year) was postponed from it's original date earlier in the year due to COVID-19, and fell on the 22nd September 2020 instead. Battery Day is an exciting day for Tesla fans and drivers, eager to see whether a million mile battery would be announced and what we had to look forward to in the near future.
The event was streamed live from Tesla website at 1:30 pm Pacific Time, 10:30pm in the UK and a colossal worldwide audience tuned in to the announcements. While there was no update for the million mile battery as people previously predicted, lots of other exciting things to look forward to from Tesla were mentioned.
Improved Battery Cells
A new battery cell was announced which is slightly larger (and even more efficient) than the one used in current cars like the Model S and the Model X.
The new battery cell named the 46-80 is a 'tabless' battery design and gets its name from the dimensions of the cell. The new battery cell would give 5x the energy, 6x more power and should enable a 16% range increase. Elon went on to say the new battery cell is close to working but there is still a lot of work to be done between now and when it can go into production.
Tesla also plans to stop the use of cobalt in its cathodes (currently they use very little). This is positive news as Cobalt mining is hazardous and often conducted with little to no safety equipment. More good news is that the new cell will be produced in house in a new cathode plant in North America, with the aim to save manufacturing costs in the long run and bring the price of Tesla electric cars down to the same costs as a petrol or diesel car. Producing batteries in house will also work to reduce production delays due to battery shortages, which was a real issue for electric vehicle production in 2019 for many manufacturers.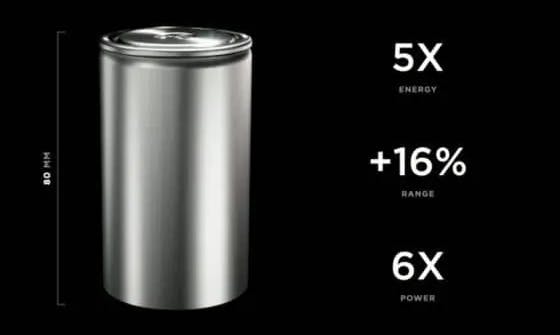 So what does this mean for future Tesla products?…
$25,000 electric car is Tesla's new goal
Although Tesla is known for producing expensive sports cars and top class premium electric vehicles, the company's goal was always to produce a mass market affordable electric car. Recently they came close to this with the Tesla Model 3 and upcoming Model Y.
Elon Musk, Tesla CEO announced with their new battery technology, their new goal is to create an electric vehicle costing less than $25,000 (that converts to around £19,600). Elon, said "in around 3 years from now we're confident we can make a very compelling, $25,000 electric vehicle that's also fully autonomous". The DriveElectric team are looking forward to that… Teslas for all!
Plaid – The only thing beyond Ludicrous
Tesla's newest protegee, Tesla Model S Plaid was also introduced.  Model S 'Plaid' will be a clean, green, speed machine with over 1100 horsepower capable of reaching up to 200mph and 0 – 60 in under 2 seconds! Not in actual fact a tartan seat cover option for Tesla's interiors as we initially wondered.
This means it'll be possible to drive 1/4 of a mile in less than 9 seconds… now that's fast. The Model S Plaid will also have the ability to drive around 325 miles on a single charge, an impressive range considering the performance and power of the car. This new electric car is scheduled to arrive in 2021 and will cost around $140,000 (and if you cant resist, its available to pre-order now on Tesla.com).