Will The New AMG EV from Mercedes Topple the Taycan?
Move over Taycan, there's two new all-electric performance cars from Deutschland – and they're gunning for the crown.
Mercedes-Benz' performance division AMG has been creating bonkers versions of mass produced cars since the 1960s. Born from a passion for speed, the skunkworks are now utilising the latest electric vehicle technology to create two incredibly fast saloons: the EQE 43 4MATIC and EQE 53 4MATIC+.
Mercedes-Benz AMG: EQE 43 4MATIC & EQE 53 4MATIC+

Stats & Specs
Both cars are built on Merc's dedicated EVA platform, which forms the basis for all of the brand's electric offerings. Each car has a dedicated motor for each axle, providing four wheel drive on both models. They also share a power source. The 90.6kWh battery can be topped up via rapid 170kW public chargers, which should provide an additional 110miles+ of range in 15 minutes.
WLTP ranges have yet to be confirmed for either car, however AMG suggests it'll be around 310 miles for both. That will obviously drop significantly if you utilise all of the power available, most of the time. Which may be tempting and/or terrifying depending on your disposition. As with all AMGs, each car has power. Lots of it.
0-62mph times are ludicrously fast, with the EQE 43 clocking 4.2s and the EQE 53 a blistering 3.5s. Opt for the optional 'Dynamic Plus Package', and the latter will do it in 3.3s. Any quicker and they'll have to start measuring in 'Mach' speed.
To accommodate the vast forces involved, new EQE models have uprated air suspension – dubbed 'AMG RIDE CONTROL+'. These AMG specific components include; a new rear axle carrier, stiffer bearings, adaptive adjustable dampening, bigger anti-roll bars and new wheel carriers.
Rear-axle steering is also standard on both cars, allowing an angle of up to 3.6 degrees to aid in cornering. Below 60km/h, the rear wheels steer in opposition to the front, allowing for a tighter turning circle and more agile handling at lower speeds. Above 60km/h, the rear steers in the same direction as the front. This increases stability at high speeds – especially in regards to evasive manoeuvres.
Inside, the most striking feature is the optional 1410mm Hyperscreen. A giant slab of TFT panels stretching from A-pillar to A-pillar, displaying everything from speed of travel to the latest Netflix show. It also allows you to select one of the four driving modes: Slippery, Comfort, Sport & Sport+.
Mercedes-Benz vs. Porsche
According to current plans, the EQE 43 4MATIC unfortunately won't be making it to UK shores any time soon.
But it's not all bad news, as the more powerful EQE 53 4MATIC+ iteration is due for release late this year. With the latter model being touted as the Taycan's nemesis, let's have a quick look at how their stats stack up against each other. A good old fashioned game of Top Trumps. To make it an equal match up, we've used the midrange versions of each vehicle. E.g. The Mercedes doesn't have the AMG Dynamic Plus Package, and the Porsche is the 4S rather than the Turbo.
| | Merc EQE 53 4MATIC+ | Porsche Taycan 4S |
| --- | --- | --- |
| Acceleration (0-62mph) | 3.5 seconds | 5.4 seconds |
| Top Speed | 137mph | 155mph |
| Power | 626bhp | 530bhp |
| Battery | 90.6kWh | 79kWh |
| WLTP Range | 310 miles | 254 miles |
So what makes the EQE 53 4MATIC+ such a gamechanger? Well, the electric motors it's fitted with are spec'd by AMG, giving them a higher current, adapted windings and even advanced cooling via a water lance. Mercedes have innovated and utilised cutting edge tech to create a very exciting EV offering. But will it be enough to topple the staple of Stuttgart? We'll find out later this year.
Take a look at some of our electric car lease special offers...
£2,524.26 Initial rental (ex. VAT)
£3,029.11 Initial rental (inc. VAT)
48 Month term
5000 Annual mileage
Subject to status and conditions + arrangement fee
£280.

47
Business contract hire per month (ex. VAT)
£336.

57
Personal contract hire per month (inc. VAT)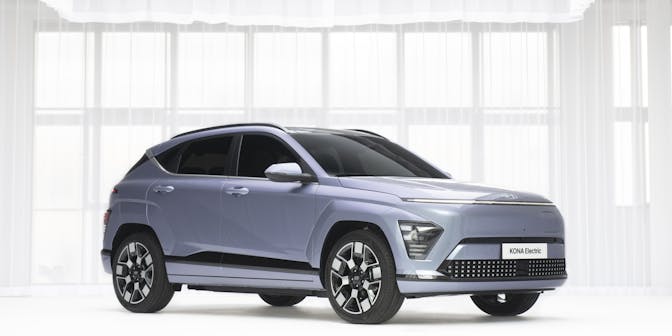 £2,067.67 Initial rental (ex. VAT)
£2,481.20 Initial rental (inc. VAT)
48 Month term
5000 Annual mileage
Subject to status and conditions + arrangement fee
£229.

74
Business contract hire per month (ex. VAT)
£275.

69
Personal contract hire per month (inc. VAT)
£2,676.21 Initial rental (ex. VAT)
£3,211.46 Initial rental (inc. VAT)
48 Month term
5000 Annual mileage
Subject to status and conditions + arrangement fee
£297.

36
Business contract hire per month (ex. VAT)
£356.

83
Personal contract hire per month (inc. VAT)