EV battery report
A look at which EVs have the best-performing battery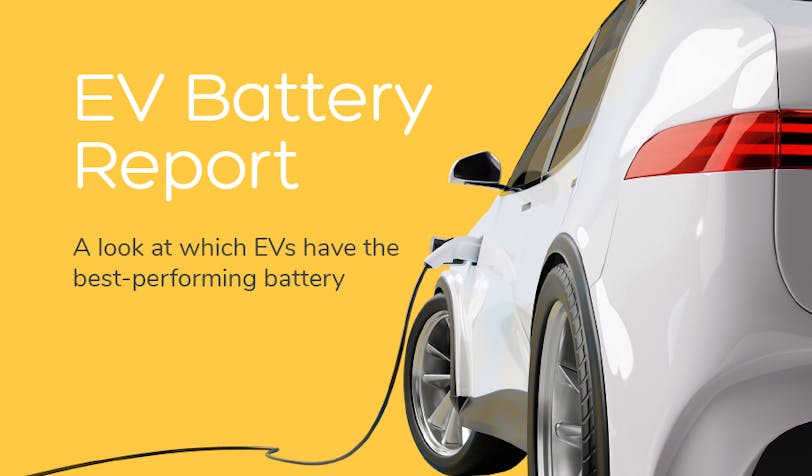 There are more and more car manufacturers turning their attention to making electric vehicles. Many attempting to improve battery performance, mileage and how quickly they can be charged up and ready to go. 
With the UK looking to ban new petrol and diesel vehicles by 2030, with the caveat of hybrids with very low emissions, electric cars may become the primary choice. As such, you may want to know which models have the best battery and longevity. 
Our experts at DriveElectric have researched which electric vehicles have the best batteries. We looked at factors such as, which electric cars have the best battery capacity, which models have the most efficient battery and which manufacturers offer the best warranties for their EV batteries. 
Also, should you require a car ahead of 2030 and fancy giving an electric vehicle a try, check out our electric car leasing options!
Electric vehicles with the best battery capacity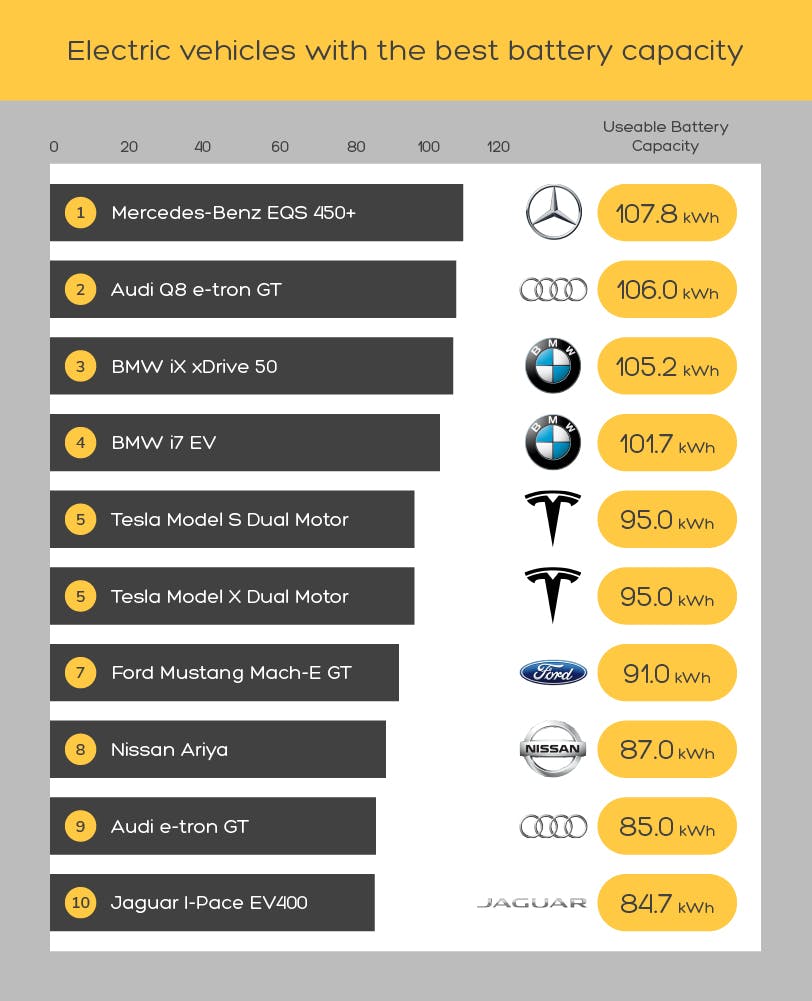 There are two metric for discussing battery capacitiy in terms of EV's there is gross battery capacity and useable battery capacity. The main distinction between the two is: gross battery is the total amount of energy a battery can hold, whereas the usable battery is the amount of energy the vehicle can actually draw on to power itself.

1. Mercedes-Benz EQS 450+
Useable Battery Capacity: 107.8 kWh
In the number one spot for cars with the best battery capacity, we have the German manufacturer Mercedes-Benz, with its EQS 450+. Released in November of 2021, it ranks top among the top EVs for battery capacity in 2023, with 107.8 kWh of useable battery. 
2. Audi Q8 e-tron GT
Useable Battery Capacity: 106 kWh
Second, we have another German car manufacturer, this time Audi with its Q8 e-tron GT. Available since late 2022, this model has 106 kWh of useable battery capacity, only marginally less than the number one ranked Mercedes. 
3. BMW iX xDrive 50
Useable Battery Capacity: 105.2 kWh
And in third place, once again, we have yet another German car manufacturer, this time BMW and it's their iX xDrive 50 we're looking at. This model has been available since November 2021, like the Mercedes EQS 450+, and has a usable battery capacity of 105.2 kWh.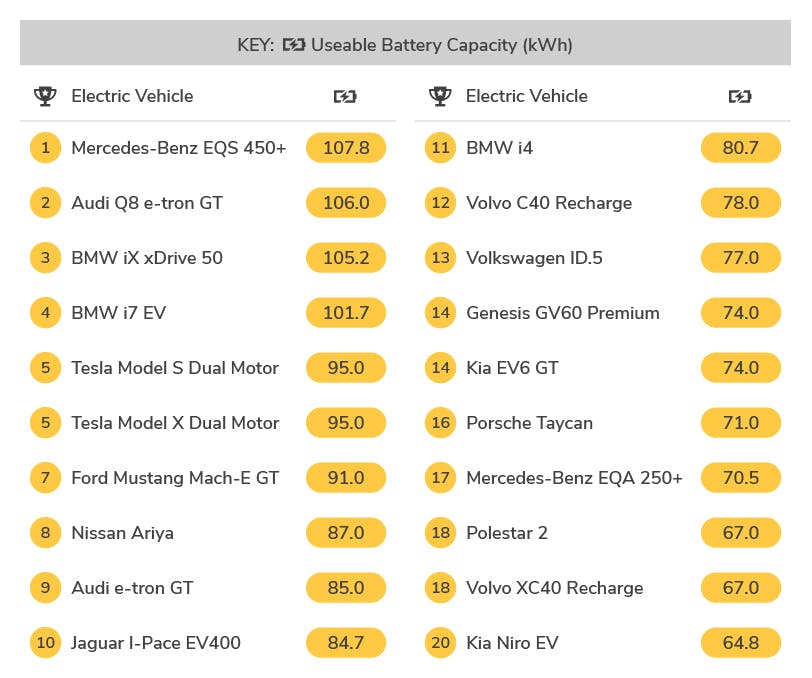 Electric vehicles with the best battery efficiency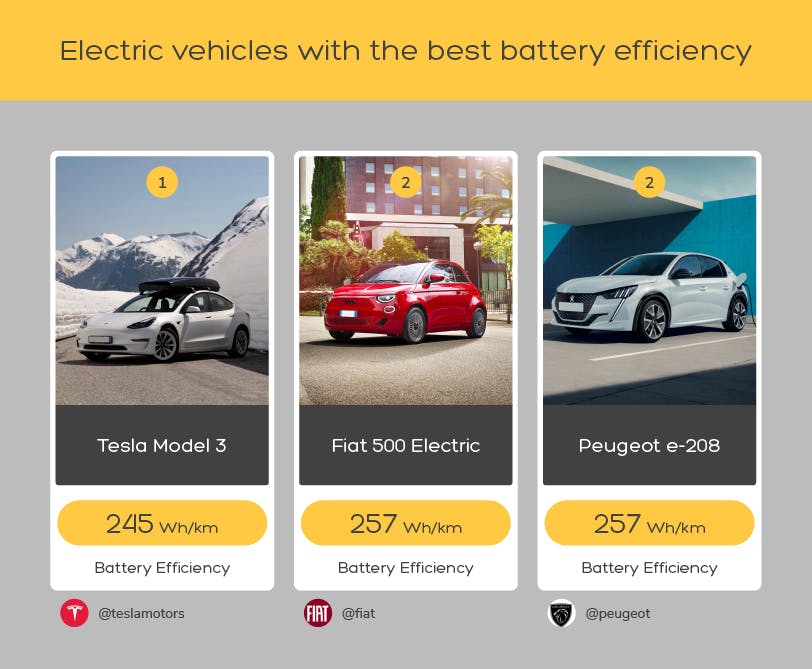 1. Tesla Model 3
Battery Efficiency: 245 Wh/mile
Coming out on top as the most energy-efficient battery among the top EVs, we have the Tesla Model 3. These have been available since January 2022 and they have a battery efficiency of 245 Wh per mile.
2. Fiat 500 Electric
Battery Efficiency: 257 Wh/mile
Next, we have Fiat, an Italian car manufacturer and its 500 electric model shares the second spot for the most efficient EV batteries. A much older vehicle than the Tesla, it was released in late 2020 and yet, it has a battery efficiency of 257 Wh per mile. 
2. Peugeot e-208
Battery Efficiency: 257 Wh/mile
Sharing the second spot, we have the French car manufacturer Peugeot and its e-208 model. Also a slightly older model than the Tesla, this was released in late 2021, and has a battery efficiency of 257 Wh per mile, earning it the tie with the Fiat. 
4. Volkswagen e-Up!
Battery Efficiency: 258 Wh/mile
And in third place, we have Volkswagen, the huge German car manufacturer and it's their e-Up! model that earns them this ranking. Its battery efficiency is 258 Wh per mile, just slightly behind second-placed Peugeot and Fiat.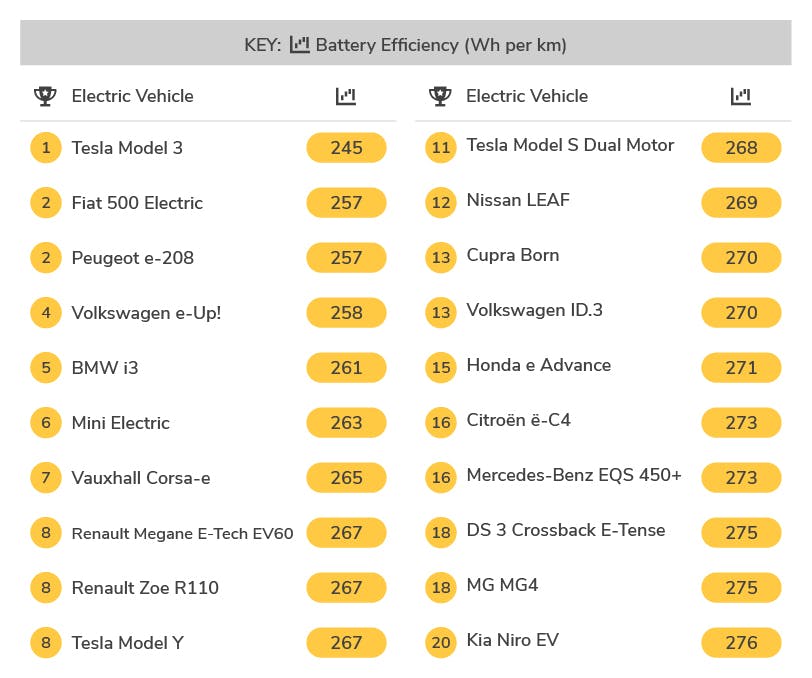 Car manufacturers with the best battery warranty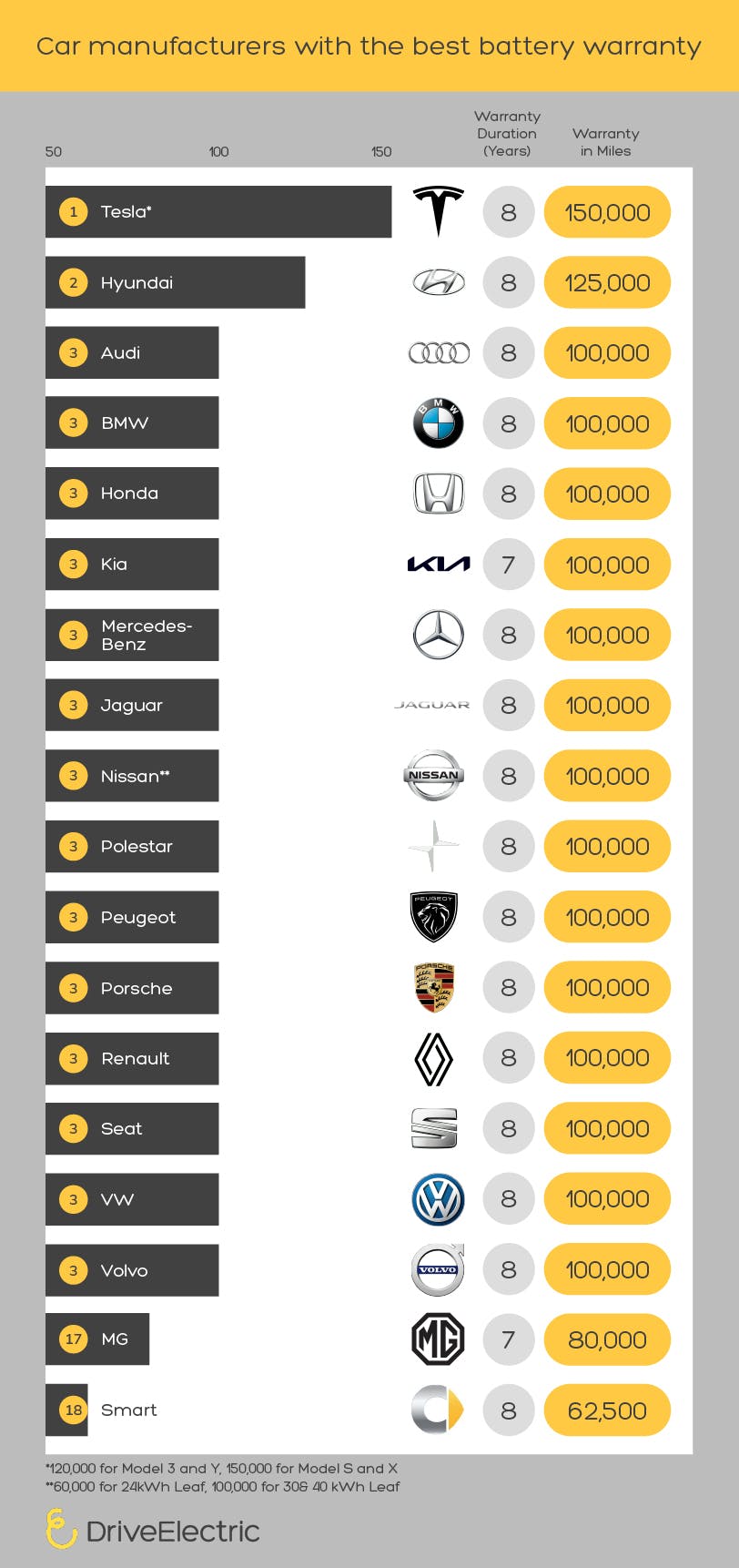 All cars, electric or petrol, need to be repaired now and again, but ideally, you'd want repairs to come up as little as possible. This is especially the case where the most important component is concerned, the engine, or in the case of EVs - the battery. We've looked at the warranties offered by the top car manufacturers to see which offers the best coverage for its EV model batteries. 
As you can see above, all the major car manufacturers offer a warranty of eight years for their EV batteries, except MG and Kia, giving you peace of mind for almost a decade. However, where they begin to differ is when their warranties are considered in miles.
In this regard, Tesla offers the best warranty, covering its Model 3 and Y for 120,000 miles and their Model S and X for 150,000 miles. 
The next best is Hyundai, offering your EV coverage for 125,000 miles. The majority of the other manufacturers, such as VW and BMW, offer a warranty of 100,000 miles. Smart ranks the lowest in this regard, offering you protection for just 62,500 miles. 
We also looked at what rate manufacturers offer battery repairs and replacements, with most of them offering battery repairs or replacements when the battery degrades to 70%. However, Audi and Volkswagen offer repairs to your battery if it drops to 70%-78%, but it is dependent on the mileage of your car. Nissan offer battery refurbishments if the battery degrades to below 75%, perhaps the best deal, as it is a flat rate and not subject to mileage.
We wanted to look at the EVs with the best batteries, to do so, we looked at usable battery capacity and efficiency, as well as manufacturer warranties.

To look at usable battery capacity and efficiency, we looked at EV Database, and we then ranked each vehicle on those two individual factors.
We then used Car WOW to get the warranties offered by major EV car manufacturers, taking the warranty in both years and miles.