London to Paris EV Rally
The first official large scale electric vehicle rally from London to Paris, starts on Saturday 1st July in Westminster.

Using only electric vehicles, EV fanatics will travel the 112 miles from London to Paris. 
The rally, which is open to all types of electric vehicles including cars, buses, vans, scooters, bicycles, and even electric planes, is the biggest EV rally in England and the first international event of its kind.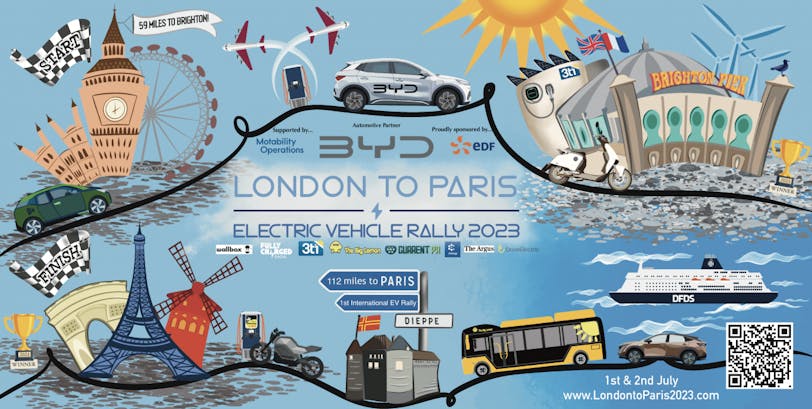 The event will then host an awards party, for the most efficient vehicles, at the new Soho House's Brighton Beach Lofts. These accolades adjudicated by Hove based TDS Ultra will decide on the most energy-efficient team competing in the UK and French sections. The rally's second stage runs from
Brighton to Paris via Newhaven and Dieppe.
Electric vehicle leasing company, DriveElectric, are providing 3 vehicles to complete the relay, the BYD Atto 3, Tesla Model Y and Jaguar I-Pace.

Mike Potter, CEO at DriveElectric says: "With the sale of electric vehicles forecast to be over 440,000 in 2023 alone, the London to Paris rally is the perfect event to showcase the functionality of electric vehicles. The 112 mile journey will hopefully help our customers combat range anxiety and will highlight just how many electric vehicles are available in the UK."