Hyundai IONIQ 5 review
The striking IONIQ 5 is an all-new, all-electric car from Hyundai, with a driving range of up to 298 miles, and it can be charged from 10%-80% in 18 minutes at an ultra-rapid 350 kW public charger.
Striking looks and plenty of space

Vehicle to load technology (V2L)

Capable of being charged 10%-80% in 18 minutes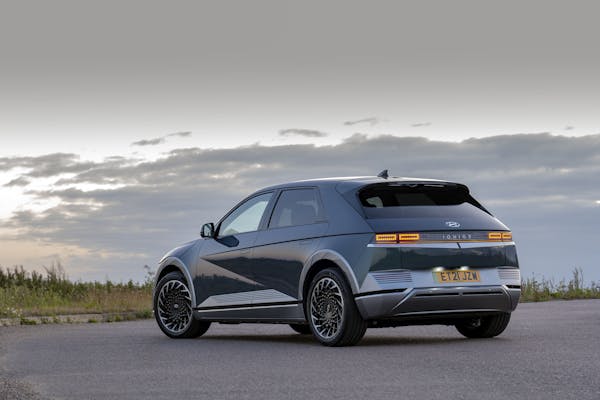 Hyundai IONIQ 5 design & powertrain
The IONIQ 5 is the first Hyundai vehicle built on a new dedicated battery electric vehicle platform. It's one of the first production vehicles with an 800V battery system allowing it to be charged at ultra-rapid 350 kW public chargers. It's also available with Vehicle-to-Load technology (V2L), meaning that you charge laptops inside the car, or charge another EV outside the car.
Hyundai has moved away from front-wheel drive, to rear-wheel drive or four-wheel drive – in an effort to harness all that electric torque more effectively.
The IONIQ 5 is described as a 'CUV' – a 'compact utility vehicle' – and it has a striking new design – on the outside (with 19 or 20-inch wheels), and on the inside where there are two display screens – a 12.3-inch infotainment screen and a 12.3-inch instrument cluster, fully reclining front seats, and a centre console that can slide between the front and back seats.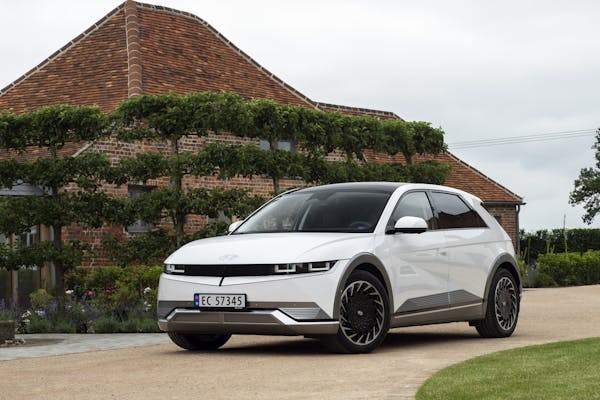 What is the IONIQ 5 driving experience?
The all-wheel drive flagship IONIQ 5 has two electric motors integrated with the front and rear axles, providing 305 PS (224 kW). With a 5.2-second 0 to 60mph time, it's very rapid both from a standing start and in mid-range. The rear-wheel drive version is slower at 7.4 seconds for the 0 to 60mph sprint. Pretty good for a car that weighs two-tonnes.
The IONIQ 5 has, in effect, five modes of regenerative braking, operated via the paddles behind the steering wheel and clearly visible on the display screen in front of the driver.
These modes start at zero which is effectively a coasting mode and is great for motorway driving and faster roads and motorway, then they progress up to level three with ever stronger regenerative braking power until the maximum level, iPedal, which will bring the car to a complete stop.
When driving, those different modes translate quite well although the iPedal is best used on slower urban roads as it's quite strong. In reality, we tended to remain in modes one or two for a degree of regenerative braking and then adjust it with the paddles accordingly as and when the roads and the traffic allowed. It's a useful reminder that while the latest intuitive systems are all well and good, manual systems can work just as well – and in some instances even be preferable.
There are also side cameras that bring up the side view in the driver's display when you indicate.
Hyundai IONIQ 5 driving range and charging
The IONIQ 5 comes with two different battery sizes offering a choice of electric range between 238 miles and 298 miles.
The IONIQ 5 is one of very cars that can use a 350 kW ultra-fast charger, allowing a charge from 10% to 80% in less than 18 minutes. This translates to the 800V battery system being able to add 62 miles of range in 5 minutes.
At a 50kW charger, an 80 per cent charge will take 46 or 56 minutes for the 58kW and 73kW cars. Using a 10.5kW charger – most likely to be found at a workplace – Hyundai claims a fully charged time for the 58kW car of 4 hours and 59 minutes with the 73kW model taking 6 hours and 9 minutes.
With the Charge myHyundai app and RFID card you have access to over 15,000 charging points in the UK, and with one single card or your phone you can pay for all different providers.
Hyundai claims an average energy consumption of 3.7miles/kWh for both the 58kW and rear-wheel drive 73kW car, with a slight drop to 3.5miles/kWh for the all-wheel drive 73kW version. Officially, in the Ultimate trim that drops even further to 3.3miles/kWh, although during our test drive we averaged 4.1miles/kWh without too much difficulty on a warm day.
The Hyundai IONIQ 5 looks striking, it offers a driving range of up to almost 300 miles, it can charge very rapidly if you can find a 350 kW charger, it has lots of space, and in four-wheel drive form it's very rapid, with good levels of grip. It's also one of the more affordable EVs in its class.
What's not to like…
£3,781.85 Initial rental (ex. VAT)
£4,538.22 Initial rental (inc. VAT)
48 Month term
5000 Annual mileage
Offer expiry Monday, 18 December 2023
Subject to status and conditions + arrangement fee
£420.

21
Business contract hire per month (ex. VAT)
£504.

25
Personal contract hire per month (inc. VAT)
Special Offer
Choose your IONIQ 5 car lease