Hyundai Ioniq review
New for 2020, the fully-electric 38kWh Hyundai IONIQ improves on the previous generation in almost every way. From the enhanced battery pack to a more powerful motor, you can discover much more about this popular electric vehicle(EV) in our Hyundai IONIQ review.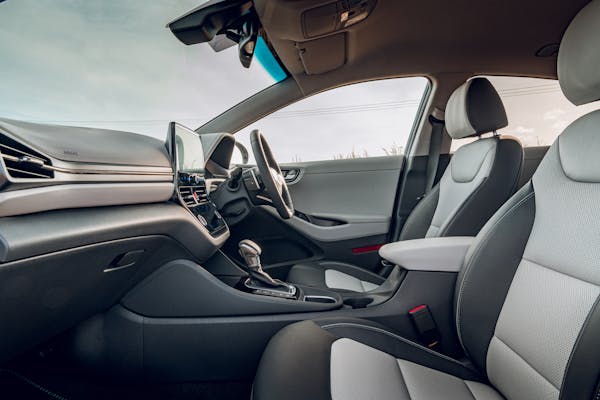 Hyundai interior and practicality
As a good-sized hatchback, the IONIQ has inherent practicality which is shown by its large 443-litre boot. Well-thought-out features inside the pleasantly comfortable cabin include a wireless charging pod for your smartphone, as well as two further USB ports under the touchscreen and inside the centre console storage compartment. Cupholders, good-sized door bins and a large glovebox all add to the practicality of this car, while there's plenty of space in the rear with headroom suitable for people up to six feet tall.
The Hyundai IONIQ interior is smart and feels nicely refined when you're driving around at lower speeds, while the futuristic, button-operated Vehicle Engine Sound Synthesiser is a great feature for warning pedestrians and cyclists you're approaching. The 10.25-inch touchscreen display is another great feature inside the cabin, and home to your sat nav and media functions. The instrument dials are digital, while there's mood lighting to indicate which driving mode you're in, with the option to switch between normal, eco and sport.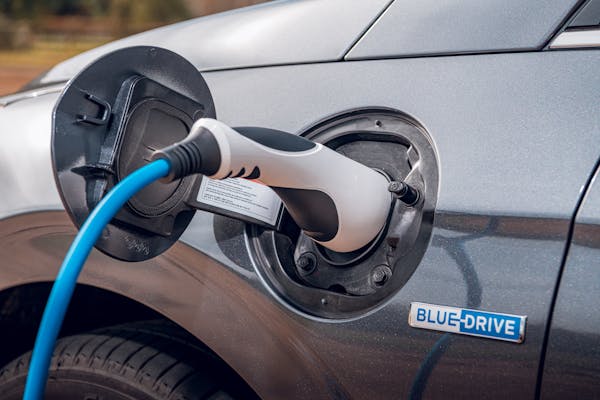 Hyundai Ioniq charging
Hyundai IONIQ electric charging is simple, especially if you have a dedicated home charge point, this electric car has Type 2 and CCS charging connections (standard in Europe). When you get home just plug in and that's it. You can set your car to charge between certain times to take advantage of off peak rates if you have an Economy 7 or EV friendly tariff with cheaper overnight electricity. Charging late at night or in the early hours of the morning is also the best time to charge with respect to using clean, renewable energy.
Once you have your battery fully charged, you'll probably want to keep hold of as much juice as possible for as long as you can. Features like the driver-only mode help with this, which is a setting for when you're driving alone in your IONIQ. This only heats or cools the driver to save electricity, while the aero ports on the front grille open and close in order to cool the battery as required. This means the battery can operate at peak temperatures to enhance the economy of your driving even further.
Away from home, Hyundai IONIQ charging is a little quirky, as the car intuitively changes its charging speed depending on how much power is in the battery. When the battery level is low, the car charges as close to the 50kW capacity as possible, with the IONIQ automatically decreasing the speed as the level increases. This helps to protect the power cell and prolong Hyundai IONIQ battery life. Using a 50kW rapid charger, you can charge up to 80% in around 57 minutes. It takes around another half an hour to reach 100% charge, with the final 20% of charging carried out at 14kW.
At present, Polar is the UK's largest public charging network. It has more than 7,000 charge points up and down the country and offers a membership scheme costing £7.85 per month. This gives you cheaper charging prices, although it's still possible to use their points on a pay-as-you-go basis. We've provided the current cost of charging with Polar below. Note that the time it takes to charge the IONIQ is the same whether you use a 50kW or 150kW charger, as the car's maximum charging speed is 50kW.
There's much to love about the Ioniq, while newer models can travel a bit further and have a bit more tech as standard, the Ioniq is still in the game thanks to its outstanding efficiency, so even though there isn't the same size as battery pack as other models, it can still handle lots of driving styles and distances.