Peugeot e-2008 Review
The Peugeot e-2008 is labelled as an SUV but essentially it's a Peugeot e-208 - which is great fun to drive - with the added bonus of more space and practicality.
More space and more practical than the Peugeot e-208

One of the more affordable electric SUVs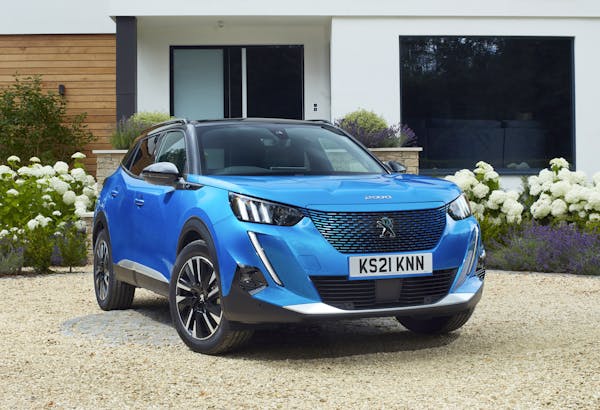 Peugeot e-2008 Design & Powertrain
The Peugeot e-2008 is more spacious (with a 311-litre boot), and higher, than the Peugeot e-208, but we're not sure it really fits the description of an 'sports utility vehicle' - it's more like a spacious small family car.
The exterior styling of the Peugeot e-2008 has lots of character, and the interior features a futuristic 3D 'i-Cockpit' dashboard.
The e-2008 has a 50 kWh battery and a 136bhp/100kW electric motor, and despite the SUV label, it's front-wheel drive rather than four-wheel drive - so it's not designed for driving up mountains.
What's the Peugeot e-2008 like to drive?
The Peugeot e-2008 is good to drive; as it's based on the Peugeot e-208, it shares the same fun personality, just with a slightly higher driving position.
One reason for the fun driving experience of this Peugeot is the small steering wheel, which gives the feeling of driving a go-kart (sorry MINI, we know that's your PR sound bite).
The e-2008 also shows that you can have an enjoyable driving experience without huge amounts of power. The electric motor only produces 136bhp, and the 0-62 mph time of 9.0 seconds is hardly hot hatch territory, but the instant responses of the electric motor, especially when combined with the sharper throttle response in Sport mode, deliver more than enough progress to bring a smile to your face (there are also Eco and Normal drive modes).
Although the e-2008 is front-wheel drive, because the torque isn't huge (221 Nm), there are fewer issues with wheelspin than in some front-wheel drive EVs with greater amounts of torque.
It also feels more agile than many EVs – and that's because, at 1,548kg, it's lighter than many rivals. This is the benefit of the smaller battery. Ride quality is good on most roads, but models with large alloy wheels have a firmer ride and can transfer the impact from some larger bumps and potholes into the passenger compartment.
The dashboard features the futuristic 'i-Cockpit' which displays information in a '3D' effect (you look over the steering wheel rather than through it to view the display). Like the majority of the latest EVs, most controls are on a central touchscreen, including for heating and ventilation, although there is a row of physical shortcut buttons under the screen. One bit of good news is that you can switch off the lane departure warning system with one button.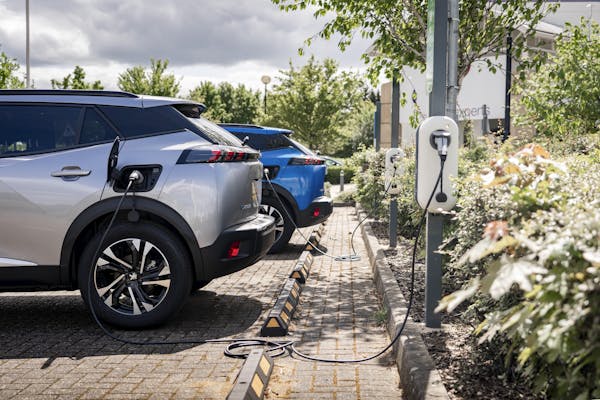 Charging the Peugeot e-2008
The Peugeot e-2008 has an official combined WLTP driving range of up to 214 miles. In real-world driving you're likely to get around 180 miles. This is a lower range than some other rivals.
The e-208 can rapid charge at up to 100 kW. It can be charged from 15-80% in 30 minutes at a 100kW rapid charger (or 45 minutes at a 50kW rapid charger).
A 22kW public charger will take 5 hours for a 15-80% charge. A 7kW home charger will take 7 hours 30 minutes to give a 0-100% charge.
The Peugeot e-2008 looks good, it has a futuristic interior, it's fun to drive, and it's more spacious and practical than the Peugeot e-208. It also sits towards the affordable end of SUV EV models.
One reason for the driving experience being more agile than many other EVs is that the e-2008 is lighter, because of the 50 kWh battery. The downside to the smaller, lighter battery is that you're only likely to get around 180 miles of range in real-world driving – although this may be perfectly fine for many people.
£4,173.51 Initial rental (ex. VAT)
£5,008.21 Initial rental (inc. VAT)
48 Month term
5000 Annual mileage
Offer expiry Monday, 18 December 2023
Subject to status and conditions + arrangement fee
£463.

72
Business contract hire per month (ex. VAT)
£556.

47
Personal contract hire per month (inc. VAT)
Special Offer
Choose your e-2008 car lease