Peugeot e-Expert review
Here at DriveElectric we know a thing or two about electric vans, so let's take an in-depth look at the all-electric Peugeot e-Expert van.
Hello, i'm Ella Power from DriveElectric. For those who don't know us, we have made it our mission since 2008 to help businesses and individuals make the successful transition to electric vehicles. Today I'm here at our Marlow head office to show you the new Peugeot e-Expert just behind me here now before we take a closer look it's really important to note that up until now electric vans of this size have been limited in the market, options have been expensive and range has been a limiting factor for some fleets ability to make the switch to electric. So we believe this van could be a game-changer.
First impressions
Well, it looks very nice very similar to the Peugeot Expert diesel in appearance, nothing too quirky on display, this van is robust and solid. I personally love this distinctive grid at the front, it really looks like it means business. Here's the Peugeot lion with a dichroic treatment on it to signify that it's electric, apparently the badge changes colour according to the light and angle, to me from here it looks blue. Coming round the front you've got your automatic lights and alloy wheels.
Charging
The charging flap is located here at the front left of the vehicle, this opens which opens like so to reveal your Type 2 and your CCS connector. Your Type 2 is your fast charge typically plugged in with a 7kW wall box at home or at work, plugging in to a 7kW charger will give you a full charge in around 11 hours so you would look to plug that in overnight to be able to be ready and set off in the morning.
The CCS connector is your public rapid charge port. That normally gives you about 50kW of power (this vehicle is capable of charging up to 100kW on even faster rapid chargers) that will get you about 80% charged within around 45 minutes, enough time to have a quick bit of lunch grab your coffee and get back on the road.
This vehicle comes in two battery sizes 50 and 75kWh. At DriveElectric we've got an order for the 75kWh option which gives you more range. According to the WLTP rating this van can travel 211 miles per charge, however at DriveElectric we also do our own 'real-world' range testing and we estimate 170 miles per charge to be a more realistic figure. Still, that's impressive.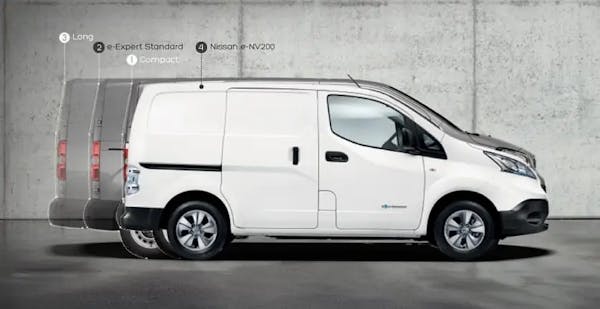 This van has twin sliding doors and comes in three sizes, compact, standard and long. Here today we've got the standard model which provides:
2.5 metres load length
5.3 cubic metres of load space
and up to 1.2 tons of payload (only 130 kilograms less than the diesel expert)
The standard length e-expert has an exterior length of 4.9m in comparison to the longer version which has an exterior length of 5.3m with a load length of 2.8m and 6.1 cubic meters of load volume.
For comparison here's the standard length e-Expert alongside the smaller Nissan e-NV200.
If you're looking for some more load length then you're in luck with the e-Expert, situated just here is a trapdoor which opens like so, and in the cabin you simply pull up this blue toggle here which lifts the passenger seat, and will give you just over an extra metre in load length
At the rear of the van here's the Peugeot badge again which is still looking very blue to me on these twin solid rear doors which open like so. There's a nice feature here that allows the door to open up to 180 degrees if needed. The outside of this van looks very compact but inside there is loads of space.
In the driver's seat
Let's take a look in the driver's seat, it feels very comfortable and there are dual passenger seats here to my left so three people can travel quite comfortably. As soon as I got in I noticed that there was some really deep storage in the door, and there's a cup holder here as well which is a nice touch. This central compartment here in the middle gives some extra storage as well as a glove box to keep any valuables tucked away safe. There's a further little cubby hole here as well and some storage perhaps for your phone once it's plugged in charging. You can really get a sense that whoever's designed this has thought about the needs of the van driver. The e-Expert is available in three different trim levels, DriveElectric have an order for the professional spec. trim which includes things like the touchscreen compatible with apple play and android it also has an in-built sat-nav, air-con and rear parking sensors.
My favourite feature is the mobile desk which opens up so you've got a little swivel table great for doing paperwork on the go, and it has a storage section here that you can put your pens in. It's a great setup that you can imagine a lot of drivers will find really useful.
Getting started
The key to start this van is a regular key, there's nothing too space age about that it's pretty traditional.
There are 3 driving modes on the right hand side charge, eco and power to optimise your performance and there is a battery level display rather than a fuel gauge. The driver can switch between driving modes at the touch of a switch. 'Power' is for optimising performance when you're transporting heavy loads, 'Normal' for everyday use and 'Eco' which is for conserving your range.
You can check your battery flow and other details in terms of energy usage and charging. You can also set up a charging schedule if you want to defer times for charging, one thing that I really recommend is preheating your vehicle before getting in it this allows you to set your temperature that you would like and pulls the energy from the mains rather than your battery before you set off.
First drive
Let's take it for a spin, to start the vehicle you just release the switch here which is in replacement of a handbrake and then you come here to the gear selector pull down to drive and off we go. You get that instant acceleration and torque which is typical of all-electric vehicles. EVs are much smoother and easier to drive, all electric vehicles obviously don't have an engine so they're very quiet, I can actually hear birds singing outside rather than a diesel engine which is much more pleasant.
Regenerative braking can vary depending on which electric vehicle you drive. For those that aren't familiar regenerative braking is what happens when you take your foot off the accelerator in internal combustion engines (ICE) that energy is wasted whereas in electric motors that energy is used and stored to actually power the battery so when you take your foot off the accelerator like so it's telling me that i'm charging and my vehicle will eventually slow down. The good news is that the resistance doesn't feel that strong, so this won't be too different from driving an ICE van. In the electric car that I drive, I can really feel the regen. when I take my foot off the acceleration which takes quite a lot of getting used to but on this vehicle you don't feel it as much. It's easy, it's comfortable, it's effortless. Another benefit of driving an electric vehicle is there's no gear stick this maximises floor space and it's like driving an automatic it's really easy you don't have to think about it which makes it a more relaxing drive.
Lease vs buy
Buying a vehicle like this outright can be very expensive even with the up to £8,000 pounds government grant applied. Leasing, on the other hand, is more affordable, you can finance the vehicle with a fixed monthly cost and also include things like service and maintenance so that's all taken care of enabling you to plan ahead financially.
In comparison to leasing the diesel Expert the Peugeot e-Expert van can appear more expensive but that is on lease cost comparison alone, when you consider the whole life cost (so all of the costs involved in actually running the vehicle) the picture looks very different, up to 80% in fuel savings actually mean that the Peugeot e-Expert is by far the more cost-effective option for your business.
If you're based in London and take into account potential costs from the Congestion Charge and Ultra Low Emission Zones not to mention the clean air zones that are rapidly expanding across the UK vehicles that are zero-emission like this qualify for a 100% discount on these charges, creating an instant saving and access to cities.
In summary
So there we have it the Peugeot e-Expert van in all of her electric glory. The Peugeot brand philosophy is about the power of choice giving us electric models with no compromise but all the benefits of zero emissions, the e-Expert delivers on that promise with up to 200 miles of WLTP range per charge (170 miles 'real-world' range), a versatile design and payloads and volume capacities nearly equivalent to the diesel Expert.
This van is going to be an ideal choice for many businesses looking to make the switch, helping electric vans to become more mainstream. The e-Expert is available right now at DriveElectric to lease so there's no time like the present to get in touch.
Thank you for watching and we hope to hear from you soon.
Choose your E-Expert van lease