Volkswagen e-Golf review
Back in 2020, Henry talks you through all you need to know about this great Volkswagen e-Golf electric car before your delivery.
Meet the VW e-Golf replacement
The Volkswagen ID.3 is the 100% electric replacement for the popular e-Golf, taking zero tailpipe emission motoring to the next stage.
Hatchback
Up to 320 miles range
£3,121.39 Initial rental (ex. VAT)
£3,745.67 Initial rental (inc. VAT)
48 Month term
5000 Annual mileage
Subject to status and conditions + arrangement fee
From
£346.

82
per month (ex. VAT)
From
£416.

19
per month (inc. VAT)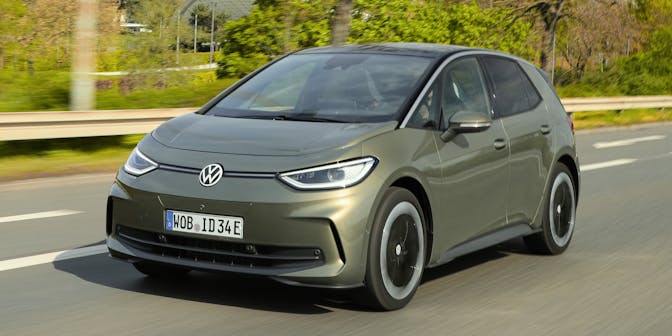 The walkthrough
Hi I'm Henry, welcome to this DriveElectric beginners guide video on the Volkswagen e-golf.
This particular model which you can see behind me looks very much the same as the traditional combustion Volkswagen Golf, the giveaway would be the blue highlight on the front grille and also on the interior of the car. It comes with a 35 kilowatt battery as standard which means it will cover 130 miles on a charge realistically (real world range).
If you follow me now I'm going to show you around some of the features, so now we're inside I'll show you how to start the car and use some of the basic interior features.  You'll see from the key fob that looks very much like your normal car, the key fob even flicks out and goes in the ignition like a traditional car which is quite unusual for EV's. To start you just put it in there with your foot on the foot brake and turn the key, you'll see the censored console display all lights up to let you know that the car is running, because of course you won't hear the engine start.
On the sporty blue stitch steering wheel you've got controls for both adaptive cruise control and voice settings. You can pan through different displays on your trip computer and of course change your volume and music settings as well.
In the center here you've got your traditional fuel gauge which allows you to monitor your battery levels whilst you're driving along and on your rev counter you have both blue and green sections which will indicate whether you're driving economically, really flooring it or if you're in the green you're taking advantage of the cars regenerative braking feature. You can access this by tipping your gear stick into the B position whilst you're driving along from Drive and that will allow you to drive very lazily using only the throttle pedal. We recommend you use it in urban conditions really and that will allow you to squeeze a few extra miles of range out of your car, by using the forward motion of the vehicle to charge the battery whilst you drive.
In the center you've got your normal sat-nav screen, which allows you to access the radio as well whilst you're driving along and also your bluetooth for your phone. So that about does it for the interior. Follow me and I'm going to show you the charging port and also the boot.
Surrounding the charging flap at the back of the car, you just press this top left corner to open it up and you can see that you've got your type 2 charger cable that you would use to plug in your charge and up at home. Then the extra cover comes away to reveal the CCS charger which you plug in at the bottom, for when you're charging up in public locations such as service stations and public carpark for a faster charge. Of course with a lot of EV's including the e-golf you can charge up to 100% in less than an hour using the CCS charging port.
So if we cover these back up, I'll take you around and show you the Boot. Last but not least we've got the goop really practical large boot space in there with a flat loading area which makes it great for loading in heavy shopping bags. If you need a bit more room you can always lift it up as you've got a few extra inches of depth there with your charging cables in a tidy bag underneath.
So that's the Volkswagen e-golf, we really hope you enjoy new car. As always, if you have any further questions on it please don't hesitate to give myself or any one of the people in the sales team a call.