FlexiHire for Haringey food distribution
FlexiHire help for Haringey food distribution centres
During the UK national lockdown in 2020, DriveElectric worked with Haringey Council London on using EVs to distribute food parcels to people in need.
Hundreds of volunteers are working for Haringey Council from distribution hubs in locations including Alexandra Palace and Tottenham Hotspur Stadium to ensure vulnerable residents have the essentials they need. We are happy to have played a small part in this effort.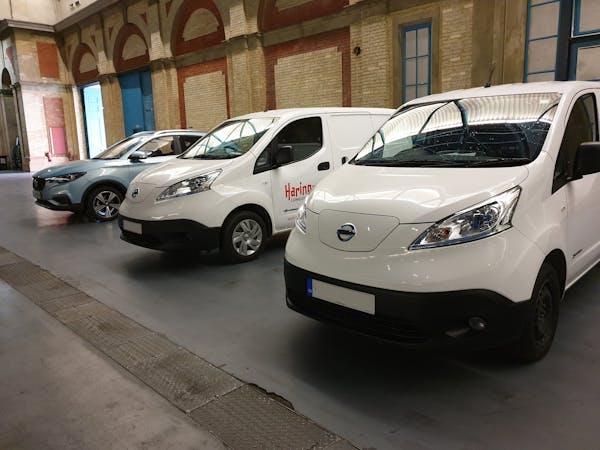 Back during the lockdown, vehicle deliveries were stopped. Therefore the team at DriveElectric took matters into their own hands to get these EVs to where they needed to go. On Sunday a few members of the DriveElectric team and their families volunteered to drive some Nissan E-NV200 electric vans and an MG ZS EV to Haringey.
These EVs were provided on short-term FlexiHire contracts (more about those in a minute), and were needed urgently for use in food distribution hubs so that essentials can be delivered to those in need.
We observed social distancing guidelines to get from A to B so after a bit of shouting and pointing across our office car park and disinfecting keys we got the car and vans to their destination. To get the team home safely without mixing everyone up in the same car to travel back to HQ we got a bit creative asking for help from family members to drive their partners back home.
We heard on Wednesday evening, during that day alone the FlexiHire electric vehicles provided had helped deliver food to 300 people. Today that total has reached 700. We hope these EVs will continue to be of use to the people working so hard in Haringey to ensure everyone has what they need while we all keep our (social) distance.
We were able to make these vehicles available on short term FlexiHire contracts for Haringey Council.
With FlexiHire there's no long-term commitment, the EVs can be handed back when they are no longer needed. A traditional lease contract would normally run for 2-5 years rather than weeks or months. A FlexiHire vehicle or two can be a great option for extra capacity when needed short term. This is one of the ways we are helping our fleet customers.
Learn more about FlexiHire