Mayor of London's commercial EV trial
Around half of London's toxic air pollution comes from road transport. We are helping to reduce it.
Gnewt are one of our fleet clients and a leading last mile delivery service in London operating a 100% electric vehicle (EV) fleet. Gnewt's electric delivery fleet proved so successful that in 2017 they succeeded in attracting funding from the Mayor of London to run a commercial electric vehicle trial testing new larger capacity electric vans (some of which were sourced by us!) for last mile deliveries in central London.
Around half of London's toxic air pollution comes from road transport and at peak times delivery vans and lorries make up around a third of traffic, so using electric vans rather than diesel ones in our capital is crucial step in reducing harmful vehicle emissions affecting the health of Londoners, especially children.
The trial was part funded by the Office for Low Emission Vehicles (OLEV) in partnership with Innovate UK and ran for 2 and a half years, finishing in December 2019.
Thousands of Londoners die prematurely each year, that's why Mayor Sadiq Khan is working to reduce the number of delivery vans and lorries on London's roads and encourage the use of EVs.
"Leasing larger electric vans has been a challenge"
Ellie, one of our Business Development Managers at DriveElectric (what she doesn't know about electric vans isn't worth knowing!) explains the challenges facing businesses that want to go electric:"Until recently leasing larger electric vans has been a challenge in London due to the cost, now we have conversions that have been part of the trial and have shown that going electric can be more affordable particularly for businesses operating in the Congestion Charging zone"
Charging
To keep their trial fleet of EVs topped up 64 charging stations were installed by eo charging at Gnewt's two London depots. There is also growing infrastructure of rapid charging points across London that the public can use which makes electric fleets even more possible.
Environmental and social benefits
As well as saving on running costs by switching from diesel to electric there are also environmental and social benefits to electric vans; they produce no harmful exhaust emissions and are much quieter than their Diesel equivalents.
Key findings from the commercial EV trial
The trial electric vans, with their larger payload volumes, delivered on average 30% more parcels per week compared to smaller vehicles – helping to reduce congestion by making fewer trips
The overall electricity cost for charging the trial vans was 75% less than the fuel costs to run their diesel equivalents (2019 costs)
The trial Voltia and Vic-Young electric vans used 5x less energy per km than their diesel equivalents.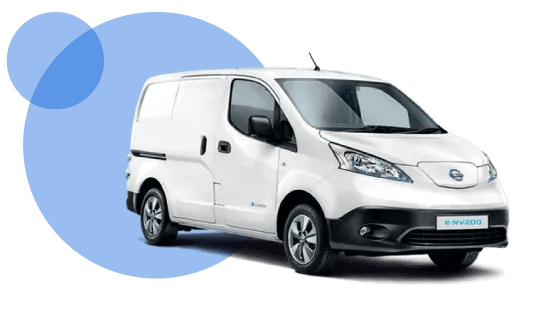 Trial an electric van in your organisation
If your organisation is looking to switch to electric and away from polluting petrol and diesel vans but need to learn how to make it work for you then our short-term FlexiHire solution is for you.
Our unique 'try before you buy' services enables you to trial EVs for as little as 3 months before making a longer-term commitment. And our highly experienced EV consultants will be with you every step of the way.
Commercial EV trial partners...