Jaguar business leasing
Jaguar released its first and only electric vehicle in 2018 – the Jaguar I-PACE. Although the world-famous British manufacturer is expected to offer a fully-electric line-up from 2025, meaning Jaguar EV's will be soon become a more common site on UK roads in the near future.
At DriveElectric you'll find a great range of Jaguar business lease deals. We've been helping UK businesses get behind the wheel of EVs since 2008, so you can be sure that we'll find the right Jaguar business lease for you.
Jaguar business lease deals
£8,311.98 Initial rental (ex. VAT)
£9,974.38 Initial rental (inc. VAT)
48 Month term
5000 Annual mileage
Subject to status and conditions + arrangement fee
From
£923.

55
per month (ex. VAT)
From
£1,108.

26
per month (inc. VAT)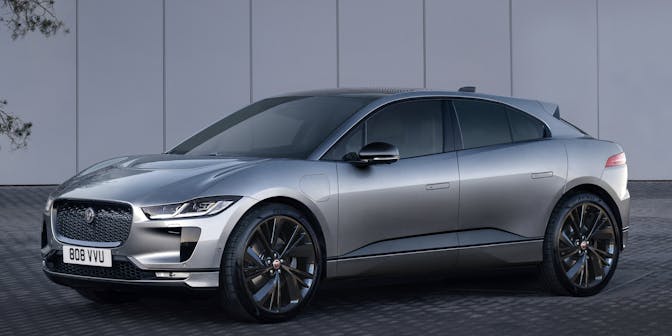 Jaguar business leasing with DriveElectric
In 2030, the UK is set to ban the sale of all new petrol and diesel cars, meaning now is the perfect time to opt for electric vehicle leasing for your business.
And as well as being better for the environment, electric vehicles also bring with them a whole host of business benefits. A fleet of electric cars can boost your reputation with your current and future clients and it can make sense from an economic standpoint too.
Running electric cars for your business fleet is much more cost-effective than those with combustion engines. Fuel costs are less, whilst you can even save up to 30% when it comes to servicing and maintenance too. Plus if you're driving in London you can make considerable savings on congestion and ULEZ charges.
Benefit in kind (BIK) costs are much cheaper too when you opt for a Jaguar business lease on an electric vehicle. Specifically, you'll only have to pay 2% company car tax, compared to 14% for plug-in hybrids, 28% for petrol vehicles with CO2 emissions over 119g/km and 32% for diesels over 116g/km. The cost savings are clearly considerable when it comes to driving electric.
But can Jaguar electric cars do the job when it comes to range? Something that will be an essential requirement for a business lease? It's a resounding yes, with the I-PACE promising a real-world range of 220 miles from a single charge.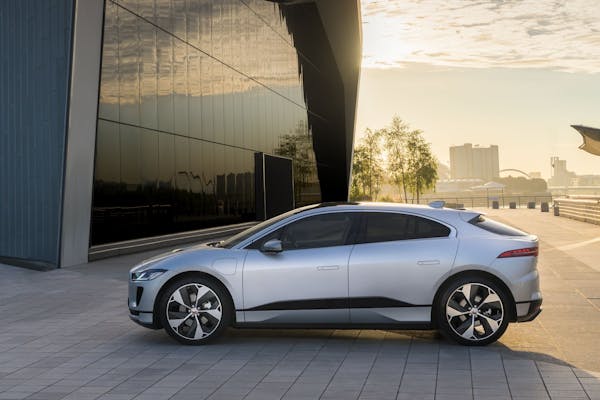 Jaguar I-PACE business lease
As Jaguar's only current electric vehicle, the I-PACE is an SUV with a 90kWh battery capable of covering 292 miles on a single charge, although we clock the real world range at 220 miles. It also comes equipped with a clever Enhanced Brake Regeneration system which helps you maximise range in the form of easy, single pedal driving.
The I-PACE is also quick, as it goes from 0-60mph in 4.5 seconds, with 50/50 weight distribution and 4x4 capabilities.
Benefits of Jaguar business leasing
Simple and risk-free

Setting up your Jaguar business lease with DriveElectric is super simple. When you choose your car, simply pick the lease duration and pay a deposit. When you Jaguar business lease runs out, you can hand back your car with no obligation to pay anything else.

Simple to budget

Included within your Jaguar business lease will be both road tax and a full manufacturer warranty. And by opting for a service and maintenance package, you can adequately budget too.

Enhance your reputation

By turning your back on combustion engines and packing your business fleet with environmentally-friendly EVs with zero tailpipe emissions, you will do wonders for your business' reputation.
You'll find a great selection of Jaguar business lease deals available today at DriveElectric. You can give us a call right now to chat to one of our advisors and discuss our Jaguar business lease offers, get an online quote straightaway, or you can fill in a quick form to speak to an EV Fleet Consultant.