Lexus business leasing
Lexus is all about luxury. Initially created as a premium sub-brand of Toyota in the late 1980s, the company has today become Japan's most prestigious car manufacturer.
Lexus business lease deals
£3,759.75 Initial rental (ex. VAT)
£4,511.70 Initial rental (inc. VAT)
48 Month term
5000 Annual mileage
Subject to status and conditions + arrangement fee
From
£417.

75
per month (ex. VAT)
From
£501.

30
per month (inc. VAT)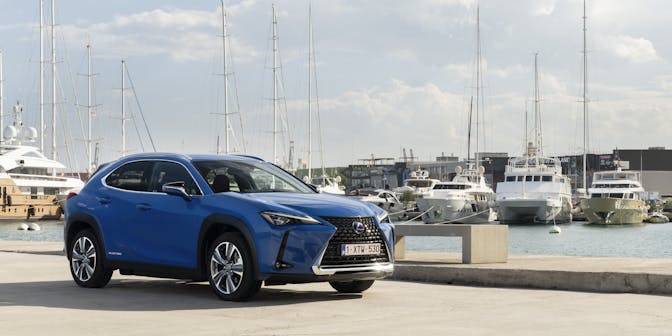 £5,648.14 Initial rental (ex. VAT)
£6,777.77 Initial rental (inc. VAT)
48 Month term
5000 Annual mileage
Subject to status and conditions + arrangement fee
From
£627.

57
per month (ex. VAT)
From
£753.

09
per month (inc. VAT)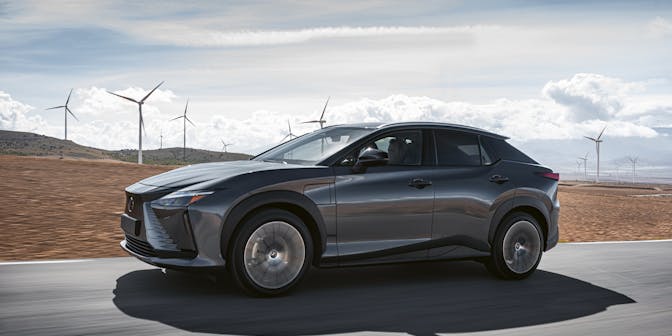 Today you'll find two electric vehicles within the Lexus range – the Lexus RZ and the Lexus UX. Both of these all-electric cars stick close to the Lexus brand DNA, as luxury SUVs. If you're looking for a Lexus business lease, you'll find a great range of deals right here at DriveElectric.
At DriveElectric, we've been helping business leaders make the switch to electric vehicles since 2008. Not only does this ensure a cleaner and greener future, but changing your fleet to electric vehicles also brings with it a number of business benefits. All of which can be enjoyed when you take out a Lexus company car lease with DriveElectric.
The day to day running costs of your business will be reduced, simply by opting for all-electric company cars. You can save on fuel costs and even save as much as 30% on service and maintenance due to the ease of servicing an electric battery compared to a combustion engine. Other cost savings include National Insurance, company car tax (just is just 2% for electric vehicles), and ULEZ and congestion charges for cars being driven in London.
And so how does leasing an electric Lexus work with the needs of your business? The Lexus RX is one of the most efficient EVs on the market, using less than 18kW of power per 100km (62 miles) driven. It also has a range of around 200 miles, which is more than enough for day-to-day business driving. Did we also mention that it brings a little luxury to the table too? It is a Lexus after all.
Whatever the requirements of your business, you can be sure that they will be covered with a Lexus company car lease from DriveElectric.
Lexus business lease deals
Looking to bring a little luxury to your company car fleet and lease a Lexus EV from DriveElectric? You'll find all our available Lexus business lease deals online. You can browse them all quickly to find the right deal for you. You can also get in touch with our expert team to understand how leasing a Lexus would work for your business, factoring in things like contract duration, mileage and tax. We can also help you choose the best model for you.
We make it as simple as possible to lease an all-electric Lexus for your business. Our process is easy and risk-free, and we have some of the best Lexus business lease deals on the market in the UK. Simply view our available business deals on this page and get in touch to work out the details with our expert team.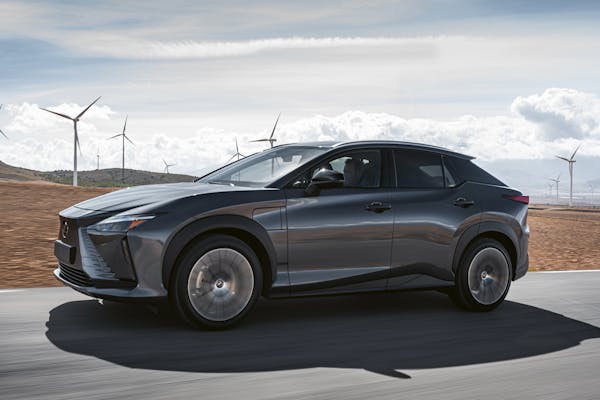 Lexus RZ business lease
The Lexus RZ 450e is a family-sized SUV, featuring Lexus' DIRECT 4 AWD system which has been specially designed to cope with the increased torque produced by electric motors. This gives it an attractive edge over its domestic competitors.
You'll find plenty of great cutting-edge features within the cabin, including its 'One Motion Grip' steering wheel and a heating system that works together to ensure the range is prolonged for as long as possible. And when we're talking range, the RZ 450e can go for around 200 miles on a single charge. If you're looking for a Lexus business lease deal on the RZ 450e, you'll find plenty right here at DriveElectric.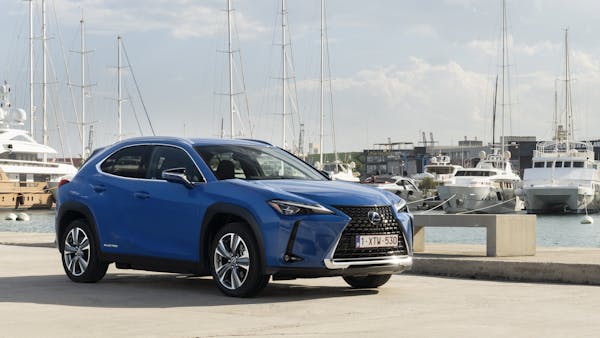 Lexus UX business lease
The Lexus UX 300e has a real world range of 145 miles and can charge to 100% using a 7kW domestic charger in just 8 hours 15 minutes. Positioned as a luxury family car, the interior of this SUV has much in the way of cabin space and tech. You'll find Apple CarPlay/Android Auto integrated into the centre-dash via a screen, with a separate 7" TFT screen serving as the instrument cluster.
Benefits of Lexus business leasing
Simple and risk-free

When you've decided on your Lexus business lease, all you need to do is pick the duration and mileage then pay your deposit. And once the contract finishes, you simply need to give back your Lexus with no obligation to pay anything else.

Easy to budget

Road tax and a full manufacturer warranty are included with your Lexus business lease. To help you budget further, you can also opt for a service and maintenance package too.

Enhance your reputation

Your business will save money in the long run by opting for environmentally-friendly Lexus cars with zero tailpipe emissions. An all-electric fleet will also boost the reputation of your business.
Get in touch with us at DriveElectric to learn more about our fantastic range of Lexus business lease deals. You can view our full range online or get in touch to discuss our latest Lexus company car lease deals. Or you can simply complete our quick online form to get a quote in minutes.