Coupe
Up to 320 miles range
£8,772.03 Initial rental (ex. VAT)
£10,526.43 Initial rental (inc. VAT)
48 Month term
5000 Annual mileage
Subject to status and conditions + arrangement fee
From
£974.

67
per month (ex. VAT)
From
£1,169.

60
per month (inc. VAT)
Estate
Up to 300 miles range
£8,332.79 Initial rental (ex. VAT)
£9,999.35 Initial rental (inc. VAT)
48 Month term
5000 Annual mileage
Subject to status and conditions + arrangement fee
From
£925.

87
per month (ex. VAT)
From
£1,111.

04
per month (inc. VAT)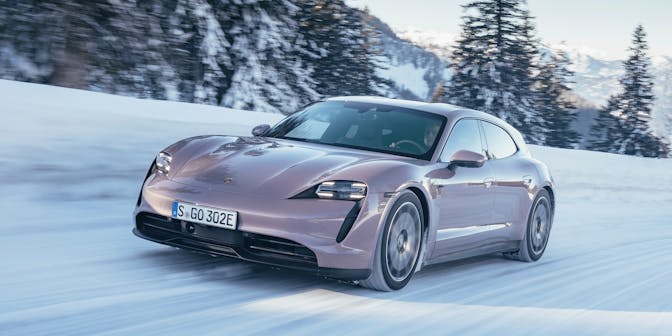 Estate
Up to 300 miles range
£9,050.87 Initial rental (ex. VAT)
£10,861.04 Initial rental (inc. VAT)
48 Month term
5000 Annual mileage
Subject to status and conditions + arrangement fee
From
£1,005.

65
per month (ex. VAT)
From
£1,206.

78
per month (inc. VAT)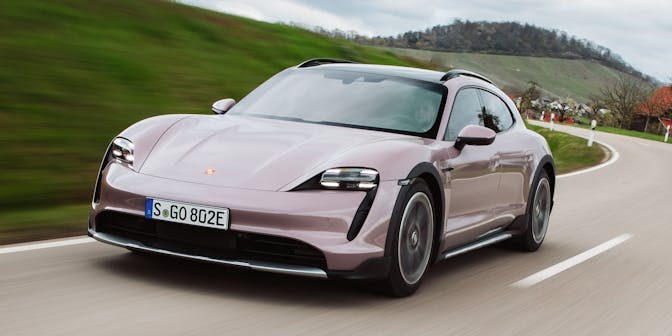 When you take out a UK Porsche business lease with DriveElectric, you'll join us on our shared journey towards a cleaner, brighter and quieter motoring future. As the UK is set to ban the sale of all new petrol and diesel cars by 2035, there's never been a better time than now to put your business on course for an all-electric future.
Porsche has been responsible for some of the most iconic sports cars and luxury vehicles ever made, with the Taycan the German manufacturer's debut EV. It's an all-out performance EV that promises plenty in the way of luxury too.
Whether you want to lease a Porsche Taycan now or you're looking at the future Porsche EVs to come on the market, electric vehicles are becoming more appealing to businesses and they bring plenty of benefits. First and foremost you can reduce your company's carbon footprint, as well as enhancing the eco-credentials of your business.
Cost will also play a part, and there are significant cost savings to be made. You can save on fuel costs while service and maintenance costs are typically 30% lower with electric cars due to the mechanics of the battery compared to combustion engines. Other savings include company car tax at just 2% for electric vehicles, and savings of over £5000 a year on ULEZ and congestion charges if your Porsche business lease is in London.
The Taycan also has a range of between 270 and 290 miles on a single charge, which is plenty for day-to-day business needs.
Porsche business lease deals
DriveElectric is your go-to for Porsche business leasing. Our experts are on hand to run through our different Porsche business lease deals and to help you understand which is the right option for you. We can also look at the length of contract and expected mileage you want to go for as well as run through any tax implications of taking out a Porsche business lease.
When you lease a Porsche EV from us for your business, there's also no risk as you simply hand it back at the end of the contract. As there is no obligation to buy the car at the end of your deal, you won't have to worry about factors like residual value and finding a lump sum to pay for the car.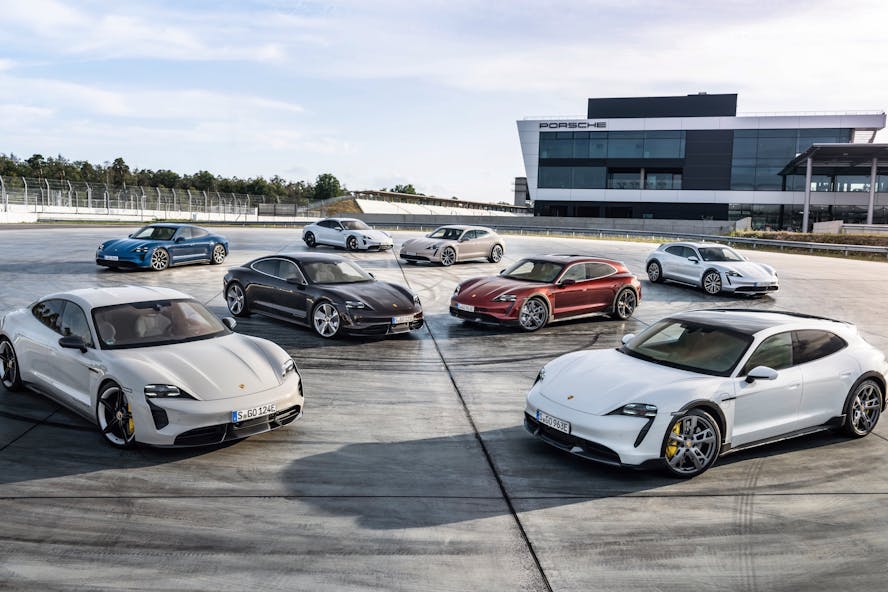 Porsche Taycan business lease
Porsche's release of the Taycan was a huge moment for the electric car industry. This sports car is breath-taking in both looks and performance. And as it's technically a four-door saloon, it makes the ideal car for business leasing.
The options you can choose from include the base model Taycan, Taycan 4S, Taycan Sport Turismo, Taycan 4 Cross Turismo, Taycan GTS and Taycan Turbo. You can choose from two battery options across the Taycan model range too. The Performance Battery is a 79kWh power pack that offers a range of 231 to 276 miles in the standard model, while the 93kWh Performance Battery Plus can cover 268 to 314 miles on a single charge. You can charge both batteries from 5% to 80% in just over 20 minutes using a public rapid charger.
With its great looks, high performance and eco-credentials, the Taycan is the perfect model for business leasing.
Benefits of Porsche business leasing
Simple and risk free

All you need to do is choose the duration of your Porsche business lease, plus the mileage and deposit. They simply hand back the car with no further obligation at the end of your contract.

Easy to budget

Road tax and a full manufacturer warranty are included in your Porsche business lease. You can also include service and maintenance to further reduce risk and help you budget.

Great for reputation

Road tax and a full manufacturer warranty are included in your Porsche business lease. You can also include service and maintenance to further reduce risk and help you budget.
Discover the full range of Porsche business lease offers available at DriveElectric. You can give us a call to discuss our latest Porsche deals, get an online quote straightaway, or you can fill in a quick form to speak to an EV Fleet Consultant.