DS DS-3 Crossback Review
The DS-3 Crossback E-Tense is an all-electric compact SUV that offers individual styling and comfortable ride quality.
Electric range of 191-206 miles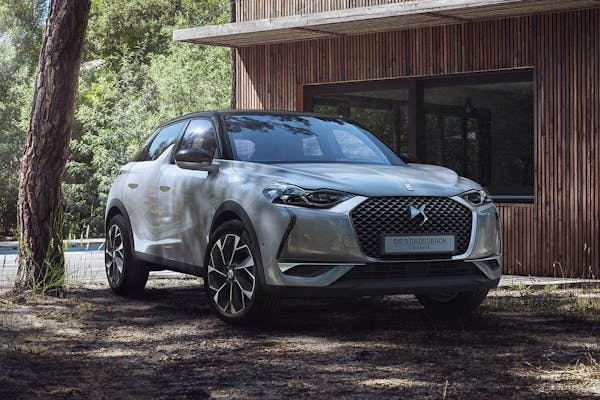 DS 3 Design & Powertrain
The DS 3 Crossback E-Tense shares the same platform as the Peugeot e-2008, but has distinctive DS styling on the outside, and on the inside - where there's a 'diamond' design theme. The boot can hold 350 litres of luggage.
There's a 50kWh lithium-ion battery and a 100kW (136hp) electric motor. Although the DS 3 Crossback E-Tense is labelled as an SUV, it's only front-wheel drive.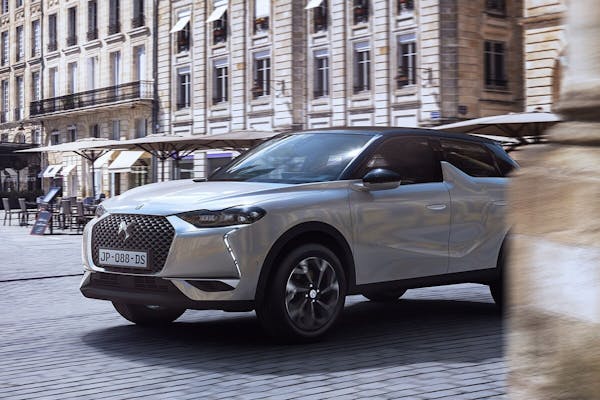 What's the DS 3 like to drive?
The DS 3 Crossback E-Tense is a compact SUV so the body rides higher than that of a regular small hatchback, and the suspension is softer than most other rivals, so the end result is very comfortable ride quality.
Another outcome of this set-up would normally be a fair amount of body roll through the corners, but with the battery being located in the floor, this means a lower centre of gravity than the petrol model and so the body roll is minimised.
Because the DS 3 Crossback E-Tense is compact, and, at 1,525 kg, is lighter than many other EVs, it's also pretty agile, and fun, and this is helped by the instant responses from the electric powertrain. And of course, because it's electric, it's quiet and refined.
Front-wheel drive combined with lots of torque means that the front tyres can momentarily be searching for grip under enthusiastic acceleration on wet roads, but this is sorted out when the traction control system steps in.

There are three drive modes: Eco, Normal and Sport. You can also select 'B' using the gear selector to capture more energy from braking, and DS says that the development of this system has been influenced by what it has learnt from participation in Formula E.
The interior has a touchscreen for most car controls, and the dashboard incorporates buttons and other features reflecting the overall design theme of diamonds.
Charging the DS 3 Crossback
The DS 3 Crossback E-Tense has an official WLTP combined electric range of 191-206 miles. You're likely to average 160-180 miles in real-world driving.
The DS 3 can be rapid charged at up to 100kW, when a 15-80% charge will take 30 minutes. Using a 7.2kW home wall box, a 0-100% charge will take 8 hours.
The DS 3 Crossback E-Tense is compact yet practical, and it's responsive, fun and comfortable to drive. It offers the slightly raised height that lots of car buyers seem to want. Some rivals deliver a longer driving range, but in response the DS 3 aims to offer a premium experience for a price that is lower than some rivals. And if you like diamonds, this could be the car for you.
£3,626.28 Initial rental (ex. VAT)
£4,351.53 Initial rental (inc. VAT)
48 Month term
30000 Annual mileage
Offer expiry Monday, 18 December 2023
Subject to status and conditions + arrangement fee
£402.

92
Business contract hire per month (ex. VAT)
£483.

50
Personal contract hire per month (inc. VAT)
Special Offer
£3,983.14 Initial rental (ex. VAT)
£4,779.77 Initial rental (inc. VAT)
48 Month term
5000 Annual mileage
Offer expiry Monday, 18 December 2023
Subject to status and conditions + arrangement fee
£442.

57
Business contract hire per month (ex. VAT)
£531.

09
Personal contract hire per month (inc. VAT)
Special Offer
£4,141.37 Initial rental (ex. VAT)
£4,969.64 Initial rental (inc. VAT)
48 Month term
5000 Annual mileage
Offer expiry Monday, 18 December 2023
Subject to status and conditions + arrangement fee
£460.

15
Business contract hire per month (ex. VAT)
£552.

18
Personal contract hire per month (inc. VAT)
Special Offer
Choose your DS-3 Crossback car lease