Company fleet: How going electric impacts your bottom line
Who doesn't want to achieve more by spending less? Energy efficiency is crucial to how most companies operate but have you thought about how energy efficient you are when it comes to the car that you and/or your employees drive?
If you're wondering how much it costs to lease an electric car, you may be pleasantly surprised.
The only way is electric
The world is changing, with individuals and businesses increasingly aware of their environmental footprint and the need to mitigate it as much as possible. Switching from a conventional fleet to electric vehicles offer businesses a way to help the planet, improve their reputation and make significant cost savings.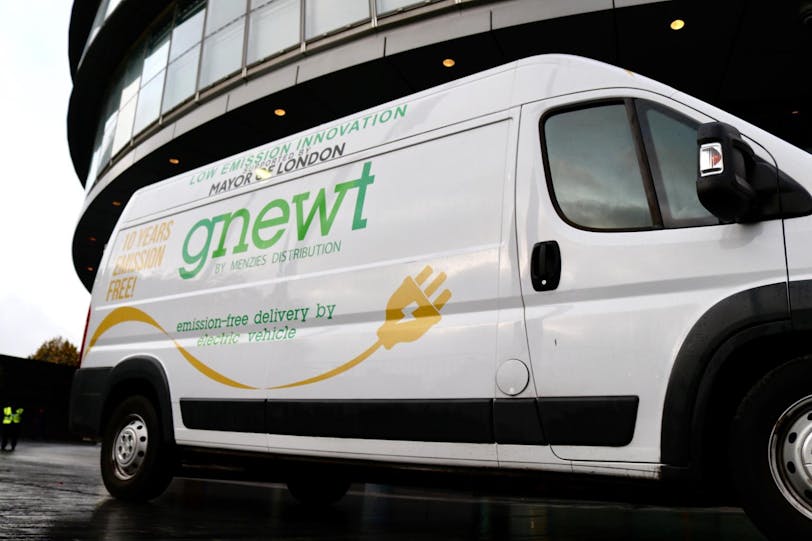 A great example of a business that has embraced EVs, is Gnewt, a specialist last-mile delivery service provider that operates across London. Gnewt operates a fleet of over 100 electric vehicles in the capital that collectively drive over one million emission-free miles annually for clients including ASOS, UK Mail and Goldman Sachs. You can read more about Gnewt's electric vehicle fleet here.
What are the advantages of electric cars as company cars?
Savings for the organisation
As well as reputational benefits, EVs can significantly reduce the whole life cost of a company car. This is because there's no road tax to pay, but mostly due to the huge savings made on fuel, which is typically around 80% of the fuel costs of a conventional fleet.
If your business is in London, an electric company car or van could save you thousands of pounds per year on Ultra Low Emission Zone (ULEZ) and congestion charges.
Savings for the employee
You can also claim 5p per mile when driving your company car on business while charging up your EV at work is also exempt from tax.
Drivers can make significant savings on company car tax by choosing an electric vehicle. Also known as Benefit in Kind (BIK) tax, company car drivers pay just 2% BIK during 2022/23. The 2% BIK figure remains the same through tax years 2023/24 and 2024/25.
As the amount of company car tax you pay is based on your annual salary and the value of your car, this could mean massive savings (hundreds of pounds a month in some cases).
Company car tax by fuel type 2022/23
Compared to conventional cars, the savings on vehicle tax are very significant
Plug-in Hybrid - electric mile range <30 miles
How much does it cost to lease an electric car?
While this naturally depends on the type of EV you want, your contract length and mileage, you could drive a brand new Nissan Leaf, MINI Electric or Volkswagen e-UP for less than £300 per month. After an SUV? We've got lots of all electric SUV lease deals to suit all budgets. If you want a high range, the Tesla Model Y Long Range can cover around 300 miles in the "real-world" range per single charge.
If its an electric van lease your business is looking to lease you're in luck there are lots on the market and more appearing all the time. With payloads and load length similar to the diesel versions, there is nearly an electric van to suit all types of workforce, not forgetting some of the newer electric vans have a real-world range of around 170 miles.
How much does it cost to run an electric car?
For businesses, a fleet of electric vehicles is significantly cheaper to run. Taking a Tesla Model 3 as an example, in just 1 year driving 20,000 miles will save your company £571 in employer's class 1A National Insurance, and around £1,600 in fuel. There's also the savings you make on repairs and maintenance. A fleet of electric vehicles won't need an oil and air filter changes, or a new fan, timing belt, head gasket or spark plug. Why? The battery unit is one working part, as opposed to dozens with a combustion engine. Typically, maintenance costs for electric vehicles are 30% lower than those of their combustion engine alternatives.
While companies in London could save more than £5,000 a year on ULEZ and congestion charges, based on an EV entering Central London daily over 45 weeks and compared to a Euro 5 diesel, the biggest saving outside the capital comes on fuel. For instance, you can fully charge a Tesla Model 3 Standard Range Plus for just £10.50 when electricity costs 14p per kWh. With a range of up to 258 miles, just imagine the savings you can make with a fleet of those.
What other costs are there?
If your company has a fleet of EVs, you may want to install some charge points in the car park. Currently, the government's Workplace Charging Scheme offers businesses a contribution of £500 towards up to 20 charging points. That could help your bottom line to the tune of £10,000. Having these points for visitors to use can be a great way to show off your green credentials, while also leading to potential clients or suppliers staying longer on your premises.
Are electric vehicles feasible as company cars?
Our own research has shown that issues connected to charging and range are more concerning to fleet managers than cost when it comes to adopting EVs.
Whilst it's understandable that fleet managers are concerned about charging and range when getting people and products to their location on time is crucial, our experience shows that modern EVs vehicle ranges mean that this shouldn't worry fleet managers. The current generation of electric vehicles typically have a range of 140-350 miles per charge, which means drivers can complete several journeys before needing to charge their vehicles again.
Some of the cheapest cars we lease offer almost 200 miles on a full charge (according to official WLTP ratings), while the increasing number of rapid charging points across the UK also make EVs perfectly viable as company cars. In fact, the more miles you and your fleet cover, the more you're going to benefit thanks to those incredible fuel savings. So take a look at our latest EV leasing offers, and start planning your fleet overhaul today.