How does leasing an electric car work?
Leasing, most of us have heard of it, and some of us know it much better than others. But even if you've been leasing cars for years, you may not be as familiar with leasing an electric vehicle (EV). In the interests of getting you up to speed, we're taking a closer look at what leasing is, while also explaining how to lease an electric car. You could say we're the electric car lease experts!
When you lease a car, a finance company effectively buys it from the electric vehicle manufacturer and leases it to you for the duration of your contract.
It's a great way to drive a brand new car without having to finance the entire cost. You can either put this through a company as a business lease, which means you can reclaim some or all of the VAT or take it on a personal contract.
There are two main forms of leasing: Contract Hire and Contract Purchase.
Contract hire (aka Leasing)
With a Business Contract Hire (BCH) or Personal Contract Hire (PCH), you'll never own the vehicle you lease outright. It is a form of long-term car rental, you make an initial payment followed by a set amount each month. The amount you pay is based on the duration of your contract, which is most commonly two or three years, as well as your annual mileage. Interest is fixed at the beginning of your contract, while the payments, in general, are based on depreciation and what the value of your car is expected to be at the end of your lease.
If you're taking out a business lease and putting it through a VAT registered company, you'll be able to reclaim some or all of the VAT on the monthly payments. The leasing company can also reclaim the VAT on the car, which means you pay less with the amount you owe whether it's a business or personal lease. Contract hire is the kind of leasing we specialise in at DriveElectric, allowing you to drive your brand new car for the duration of your agreement, before returning it to the finance company at the end of the lease with no further obligations.
Contract purchase
If you'd rather have the option of owning your car at the end of your lease, a Business Contract Purchase (BCP) or Personal Contract Purchase (PCP) could be for you. This is a good way to get finance on a car if you don't have the funds to buy it outright at the start, with a manageable initial payment followed by regular monthly rentals throughout your contract. When your lease period ends, you have the option to purchase the vehicle for a price agreed at the beginning of your contract. This is often called a balloon payment.
Just like a Contract Hire agreement, interest is also set at the start of your lease and fixed for the duration. If you're taking out a BCP, you won't pay any VAT at all. You're allowed to reclaim 100% of the vehicle's cost against corporation tax in the first year, although it's worth noting you must repay the tax on the car's sale price if you sell it later on or return it to the lease company.
Why lease an electric car?
Leasing is arguably the best way to drive an electric car. There are lots of great benefits for leasing in general, some of which are greatly enhanced when it comes to electric vehicles.
Enjoy the latest technology
The world of electric motoring is a fast-paced one. Technology is constantly improving, most notably concerning batteries. Our experience tells us that our customers prefer to lease an electric car rather than buy one because battery tech is getting so much better all the time. Nowadays, most new EVs offer a 'real world' range of more than 150 miles from a single charge.
Some electric cars, like the Mercedes-Benz EQS and Tesla Model S Long Range, are capable of covering over 300 miles without needing to top up. It was only around 15 years ago that EVs could barely travel 50 miles before running out of juice.
Taking out a two-year lease keeps you at the forefront of the latest battery tech, as well as other advances in things like driving aids, safety technology and communications.
No depreciation worries
In the past, electric cars suffered from their residual values (RVs). This means they had poor resale values on the second-hand market. Although this has changed in recent years, some people still worry about EV depreciation and prefer to lease rather than buy.
The beauty of this though is that RVs are very strong at present, which has a positive impact on leasing. Higher resale values mean lower monthly payments. This is in contrast to petrol and diesel cars, which will have progressively lower resale values as we move towards 2035 when new sales will be banned. Plus, Clean Air Zones and things like congestion charges are only set to become more prevalent in the coming years, further improving the RVs of electric cars.
Availability issues
Even though it's becoming easier to find second-hand EVs, there's still a real shortage compared to petrol and diesel models.
Leasing is the perfect answer, allowing you to drive a brand new car rather than a used one. There can be significant peace of mind attached to driving a new vehicle, as opposed to worrying about how your car was treated by its previous owner. There are more new models to choose between than ever before, while the more people who take out EV leases, the better the availability of second-hand models in years to come. This will only help with the wider adoption of electric cars, as we move towards a more sustainable future.
Affordable
Buying a new car can be a huge burden, especially if you want to drive the latest model or need to drive something suited to your profession or company. Leasing is the most affordable way to get yourself into a brand new vehicle, allowing you to pay a low initial payment and monthly rentals, rather than tens of thousands upfront. Or burdening your business with an asset it may not be able to afford in the future. Whether your company is looking for a single car or a whole fleet of EVs, leasing is the perfect way to budget thanks to the set monthly payments. And don't forget, employees driving electric cars can also benefit from paying far less in company car tax over the coming years.
Our electric car lease special offers
£2,713.18 Initial rental (ex. VAT)
£3,255.81 Initial rental (inc. VAT)
48 Month term
5000 Annual mileage
Subject to status and conditions + arrangement fee
£301.

46
Business contract hire per month (ex. VAT)
£361.

76
Personal contract hire per month (inc. VAT)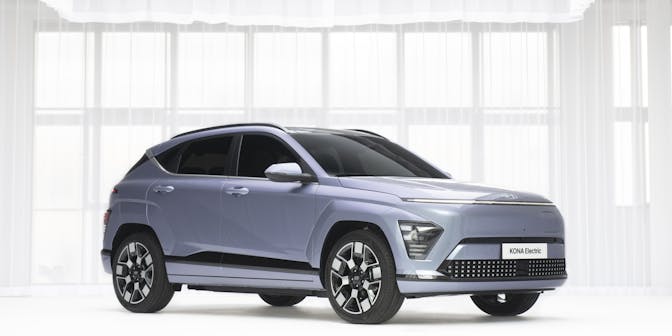 £1,951.79 Initial rental (ex. VAT)
£2,342.15 Initial rental (inc. VAT)
48 Month term
5000 Annual mileage
Subject to status and conditions + arrangement fee
£216.

87
Business contract hire per month (ex. VAT)
£260.

24
Personal contract hire per month (inc. VAT)
£2,728.44 Initial rental (ex. VAT)
£3,274.13 Initial rental (inc. VAT)
24 Month term
5000 Annual mileage
Subject to status and conditions + arrangement fee
£303.

16
Business contract hire per month (ex. VAT)
£363.

79
Personal contract hire per month (inc. VAT)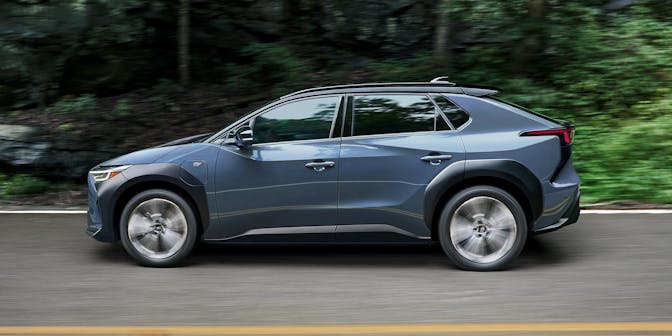 How to lease an electric car
When you search for the best lease deals online, these are usually provided by brokers like DriveElectric. We act as an intermediary between you, finance companies and car manufacturers, such as Tesla, Peugeot and Volkswagen. Because we're constantly scanning the market for the best offers, we're able to provide you with the lowest prices. We also have long relationships with major vehicle funders, such as Lex Autolease, bringing you the best funding solution for your personal requirements.
Whether you're searching online or visiting a showroom, it's also possible to go directly to a manufacturer to lease an EV. However you decide to lease your car, you need to choose your vehicle, contract duration and mileage. Contracts are usually available for between two and five years, while your mileage can range from 5,000 to 30,000 miles per annum. Higher mileages can sometimes be arranged. You then choose your initial payment, raising this if you want to reduce your monthly rentals.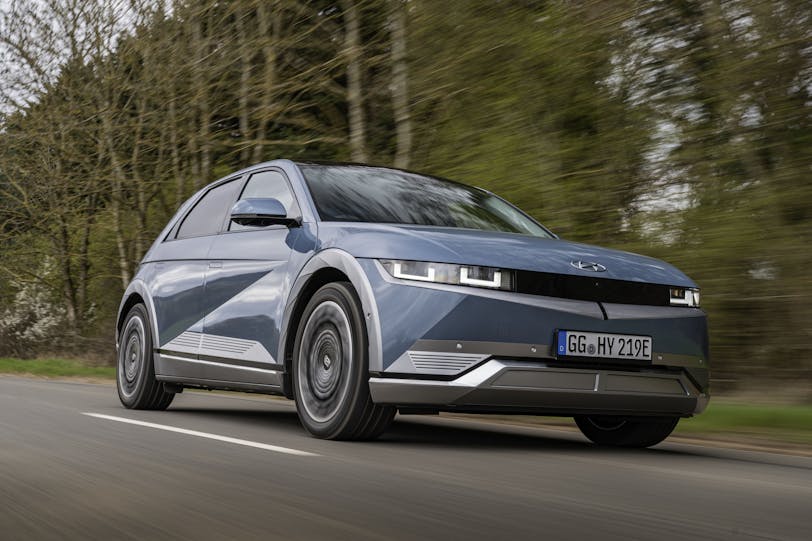 After you've selected the model and terms you want, you'll get a personalised quote. You can progress this to order if you're happy with the cost, going through a finance application to get the funding in place. From then on, it's just a case of waiting for your delivery to be booked in. Unless, perhaps, you're getting a Tesla, in which case you'll probably collect it directly from them. We can confirm this is a pretty cool experience.
How much does it cost to lease an electric car?
The cost of an electric car lease depends on the rental profile you choose and the vehicle you go for. You can decrease your monthly payments by increasing your initial payment, although it's worth noting this won't alter the total amount you owe. You can pay anything from under £150 per month for an EV lease, up to £1,000 and more for a Porsche Taycan, BMW iX or Mercedes-Benz EQS.
A question we're often asked is, 'what is the cheapest electric car to lease?'. If you're in the market for a great little city car, the Smart ForTwo Coupe is available for less than £150 +VAT per month.
What's included in my lease?
When you lease a car, your contract includes payments for the car itself and your road tax, if there's any due. You need to organise fully comprehensive insurance separately, while you may wish to install a home charge point to top up your battery the most cheaply and conveniently way possible. It's something we strongly recommend if you have off-street parking available at home.
You will be responsible for the service and maintenance of your vehicle throughout your lease. These costs are cheaper with EVs due to there being fewer moving parts in electric car batteries than in an internal combustion engine. However, you may wish to take out a maintenance package through your lease company, covering routine servicing, roadside assistance, tyre replacements and repairs due to normal wear and tear, and MOTs if required. Vehicle repairs are also covered if parts have failed or worn out through normal wear and tear.
Certain things are not covered by maintenance packages though, including damage caused by road accidents and misfuelling. Windscreen repairs and replacements aren't covered, along with accidental damage caused by you, tyre repairs caused by accidents or neglect, and stolen or damaged personal items.
What's included in a maintenance package?
Routine servicing of your lease vehicle throughout your contract
Vehicle repairs (including parts and labour) that have failed or worn out as a result of normal wear and tear
Tyre replacements and repairs as a result of normal wear and tear
Roadside Assistance
MOT (if required)
What's not included in a maintenance package?
Windscreen and glass repairs and replacement
Damaged, missing and stolen items
Mis-fuelling
Damage caused by road accident
Accidental damage and faults caused by the driver
Excessive driving style and driver-induced faults
Consumables
Tyre repair/replacement for damage caused by theft, vandalism, road accidents or neglect
What's not included in an electric car lease?
Insurance
Motor insurance is not included in leasing contracts. It's the driver's responsibility to insure their shiny new EV. For a leased car you will need a fully comprehensive policy and if the car or van is for business use then it will need to be insured for work purposes too. We suggest using comparison sites to find an insurance provider to suit your needs.
A home charge point.
Although not included in your lease contract, from time to time there may be offers available for free miles or a home charge point from energy companies, vehicle manufacturers or even your leasing broker. But the fact remains you will need to charge your car up, and we recommend you have a home charge point installed to do this. There is currently a government grant available to cover some of the cost of this. Charging at home is still the most convenient and cost-effective way to 'fill' your battery.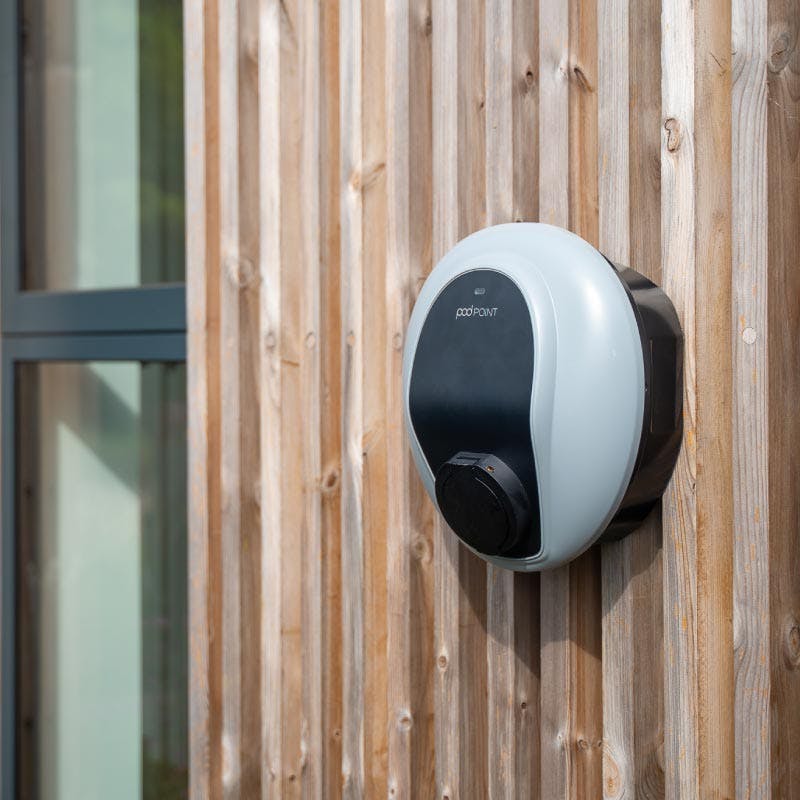 Other things to be aware of
There are some other things to think about if you're asking yourself should I buy or lease an electric car. It's important to understand there's an excess mileage charge if you go over your contracted allowance. You should specify your mileage based on what you expect to cover, rather than trying to save a few pounds on your monthly payments. Doing that could end up costing you much more when you hand your car back. Damage caused beyond fair wear and tear will also need to be paid for, while there are penalties for terminating agreements early. You should also be aware that you'll undergo a credit check when you apply for finance, which will show up on your record.
What is the best electric car to lease?
Like with most things, there's no right or wrong answer to this question. The best electric car to lease today might be different to tomorrow and will certainly change from person to person. Do you want an affordable city car like the Volkswagen e-Up, or are you looking for a premium SUV like the Jaguar I-PACE HSE? Teslas are held in extremely high regard, with the Tesla Model 3 Long Range delivering an excellent range in an affordable yet luxurious package.