Kia reveals more EVs to come at inaugural Kia EV day
Kia has released details on not one, not two but three possible new EVs
Kia has revealed the production version of its EV5 SUV along with two EV concept models, the EV3 and EV4, at the first Kia EV day. The company also presented its global EV strategy.
Building on Kia's recent era of 'design-led transformation', the brand's goal is to achieve an annual sales target of one million electric vehicles by 2026, increasing to 1.6 million units per year by 2030.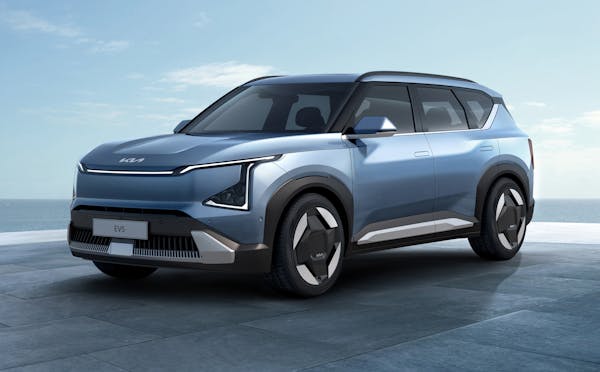 Kia EV5 revealed
Kia has revealed the EV5 SUV which aims to take the EV9, complete with its bold styling, and shrink it down into a smaller package.
Kia has provided EV5 specifications for the Chinese market, where there will be three models: standard, long-range, and long-range AWD.
The standard model, with a 64kWh battery pack and a 160kW electric motor, is expected to have a driving range of 328 miles according to the China Light-Duty Vehicle Test Cycle (CLTC).
The long-range model, featuring an 88kWh battery and the same 160kW electric motor, aims to achieve a range of 446 miles.
The EV5 long-range AWD model will have an 88kWh battery pack with a front-wheel 160kW motor and a rear-wheel 70kW motor giving a combined output of 230kW. Kia is targeting a driving range of 403 miles based on the CLTC standards.
A heat pump will manage cabin temperature in cold weather while conserving battery range, and regenerative braking and an i-Pedal system will capture more energy from braking.
The EV5 offers ultra-rapid charging capability, allowing the battery to be charged from 30% to 80% in just 27 minutes.
Vehicle-to-Load (V2L) and Vehicle-to-Grid (V2G) functions are included. V2L enables the battery to supply power to external electronic devices, and V2G will be rolled out by Kia in regions where the necessary infrastructure exists, enabling the EV5 to send energy back to the grid.
The EV5's interior is similar to that of the larger EV9, based around a spacious 'lounge' concept, with minimal physical buttons, a 'Panoramic Wide Display', and an optional Head Up Display.
The car can even be transformed into a camper van, thanks to the second row of seats being able to fold fully flat, and the inclusion of a food refrigerator/warmer. A 'Multi Table luggage board' can be transformed into a table.
The EV5 will also be available with GT trim - more details to be released at a later date.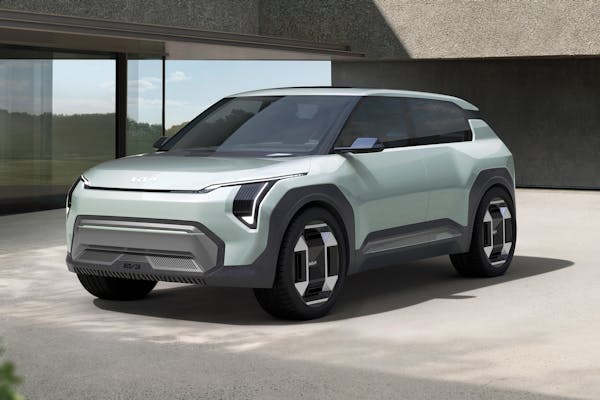 Kia Concept EV3 SUV
The Kia Concept EV3 takes the EV5 - already shrunk down from the EV9 - and makes it even more compact. The Concept EV3 uses a range of sustainable materials, such as a console table made from mycelium, which comes from mushroom roots.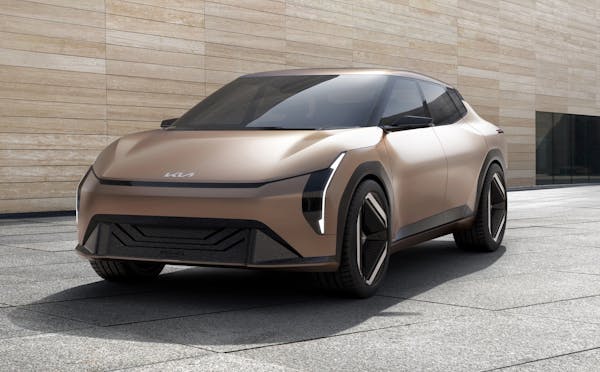 Kia Concept EV4
The Concept EV4 is a four-door saloon with sports car design cues and a stylish, clean interior incorporating elements such as hidden air vents. The Concept EV4 comes with a new 'Mind Modes' feature that adjusts ambient lighting and animated ventilation patterns, with digital graphics that can be selected for 'performance' or 'serenity'.
Korea will be the central production hub for electric vehicles. In Europe, Kia will focus on the production of small and medium-sized EVs, while in China, the emphasis will be on medium to large EVs. EV models tailored for emerging markets will be produced in India. Kia also plans to introduce a diverse range of EV models in North America, in response to the Inflation Reduction Act (IRA).
The brand is establishing battery joint ventures to ensure a stable global battery supply system.
Kia is also actively expanding global charging networks. In North America, the company has announced its decision to adopt the North American Charging Standard (NACS) for its EVs starting from the fourth quarter of 2024. This move will grant Kia customers access to approximately 12,000 Tesla Superchargers.
As part of a coalition of six OEM groups, Kia is working to build 30,000 fast-charging stations across North America by 2030 to address charging accessibility concerns. In Europe, it has collaborated with four OEM groups to create IONITY, installing 2,800 fast-charging stations along key highways. The aim is to have a total of 7,000 operational stations by 2025, providing efficient charging options for the brand's EV owners.
Our electric car lease special offers
£2,713.18 Initial rental (ex. VAT)
£3,255.81 Initial rental (inc. VAT)
48 Month term
5000 Annual mileage
Subject to status and conditions + arrangement fee
£301.

46
Business contract hire per month (ex. VAT)
£361.

76
Personal contract hire per month (inc. VAT)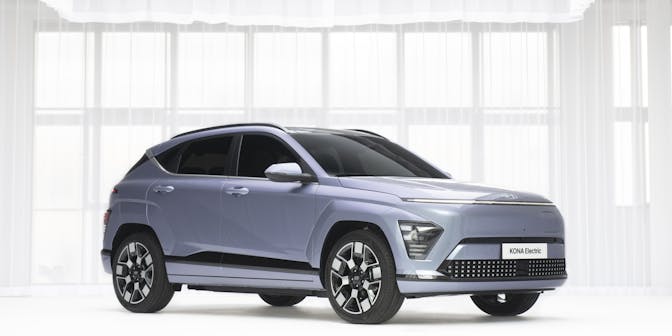 £1,951.79 Initial rental (ex. VAT)
£2,342.15 Initial rental (inc. VAT)
48 Month term
5000 Annual mileage
Subject to status and conditions + arrangement fee
£216.

87
Business contract hire per month (ex. VAT)
£260.

24
Personal contract hire per month (inc. VAT)
£2,728.44 Initial rental (ex. VAT)
£3,274.13 Initial rental (inc. VAT)
24 Month term
5000 Annual mileage
Subject to status and conditions + arrangement fee
£303.

16
Business contract hire per month (ex. VAT)
£363.

79
Personal contract hire per month (inc. VAT)