Las Vegas reveal of all-electric Volkswagen ID.7 saloon
The Volkswagen ID.7's international debut promises a revolutionary comfort and climate experience.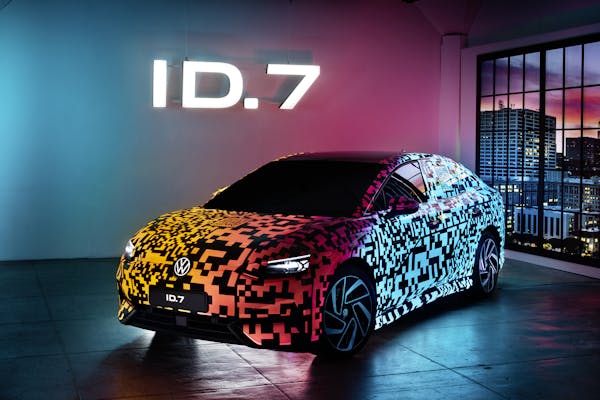 The Volkswagen ID.7 saloon has been revealed, albeit in camouflage, and it's expected to have an electric driving range of up to WLTP 434 miles.
Following on from the ID.4, the ID.7 is Volkswagen's next global electric vehicle and it will be launched in Europe, North America and China. The world premiere of the series production version is scheduled for the second quarter of 2023.
After the ID.3, ID.4, ID.5 and ID.6 models (the ID.6 is only available in China) and the new ID. Buzz, the ID.7 will be the sixth model from the ID. family and is Volkswagen's second global car, after the ID.4, to be based on the modular electric drive matrix platform (MEB). The ID.7 is one of ten new electric models that Volkswagen is planning to launch by 2026.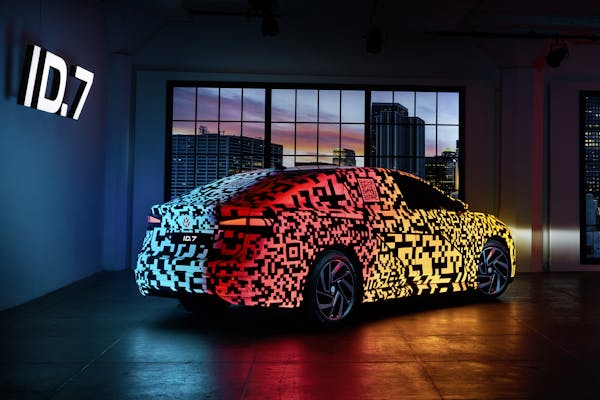 Volkswagen is excited about the ID.7's interactive camouflage which creates smart light effects through electroluminescence, thanks to 40 layers of paint, of which some are conductive while others have insulating properties. A total of 22 areas of the vehicle can be controlled separately and are electrified below the top layer of paint so that they light up.
The camouflage hides the contours of the final production vehicle, although, not surprisingly, Volkswagen says the ID.7 follows the design language of the fully electric ID. model family.
However it's something other than the camouflage that we're excited about. The Volkswagen ID. models are good cars, but accessing certain car controls via the touchscreen can require a lot of button-pressing. Volkswagen says that it is "responding to customer feedback" and addressing issues such as this in the ID.7, with new features including:
• A new display concept
• An augmented reality head-up display
• A 38cm (15 inch) screen
• New air conditioning controls visible at all times on the first level of the infotainment system
• Illuminated touch sliders (currently the controls to adjust temperature and volume don't light up at night)
The last two items are extremely welcome changes. The new air conditioning system also has intelligent vents, and the heating and ventilation controls can be activated by voice commands.
The ID.7 also features aerodynamic design details such as air intakes located in the front of the car which guide air down the sides of the vehicle to the rear, forming an air curtain, which calms the air flow at the sides of the vehicle.
The Volkswagen ID.7 saloon will be showcased at CES (Consumer Electronics Show) – the world's largest trade show for electronics – in Las Vegas between 5 and 8 January 2023.
Explore the Volkswagen EV range...
Hatchback
Up to 145 miles range
£1,568.49 Initial rental (ex. VAT)
£1,882.19 Initial rental (inc. VAT)
48 Month term
5000 Annual mileage
Subject to status and conditions + arrangement fee
From
£174.

28
per month (ex. VAT)
From
£209.

13
per month (inc. VAT)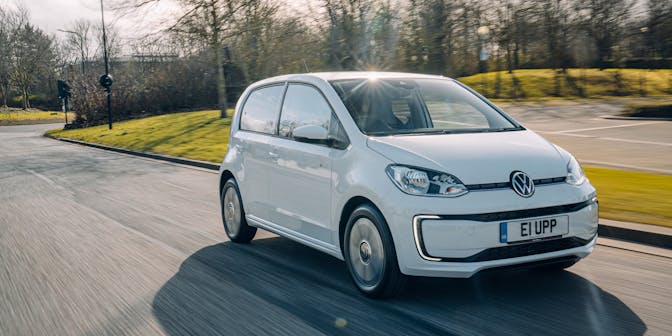 Hatchback
Up to 320 miles range
£3,121.39 Initial rental (ex. VAT)
£3,745.67 Initial rental (inc. VAT)
48 Month term
5000 Annual mileage
Subject to status and conditions + arrangement fee
From
£346.

82
per month (ex. VAT)
From
£416.

19
per month (inc. VAT)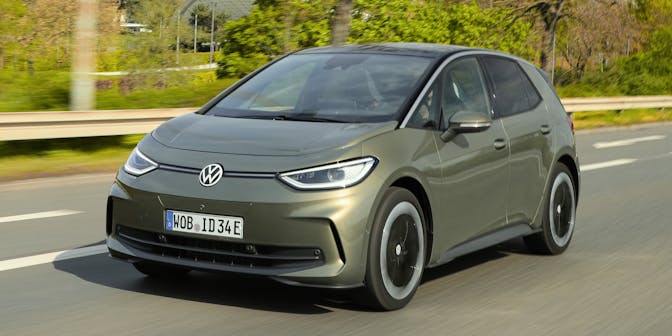 £3,604.34 Initial rental (ex. VAT)
£4,325.21 Initial rental (inc. VAT)
48 Month term
5000 Annual mileage
Subject to status and conditions + arrangement fee
From
£400.

48
per month (ex. VAT)
From
£480.

58
per month (inc. VAT)