Mercedes-Benz EQS SUV – all-electric, all-wheel drive and seven seats
The new all-electric Mercedes-Benz EQS SUV offers a driving range of up to 409 miles, it can be specified with up to seven seats, and has the option of all-wheel drive.
There are three EQS SUV models. The EQS 450+ is rear-wheel drive, producing 265kW of power, 568 Nm of torque, and is capable of delivering a driving range of up to 409 miles.
The EQS 450 4MATIC is all-wheel drive, with 265kW of power, 800 Nm of torque, and a driving range of up to 380 miles.
The EQS 580 4MATIC also has all-wheel drive, with 400kW of power, 858 Nm of torque, and a driving range of up to 380 miles.
All models can charge at 200 kW, and the EQS SUV includes the new Mercedes me Charge 'Plug & Charge' function, which means that the car can communicate with public charging stations that support Plug & Charge to avoid the driver having to mess around with cards or apps for payment.
Mercedes me Charge is one of the largest charging networks worldwide: it currently comprises over 700,000 AC and DC charging points, including around 300,000 in Europe.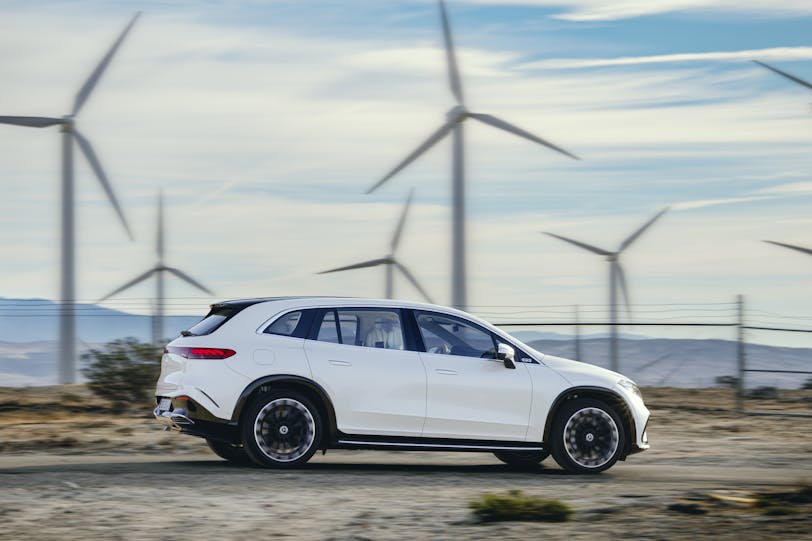 The EQS SUV comes as standard with AIRMATIC air suspension with continuously adjustable damping, and which can raise the height of the vehicle. Rear-axle steering with a steering angle of up to 4.5 degrees is also standard.
Models with 4MATIC have a Torque Shift function which ensures continuously variable distribution of drive torque between the rear and front electric motors.
Drive modes are ECO, COMFORT, SPORT and INDIVIDUAL, and the 4MATIC versions feature an OFFROAD mode.
Mercedes claims that the EQS Saloon is the world's most aerodynamic production car, and features such as its smooth underbody are shared with the EQS SUV.
Like the EQS, the EQS SUV features over-the-air updates, including the ability to increase the rear-axle steering angle up to 10 degrees, with Trailer Manoeuvring Assist and MBUX (Mercedes-Benz User Experience) Augmented Reality Navigation being activated at a later date.
The EQS SUV can be specified with the MBUX Hyperscreen, a large, curved screen unit that stretches over the entire width of the dashboard, including a 12.3-inch display for the front passenger. In Europe, and in a growing number of countries, the front seat passenger is also able to watch dynamic content while the vehicle is moving. If the camera detects that the driver is looking at the passenger display, the system automatically dims the dynamic content.
The new Mercedes-Benz EQS SUV joins the all-electric offerings of the EQS luxury saloon and the EQE executive saloon.