Mercedes-Benz to launch its own charging network
Taking over the EV game, Mercedes-Benz tease the launch of their global high-power charging network.
Tesla has so far been the only car manufacturer to develop its own charging network exclusively for the vehicles of its own brand; its excellent Superchargers have been around for many years, both in the UK and globally.
However it looks like Tesla is now about to have some competition, as Mercedes-Benz has announced that it is also going to develop its own "global high-end charging network".
Mercedes is aiming to establish more than 10,000 high-power chargers worldwide across North America, Europe, China and other main markets.
Mercedes-Benz customers can pre-book a charging station from their car, but the network will be open and accessible to all brands.
Construction on the network will start this year in North America, followed by other regions around the globe.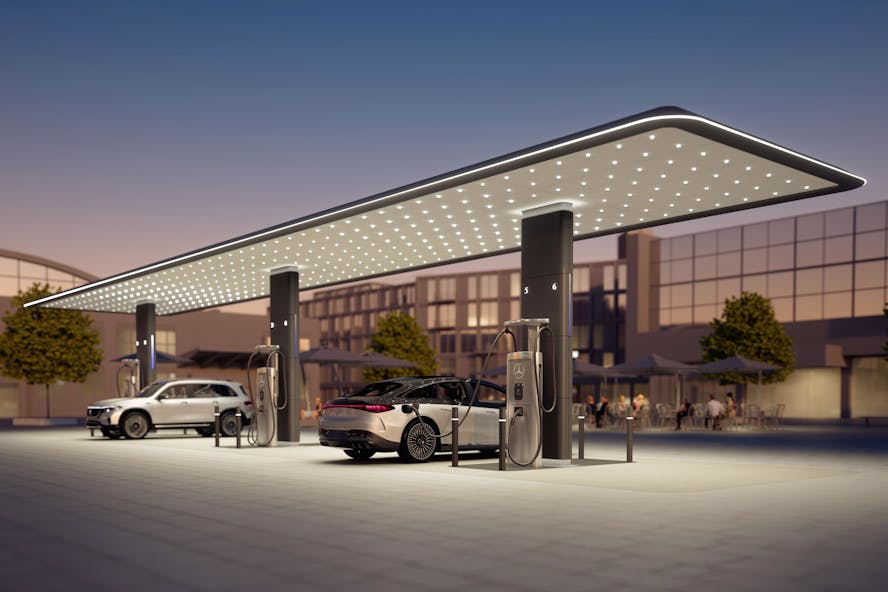 Mercedes' aim is to have the full network in place before the end of the decade, when the brand says it intends to go all-electric "wherever market conditions allow".
The charging hubs will be located in key cities and urban population centres, close to major arteries, convenient retail and service destinations, including participating Mercedes-Benz dealership sites.
The plan is to offer more than 400 hubs across North America with more than 2,500 high-power chargers by 2027. The total investment cost for the North American network will be just over 1 billion Euros over the next 6-7 years.
To complement its new charging network, Mercedes-Benz offers 'Electric Intelligence' navigation, which automatically optimises route planning, incorporating the best charging points and reserving spaces in advance.
A "Plug & Charge" function will also allow the charging station to communicate directly with the vehicle via the charging cable, meaning that manual authentication via card or app isn't required. Mercedes-Benz customers can use this function via Mercedes me Charge.
Depending on region and location, the hubs will offer 4 to 12, and ultimately as many as 30, high-power chargers (HPC) with up to 350 kW of charging power. Intelligent charge-load management will allow each vehicle to charge at its maximum capacity, keeping waiting times to a minimum. The station layout will ensure space around the vehicle, as well as the ability to charge from either side, and where feasible, charging points will be covered for protection from the weather.
The Mercedes-Benz charging hubs will have food outlets and restrooms located nearby, as well as surveillance cameras and other measures to provide a safe charging environment.
Mercedes-Benz is aiming to enable its customers to charge with green energy at its charging network, and some charging hubs will also be equipped with photovoltaic systems.
Explore the Mercedes-Benz EV range...
£5,447.57 Initial rental (ex. VAT)
£6,537.09 Initial rental (inc. VAT)
48 Month term
5000 Annual mileage
Subject to status and conditions + arrangement fee
From
£605.

29
per month (ex. VAT)
From
£726.

34
per month (inc. VAT)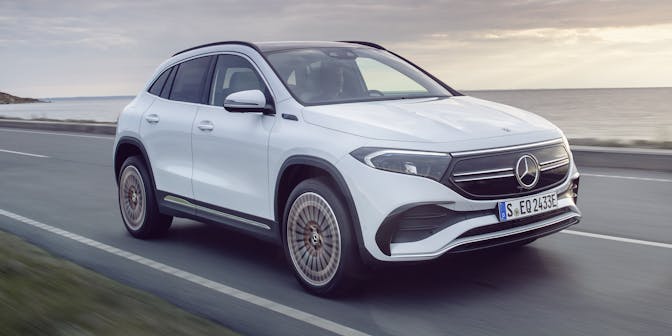 £5,745.86 Initial rental (ex. VAT)
£6,895.03 Initial rental (inc. VAT)
48 Month term
5000 Annual mileage
Subject to status and conditions + arrangement fee
From
£638.

43
per month (ex. VAT)
From
£766.

11
per month (inc. VAT)
£8,744.71 Initial rental (ex. VAT)
£10,493.65 Initial rental (inc. VAT)
48 Month term
5000 Annual mileage
Subject to status and conditions + arrangement fee
From
£971.

63
per month (ex. VAT)
From
£1,165.

96
per month (inc. VAT)