New Mercedes-Benz eSprinter gets big battery and more range
News from Germany, the Mercedes-Benz eSprinter van is going to get the largest battery pack yet seen in a light commercial vehicle...
The new Mercedes-Benz eSprinter is expected to have an improved WLTP electric driving range of up to 248 miles, or up to 310 miles based on the WLTP city cycle. This is a significant improvement on the combined WLTP range of 82 - 95 miles of the current eSprinter.
The improvement is thanks to a new 113 kWh battery, although a 56 kWh battery and a 81 kWh battery will also be available. Lithium/ion phosphate (LFP) cell chemistry means that the batteries don't contain cobalt or nickel, and active thermal management aims to ensure maximum efficiency.
The new eSprinter panel van – a long-wheelbase panel van with a high roof, a load capacity of 14 cubic metres and a gross vehicle weight up to 4.25 tonnes – will launch in Europe at the end of 2023, having already launched in the USA and Canada in the second half of 2023. The new eSprinter will also be able to tow up to two tonnes.
A cab chassis variant will follow, allowing the eSprinter to be a platform for converters and body manufacturers.
The new eSprinter will be constructed based on three modules. The front and back modules can be used with all available variants, with the battery housed in the front module's underbody. The rear module will incorporate the electric motor and electrically-driven rear axle.
Mercedes says that the electric motor is more efficient than the version in the current eSprinter, and is available in two power levels, 100 kW or 150 kW, with torque of up to 400 Nm.
The new model can be charged at up to 115 kW at rapid charging stations, enabling a 10% to 80% charge in around 28 minutes for the 56 kWh battery, and round 42 minutes for the 113 kWh battery.
The new eSprinter displays the range in real time depending on the current traffic situation and the topography of the route. It also calculates the best possible charging strategy to get to the destination as quickly as possible, or to have the desired state of battery charge at the destination. The eSprinter will also be able to start a charge automatically, without any need for manual payment, using Mercedes me.
From 2025, all new Mercedes-Benz vans models will be all-electric.
Our electric van lease special offers
Medium Van
Range 155 miles
£3,569.30 Initial rental (ex. VAT)
48 Month term
5000 Annual mileage
Subject to status and conditions + arrangement fee
£396.

59
Business contract hire per month (ex. VAT)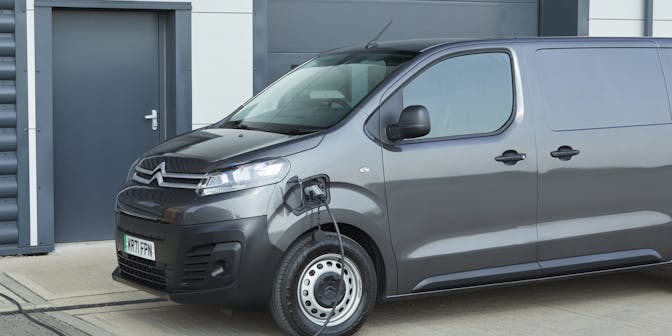 Medium Van
Range 155 miles
£3,463.39 Initial rental (ex. VAT)
48 Month term
5000 Annual mileage
Subject to status and conditions + arrangement fee
£384.

82
Business contract hire per month (ex. VAT)