New Nissan Townstar electric van beats e-NV200 for range
Nissan launches the new All-Electric Nissan Townstar van optimised with intelligent energy management and class-leading zero emission range.
Nissan was an early EV pioneer with the LEAF, which went on sale in the UK in 2010, followed by the e-NV200 van in 2014. Twelve years after the LEAF, Nissan's second electric car – the Ariya – appeared in 2022, but Nissan has been slow to bring another electric van to market, however, the electric Nissan Townstar Van has now been launched, which replaces the e-NV200.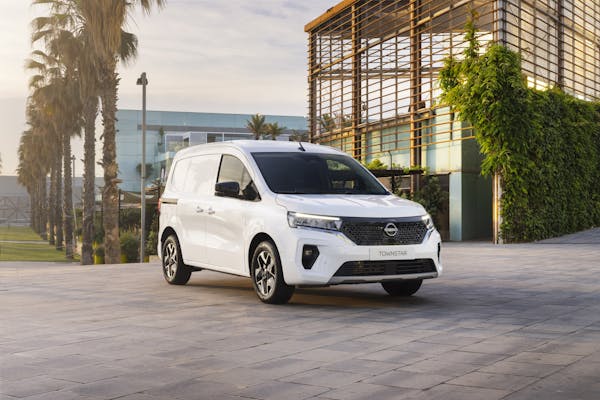 The Townstar compact van has a payload of between 612kg and 788kg and between 3.3 to 4.3 cubic meters of cargo carrying capacity – that means the short wheelbase version can carry two Euro pallets. It also has a towing capacity of up to 1,500kg.
In comparison, the Nissan e-NV200 van has 4.2 cubic metres of load space, a maximum payload of 705kg, and a towing rating of 400kg.
One of the main benefits of the Townstar over the e-NV200 is driving range; the Townstar has a (WLTP) combined driving range of 183 miles (or up to 269 miles on the city cycle) whereas the official combined range of the Nissan e-NV200 is 124 miles.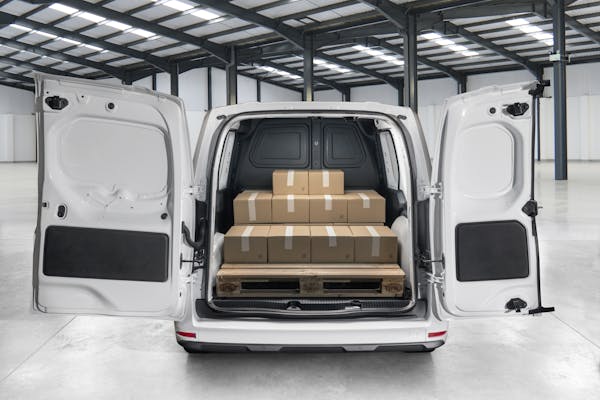 The Townstar is available in two lengths: L1, with a load compartment length of 1,806mm, 3.3 cubic metres of load volume and a payload of up to 612kg; and L2, with a load compartment length of 2,230mm, 4.3 cubic metres of load volume and a payload of up to 788kg. Townstar grades are Visia, Acenta, Tekna, Tekna+.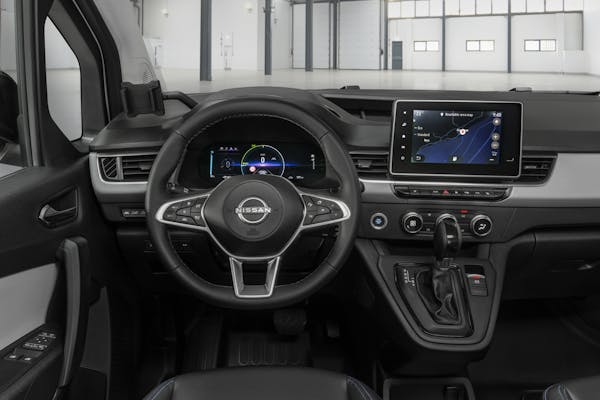 The Townstar's powertrain features intelligent energy management and battery thermal cooling. Delivering 122 PS of power and 245Nm of torque, the Townstar EV's 45kWh battery offers AC charging (11 kW or 22 kW) or DC CCS rapid charging, which enables users to charge the battery from 15% to 80% in 37 minutes. Battery thermal cooling combined with the 22kW AC and 80kW DC CCS charging is standard from Acenta grade onward.
A heat pump improves both efficiency and comfort in colder temperatures by distributing heat from the battery into the cabin.
The Nissan Townstar Electric Van is priced from £28,400, after the Government PiVG which is calculated as 35% of the base vehicle price (including VAT).
The Townstar EV has an 8-year warranty on the battery state of health up to 70%.
The Nissan Townstar shares the same platform as Renault Kangoo and Mercedes-Benz Citan.
Our electric van lease special offers
Medium Van
Range 155 miles
£3,569.30 Initial rental (ex. VAT)
48 Month term
5000 Annual mileage
Subject to status and conditions + arrangement fee
£396.

59
Business contract hire per month (ex. VAT)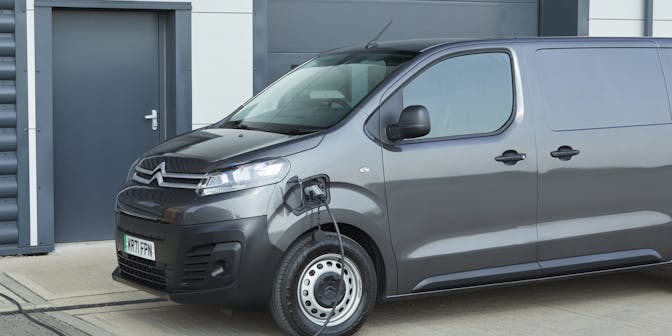 Medium Van
Range 155 miles
£3,463.39 Initial rental (ex. VAT)
48 Month term
5000 Annual mileage
Subject to status and conditions + arrangement fee
£384.

82
Business contract hire per month (ex. VAT)