Peugeot unveils the all-electric E-3008, marking the beginning of the Stellantis EV revolution
The new all-electric Peugeot E-3008 is the company's first series production vehicle that features i-Cockpit technology and is built on the new STLA Medium architecture, ushering in a new era.
The Peugeot 3008 has been transformed from a conventional SUV into a fastback crossover, and the new all-electric E-3008 has a driving range of up to (WLTP) 435 miles.
On sale from February 2024, there will be three all-electric powertrains: 210bhp/157kW Standard Range, 230bhp/170kW Long Range, and 320bhp/240kW Dual Motor providing all-wheel drive. Two trim levels will be available, Allure and GT.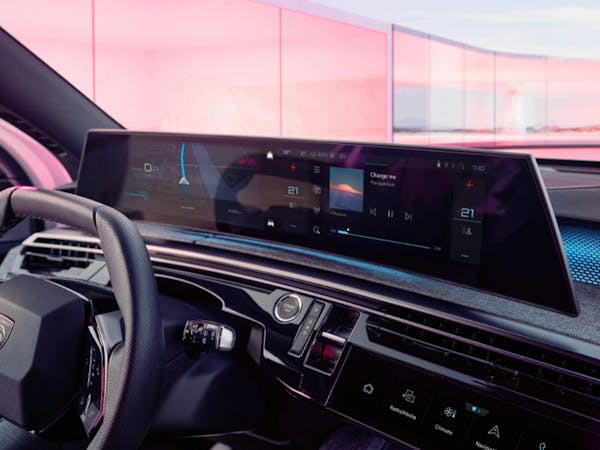 The E-3008 can rapid charge at up to 160kW DC, giving a 20% to 80% charge in 30 minutes – or less than 30 minutes for the Long-Range version. The car comes with an 11kW AC three-phase charger as standard, and a 22kW three-phase charger as an option.
A V2L (Vehicle to Load) function is also featured, allowing the car to power electrical devices. Timings for when the car charges can be set using Smart Charging, with the aim of using electricity when it's greenest and cheapest.
Peugeot's i-Cockpit has become the 'Panoramic i-Cockpit' in the E-3008. This features a floating, curved 21-inch HD panoramic screen that combines the head-up display with the central touchscreen. A 'compact' steering wheel continues this Peugeot tradition.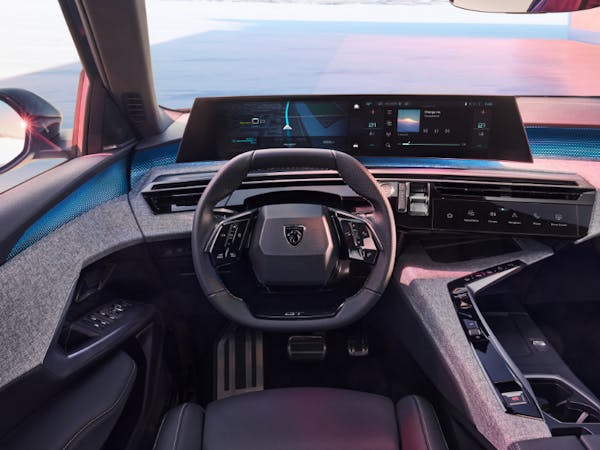 The central part of the E-3008's dashboard also includes the 'i-Toggles', customisable touch-sensitive buttons that can be programmed to provide quick access to 10 of the user's favourite functions, such as calling a specific contact, starting navigation to a frequently used destination, or setting the air-conditioning to a preferred temperature.
There are two new paddles behind the steering wheel which allow the driver to choose from three levels of regenerative braking: low, medium or high. The medium and high levels automatically switch on the rear brake lights.
The new E-3008 is available in a range of six colours. Thanks to dichromatic pigments, the Obsession Blue colour changes from blue to green depending on the light and the shape of the bodywork.
The other colours available are;
The Peugeot E-3008 will be the first model to use Stellantis' brand-new STLA Medium electric platform. Hybrid and plug-in hybrid powertrains will also be available. Despite the fastback crossover body style, the boot space, at 520 litres, is unchanged from the previous 3008.
By 2025, Peugeot will offer a complete battery electric line-up, and by 2030, 100% of the brand's sales in Europe will be electric.
Our electric car lease special offers
£2,713.18 Initial rental (ex. VAT)
£3,255.81 Initial rental (inc. VAT)
48 Month term
5000 Annual mileage
Subject to status and conditions + arrangement fee
£301.

46
Business contract hire per month (ex. VAT)
£361.

76
Personal contract hire per month (inc. VAT)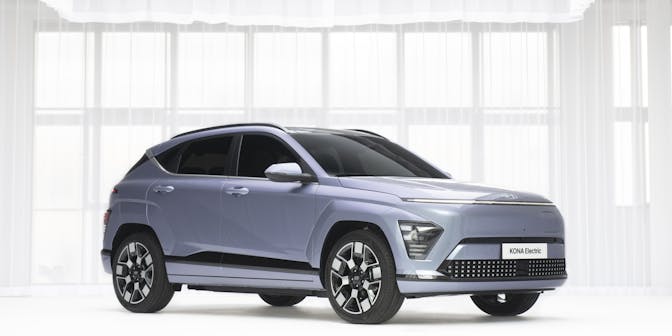 £1,951.79 Initial rental (ex. VAT)
£2,342.15 Initial rental (inc. VAT)
48 Month term
5000 Annual mileage
Subject to status and conditions + arrangement fee
£216.

87
Business contract hire per month (ex. VAT)
£260.

24
Personal contract hire per month (inc. VAT)
£2,728.44 Initial rental (ex. VAT)
£3,274.13 Initial rental (inc. VAT)
24 Month term
5000 Annual mileage
Subject to status and conditions + arrangement fee
£303.

16
Business contract hire per month (ex. VAT)
£363.

79
Personal contract hire per month (inc. VAT)